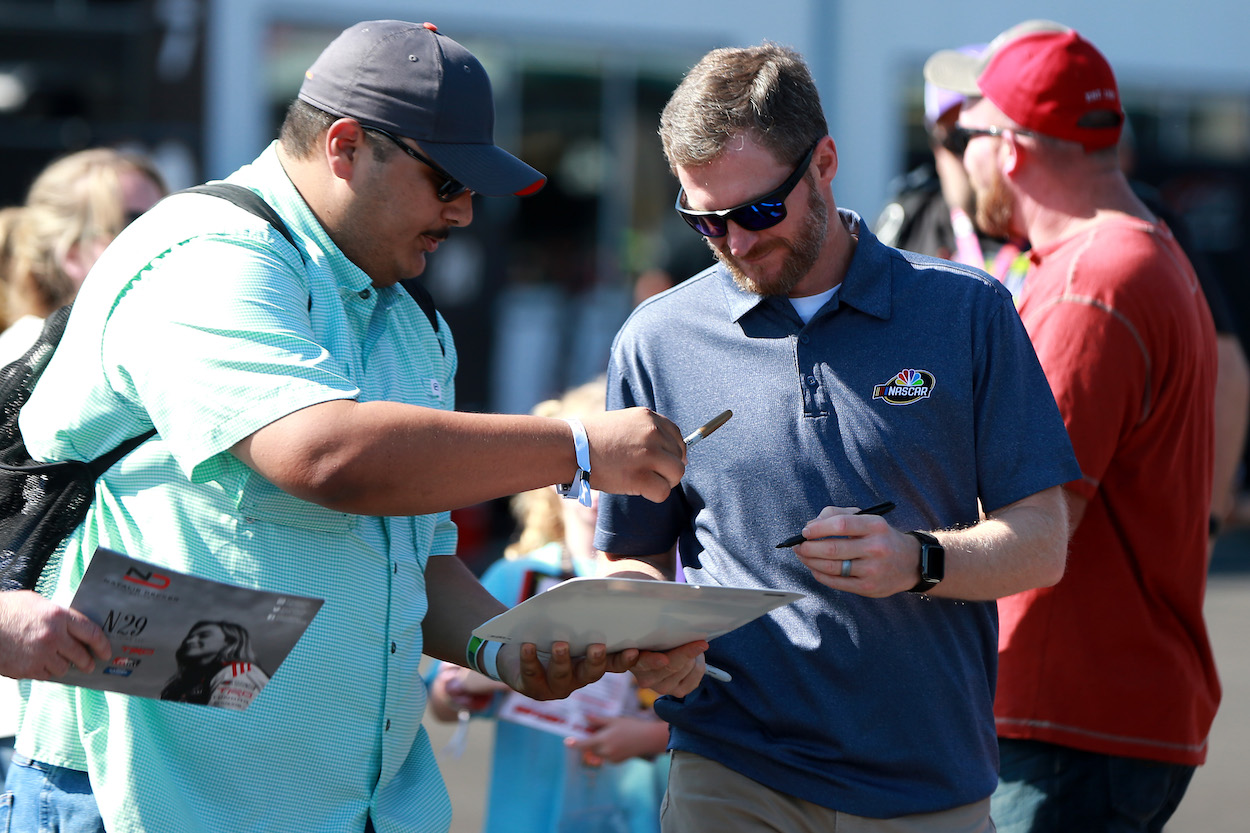 Dale Earnhardt Jr. 'Madder Than Hell' at Pocono This Weekend When Security Guard Didn't Recognize Him and Refused to Allow Him Access Into Garage-Pit Area
Dale Earnhardt Jr. is one of the most popular drivers in NASCAR history. On Saturday at Pocono, he encountered a security guard who didn't recognize him and refused to grant him access to a secure area.
Dale Earnhardt Jr. is one of the most recognizable names and faces in all of motorsports. However, this past weekend at Pocono, Earnhardt encountered a security guard who didn't know who he was and flat-out refused to allow him to enter a secured area until he showed his credential. 
On the latest episode of the Dale Jr. Download, the two-time Daytona 500 winner detailed the entire incident, including how fans he was taking selfies with were trying to tell the security guard who he was and how he was "madder than hell" when it was all over. 
Everyone loves Dale Earnhardt Jr. and treats him nicely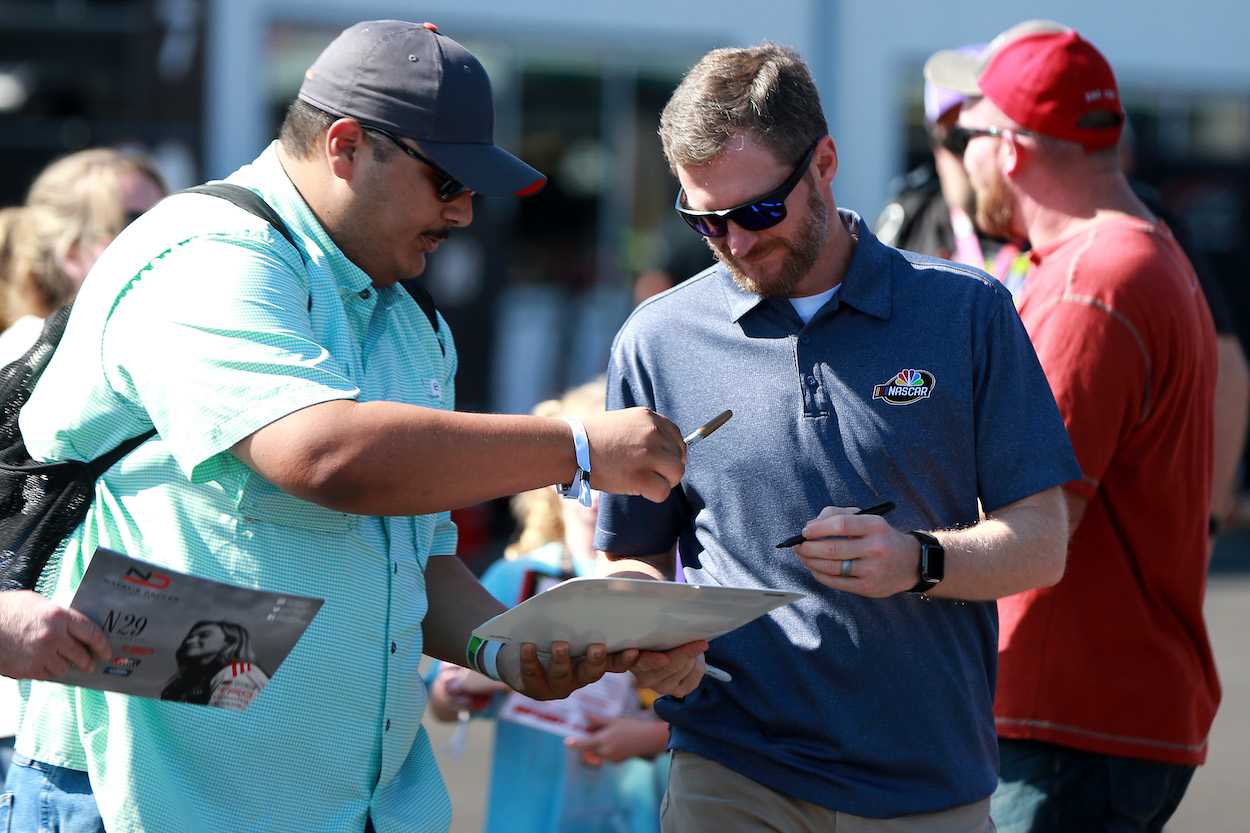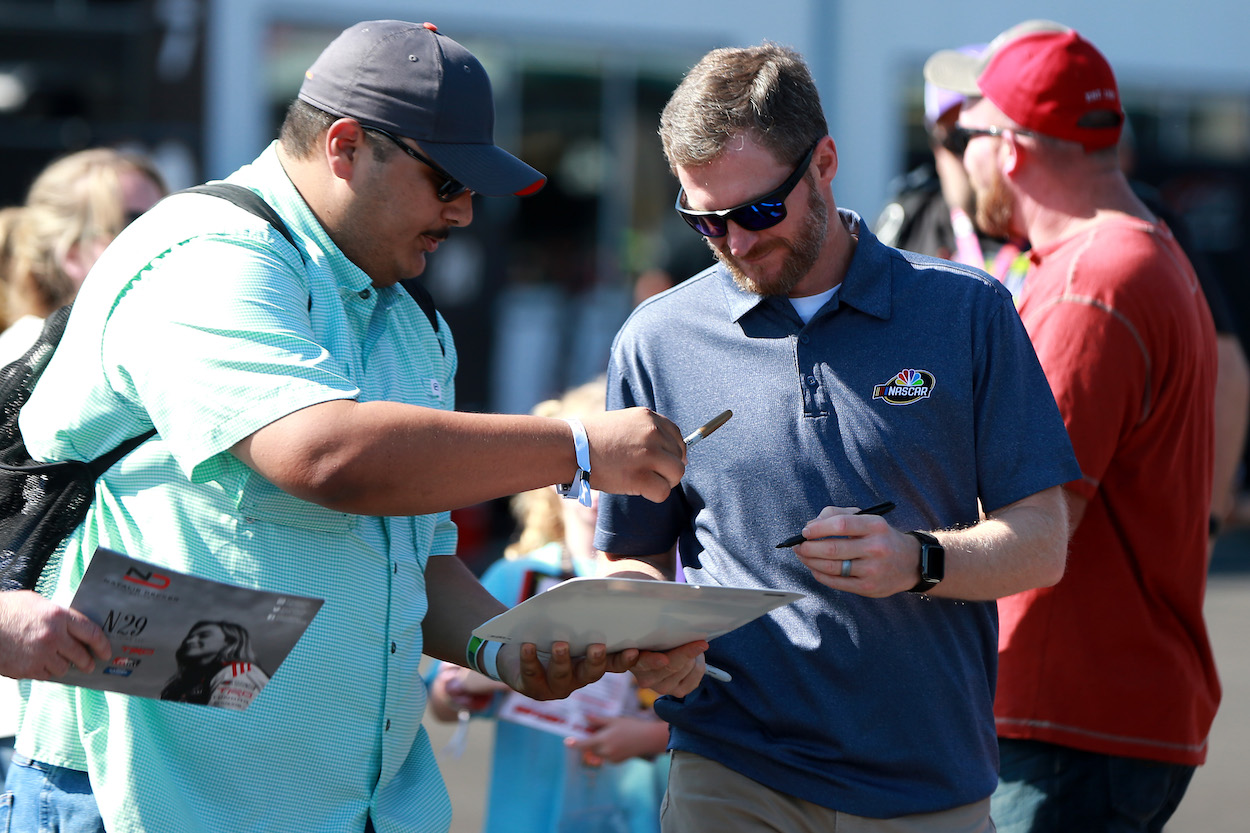 Despite having a father who was one of the greatest drivers in NASCAR history, Dale Earnhardt Jr. impressively built his own legacy, which included a pair of Daytona 500s en route to a Hall of Fame career. Fans adored him during his career, as evidenced by his winning the most popular driver award 15 years in a row.  
While he's not been in the spotlight on the track since retiring in 2017, race fans still follow him in his post-race career through his weekly podcast and his work with NBC as a color commentator in its NASCAR coverage. Not surprisingly, as a celebrity, he gets special treatment. It's something Earnhardt has largely ignored but his wife is happy to remind him about.  
"Everywhere we go, I'm like, 'Amy, those people we just met, so nice.' She goes, 'Of course, everyone is nice to you. You're not a normal person and get treated like everybody else. Everybody is super nice to you.' And it annoys her," Earnhardt admitted on his podcast. He said his friends say the same thing.
"When I'm racing online with my friends, I'm like 'Yeah man, had a great run.' They're like, 'Everybody pulls over for you. They don't race the s— out of you like they do us. They get out of your way, and then they race the s— of me when I come up behind them.' And so, that's life," Earnhardt said. "And that's the way people view my world. And I just love it because everybody is so nice. If Amy is right, she's right. But I'm still enjoying the niceness." 
Dale Earnhardt Jr. not recognized and denied access by security guard after Saturday race at Pocono
On Saturday at Pocono, Earnhardt had the tables turned on him. It happened after he left the broadcast booth and opted to take the stairs instead of the elevator. Once he reached the grandstands on the ground floor, he headed to a gate where he would cross the track and walk into the garage/pit area. 
"Well, I get down there, and there's about a 25-year-old dude standing there at this little hinge gate. He's standing there as security," Earnhardt described. "As soon as I walk up, there's like 10 race fans standing there. And as soon as I start getting close, they're like, 'Hey, Dale! Picture. Selfie. Autograph.' Alright. No problem. So I'm doing these selfies, autographs, right there at this gate with this guy. And he's like standing there. And he's got his hand on the gate behind him, and he's standing in front of the gate. And I'm like, 'Hey, man, you going to let me through?' And he goes, 'I need to see your card.'" 
Earnhardt said he's never once used the phrase, "Do you know who I am?" He didn't on Saturday. The fans did it for him.
"And I stood there, and the people around me are doing that for me," Earnhardt said. "They're saying, 'It's Dale!' They're laughing at the guy, like, 'Are you serious? You don't know who this guy is?'"
'Madder than hell' about the incident
Even after several minutes of pleas from the fans, the guard, who Earnhardt said had a 's—-eating grin' on his face, refused to allow him inside the gate and insisted on seeing his credential. 
"Man, the card's in my bag. I have to search for it. And I'm telling you, I'm taking pictures. Signing," a now-flustered Earnhardt tried to explain to the guard. "He goes, 'I need to see your card.' And the whole time with that s—-eating grin."
After taking a few more pictures with fans, he rummaged through his backpack, got out his credential, and showed it to the guard, who paused before letting him in.  
Shortly after getting inside the gate and taking a few more selfies, Earnhardt had a few choice words for the guy:
"And I said to the guy, 'That was such a d—head move.' I was astounded. Not, 'Hey, you're a d—.' I was more like, questioning him, like man, that was such a d—head thing to do. Why?"
Earnhardt said he walked away from it all, thinking he might have had that coming with the way people are always so nice to him. He also acknowledged how upset he was by the whole situation.
"But golly, that really ticked me off. Man, I was madder than hell for about an hour," he said.
On Sunday, Earnhardt said he thought about leaving the broadcast booth and taking the same route, just to see if the security guard would give him the same treatment. Ultimately, he decided against it.
Like Sportscasting on Facebook. Follow us on Twitter @sportscasting19.