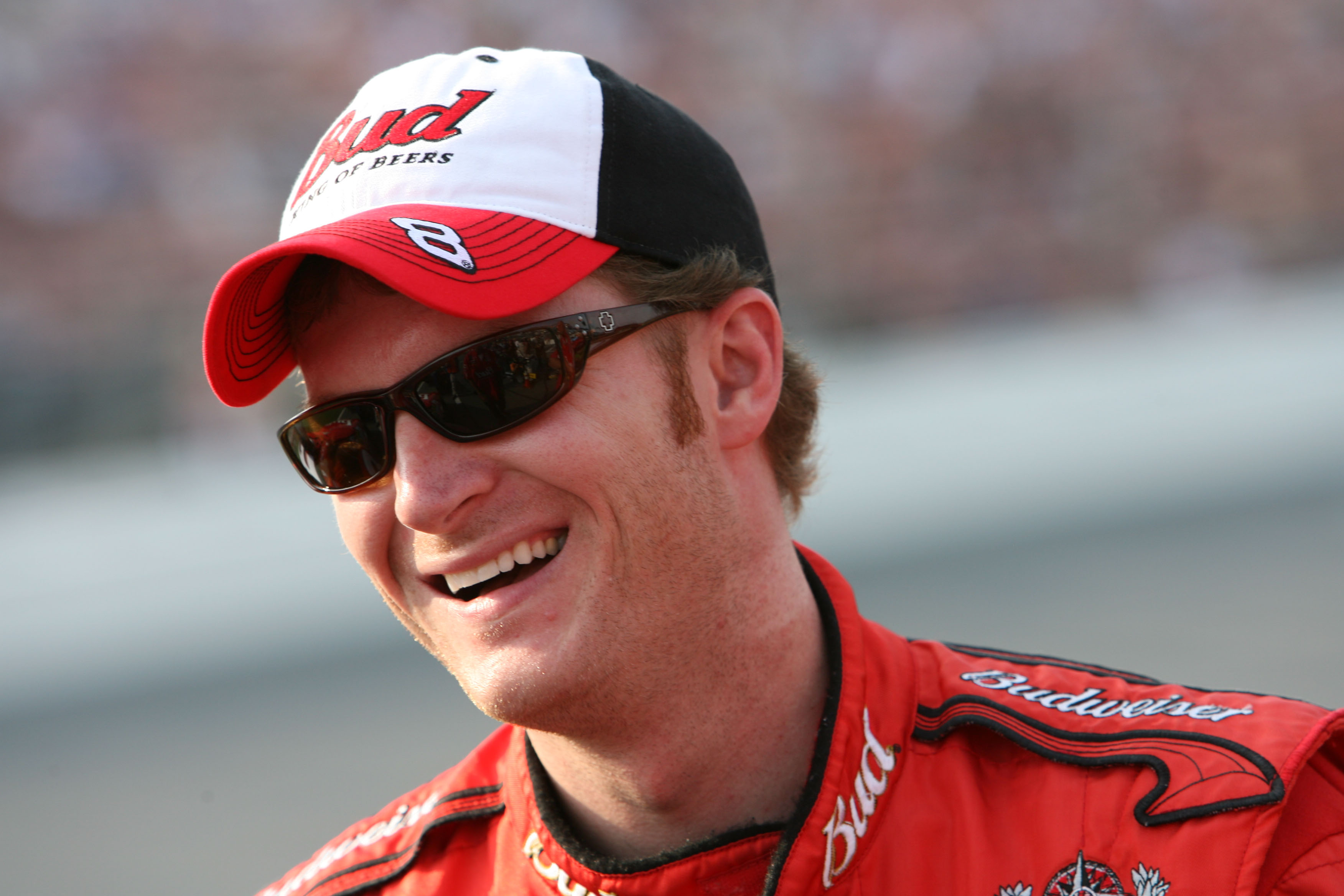 Dale Earnhardt Jr. Overcame the Family Name to Prove Himself to 'Junior Nation'
Dale Earnhardt Jr. had no problems making a name for himself in the NASCAR world.
Dale Earnhardt Jr. had quite the following during his lengthy NASCAR career. The son of the late racing legend Dale Earnhardt Sr., who was tragically killed in the 2001 Daytona 500, went on to have a Hall-of-Fame career of his own. But it wasn't always easy.
Dale Earnhardt Jr. earned his way to the NASCAR Hall of Fame
Dale Earnhardt Jr. had some big shoes to fill. He's the son of Hall-of-Fame icon Dale Earnhardt Sr., who was a member of the inaugural class inducted into the NASCAR Hall of Fame in 2010. Earnhardt Sr. finished his career as the owner of seven Cup Series championships. He racked up 76 victories in his 27-year career.
Junior more than held his own when carving out a NASCAR career. Although he didn't have the statistical success of his father, he was one heck of a driver. Earnhardt Jr. ran 631 races in his 19-year career, winning 26 of them. He ended his career with 260 top-10 finishes.
Earnhardt Jr. was a two-time Daytona 500 winner, earning victories in 2004 and 2014. Concussions plagued Earnhardt Jr. during his career and played a role in his retirement from the sport in 2017. He is one of three drivers to make up the Class of 2021 for the NASCAR Hall of Fame.
Dale Earnhardt Jr. had a strange relationship with his father
Growing up, Dale Earnhardt Jr. didn't spend a whole lot of time with his father. Actually, Dale Earnhardt Sr. didn't spend much time with his son. The elder Earnhardt and his wife divorced when Junior was very young. Junior lived with his mother until a house fire forced Earnhardt Jr. and his sister Kelly to move in with their father.
Even then, Earnhardt Sr. was very much involved in his racing career and didn't spend a whole lot of time with his children. As they got older, Earnhardt Sr. and his son grew a special bond over racing. When Earnhardt Sr. was tragically killed during the Daytona 500 in 2001, Earnhardt Jr., like most, was crushed. He did later say he was comfortable with it, h believed everything happens for a reason, and he was fortunate his father put him in a position to have a highly successful career.
"That's a memory that, I can't help but not think about it," Junior told CNN in 2014. "I think about it, and I'm comfortable thinking about it. I'm comfortable with how things went down. I believe that things happen for a reason, and that was his – that was his deal. That was his time. And as upset as I was, you know, how am I going to live without my daddy, you know? What am I going to do? How am I going to make these decisions? I stopped and I said, you know, 'I've got to feel lucky that he's put me in this position that I'm in.'"
Junior felt pressure to prove himself to 'Junior Nation'
It's not easy to follow in the footsteps of a successful father or sibling. The comparisons will always be there. Dale Earnhardt Jr. said he felt some pressure, but it was more pressure he put on himself. He explained it when he announced he would be retiring from the sport after the 2017 season.
During his retirement speech, Earnhardt Jr. thanked his dad. "To my father, Dale Earnhardt, I would not have been a race car driver if it not for him," he said, according to NBC Sports. "He believed in me." He also thanked his fans for believing in him. Earnhardt Jr. knew some fans would join him from the beginning simply because of his father.
"To my fans: One thing that's made this career the incredible ride that it's been is Junior Nation," he said. "The fan support that I received straight out of the gate was in large part because of my famous last name.  But throughout the ups and downs, it occurred to me that the fans that stuck it out and the new ones that joined us, they were there because of the person I was and not who they wanted me to be."