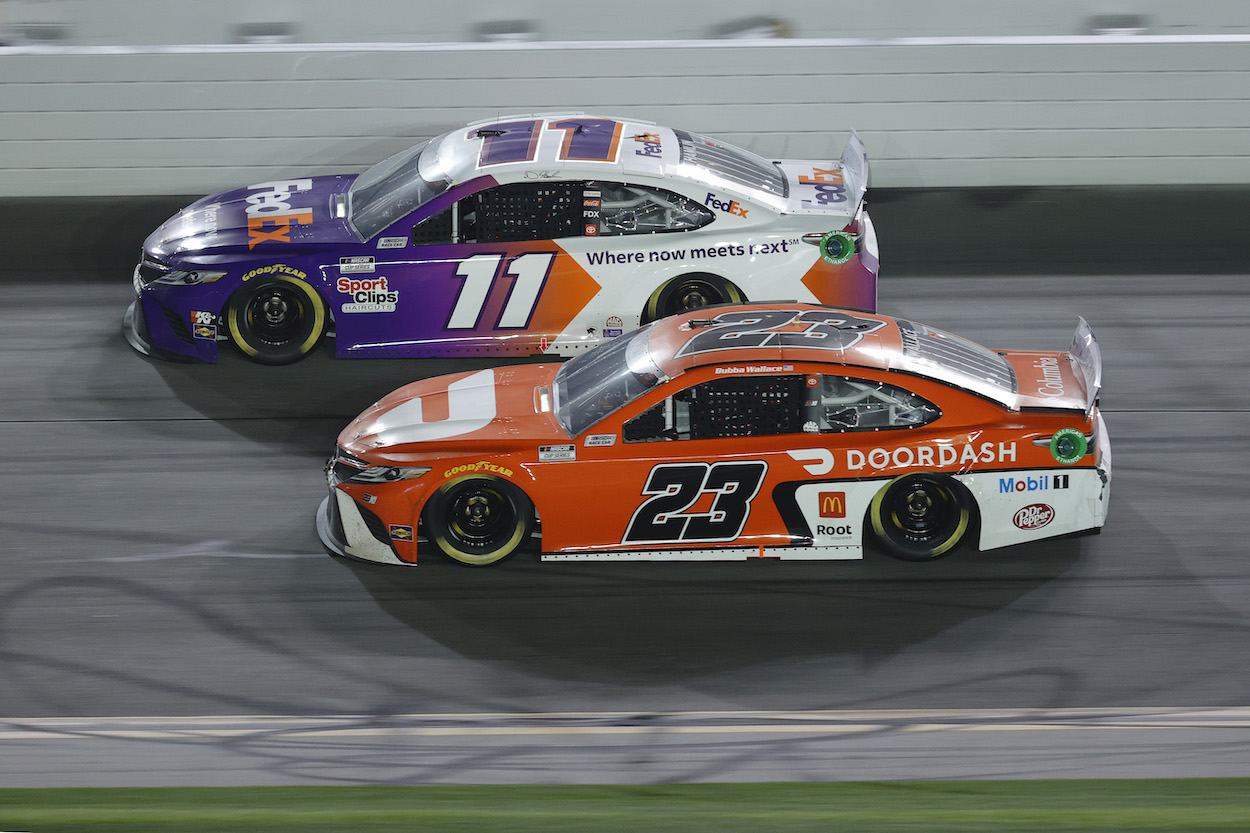 Bubba Wallace Admits to Frustrating 2021 Season and Struggling With 'New-Team Blues'
Bubba Wallace admits the first season with 23XI Racing has been frustrating. Crew chief Mike Wheeler added it's been more challenging than expected.
Michael Jordan set lofty expectations for Bubba Wallace and the 23XI Racing Team before the Daytona 500, suggesting a couple of wins in the first season might be possible. The wins have not happened. The team hasn't come close. 
This week Wallace and crew chief Mike Wheeler discussed the team's rookie season, how they've struggled more than expected, and just what needs to happen for things to improve moving forward. 
Bubba Wallace struggles in first season with 23XI Racing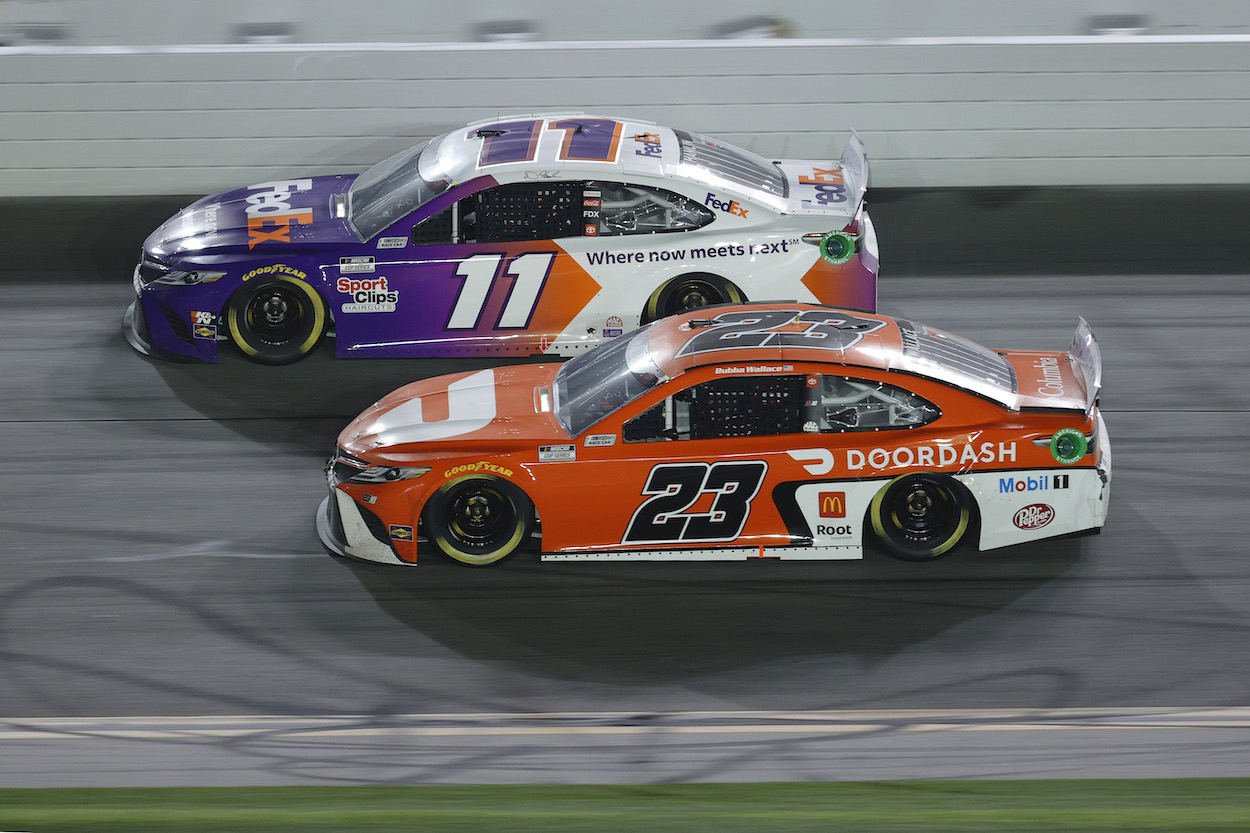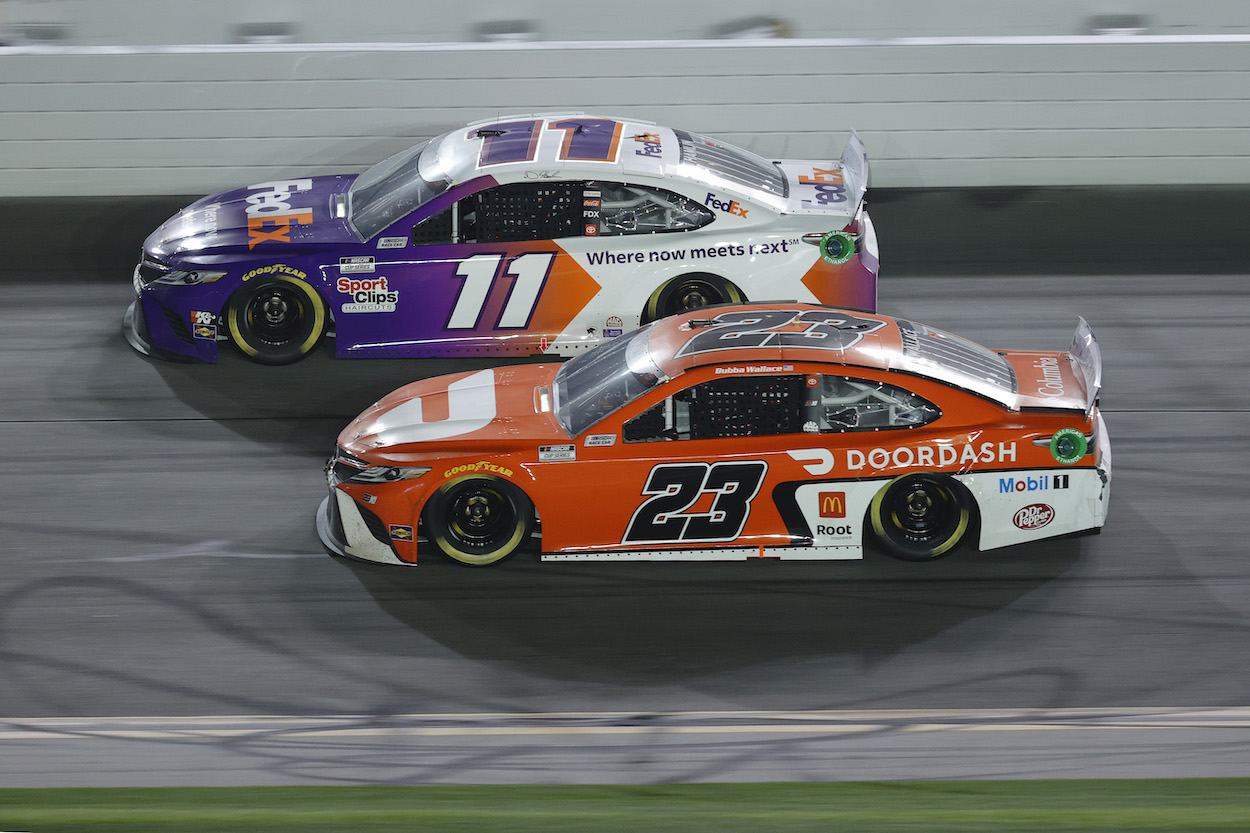 There's no way around it — Bubba Wallace has struggled in his first season with 23XI Racing. Through 23 races, the No. 23 car has managed a single top-10 finish, a fifth at Pocono.
Outside of that performance, there haven't been a whole lot of highlights for the first-year race team co-owned by Jordan and Denny Hamlin. Wallace has managed just six top-15s all season. Conversely, he's finished 21st or worse on 11 occasions, or almost half the races. He currently sits 21st in the driver standings with three races to go in the regular season. 
Interestingly, Wallace's performance at this point last season with Richard Petty Motorsports was markedly better. He had earned 12 top-20 finishes, including four top-10s.    
Bubba Wallace admits it's been the 'new team blues'
This week Bubba Wallace appeared on SiriusXM NASCAR Radio and talked about the first season of 23XI Racing. The 27-year-old driver admitted this year has presented more than its share of challenges. 
"We all want to win, of course. That's why we're here," Wallace said. "That's why we show up every week, is to win. But there's been a lot of things in our control and out of our control that have taken us out of having really good finishes. Have we had a winning car this year yet? No. Maybe for Daytona, yes, but other than that, we've had some top-5 moments. We've had a lot more top-10 moments than we've shown on paper, but it's just been the new-team blues."
Despite all the struggles and frustration, Wallace said he's glad to be going through it with the current team assembled.  
"It's not 100 percent execution, and that's what takes us out — whether it's my fault or the team's fault," he said. "But at the end of the day, we're all in it together, so it's those growing pains that you have to get through. Proud of everybody continuing to show up each and every week with the right foot forward and the right mindset. We just gotta keep pushing through and keep building on that notebook. We started on page one for 23XI Racing. It's an honor for me to build that, but with that comes a lot of frustration, a lot of pressure, a lot of trying times. But when you surround yourself with the right team like we have, it makes those situations a little bit easier to navigate through."
Crew chief Mike Wheeler addresses team struggles 
One of the members of the team helping Wallace navigate through is veteran crew chief Mike Wheeler, who has worked with Denny Hamlin and Christopher Bell. Wheeler knew the first season of a new race team would be tough, but it's proven to be even more challenging than he expected. 
"I knew starting a team from scratch would be difficult," Wheeler acknowledged. "I knew getting Bubba to run highly up the chart and having the performance would be a challenge, too. I definitely expected to be running better and higher up in points for what he had as far as equipment and a team."
Despite not performing as well as he had expected or hoped, he said there have been flashes of greatness, revealing what the team is capable of when everyone on the team works together and executes the plan. It's just a matter of consistency. 
"We've had some highlights of winning a stage and leading laps and having top-10 cars a few of these times, but we haven't been able to put a lot of races together as a whole," he said. "But we are getting better at that." 
Wallace and Wheeler look to continue and improve this weekend when the Cup Series returns to action at the Indianapolis road course on Sunday. 
Like Sportscasting on Facebook. Follow us on Twitter @sportscasting19.