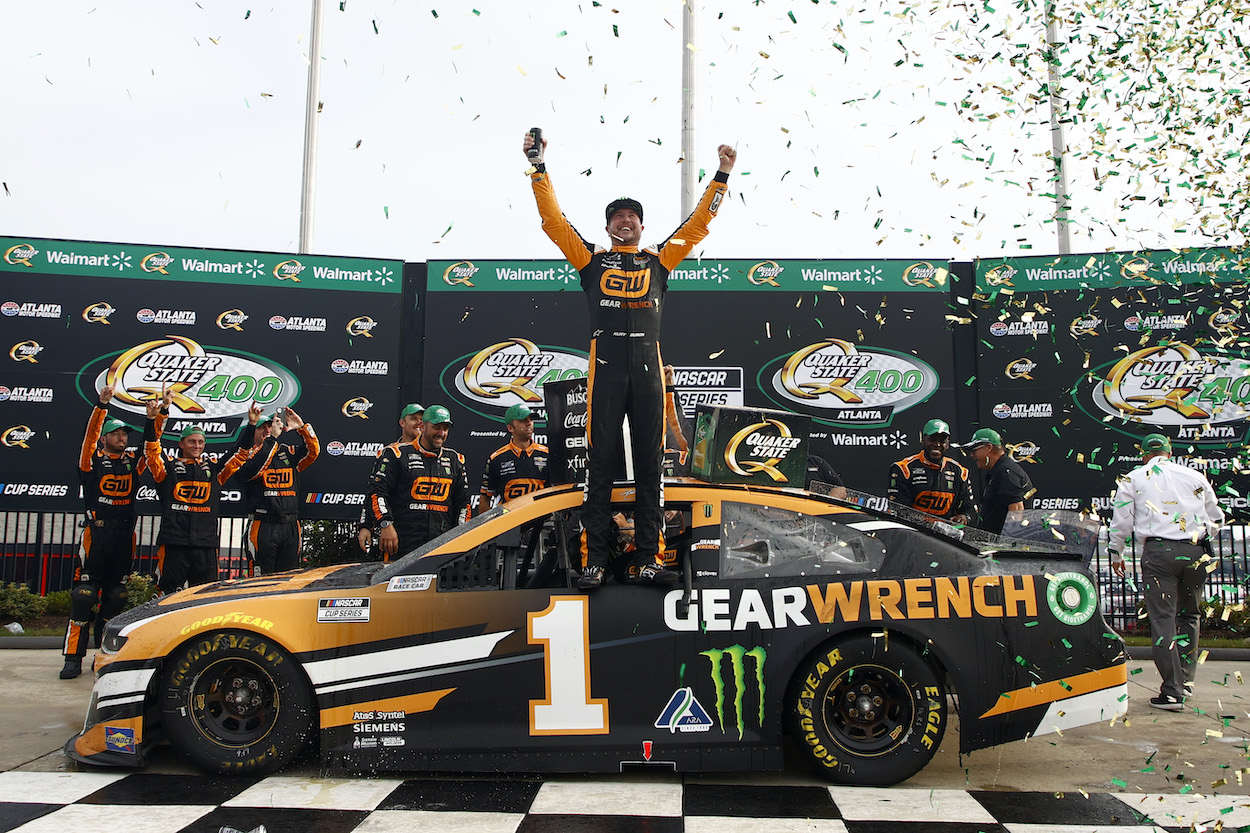 Kurt Busch Officially Out at Trackhouse Racing in 2022 and Future Uncertain
Kurt Busch's future won't be with Trackhouse Racing in 2022. The team announced Tuesday that Ross Chastain will drive the No. 1 car next season.
Before the 2021 NASCAR Cup Series season, there was speculation on whether or not this might be Kurt Busch's last year behind the wheel. The 2004 Cup champion didn't dispel the rumors, releasing a cryptic video that showed him pondering potential retirement.  
The idea of Busch retiring has slowly faded as the season has progressed, especially after he won in Atlanta. In the last few months, the news on the 42-year-old driver has been focused on whether he would return to Chip Ganassi Racing next year. Today, it became official. He's out. The new question is where does he land in 2022? 
Kurt Busch retirement speculation before 2021 season
Kurt Busch's future in NASCAR beyond 2021 was a serious question before the season. With 33 wins, including the 2017 Daytona 500 and the 2004 season championship, Busch had nothing left to prove on what is a Hall of Fame-worthy career.  
With lots of speculation about his future, Busch released a professional video that attempted to address those questions. The Monster Energy-sponsored video begins with a breaking news story suggesting he is retiring. After taking a call from Rob Gronkowski telling him not to do it, the video, which Busch narrates, shows him wearing his racing gear, driving through the streets of Florida, with highlights of his career interspersed throughout.
"What's next for me?" Busch asks near the end of the video. "A checkered flag. I'm just a racer."    
Out at Trackhouse Racing
Since Justin Marks and Trackhouse Racing purchased Chip Ganassi Racing in late June, there's been considerable speculation about where Busch and fellow Ganassi driver Ross Chastain would land in 2022. On Tuesday, Trackhouse answered one of those questions.
Chastain signed a multi-year deal with Trackhouse and will join Daniel Suarez as the second driver for the team. That move didn't come as much of a surprise. However, the number of the car Chastain will be driving caught a lot of folks off guard and also signaled Busch was out.
"Introducing the driver of the #1 Camaro starting in 2022… Welcome to the House, @RossChastain," the Trackhouse account tweeted, which included a video featuring highlights of Chastain. 
Kurt Busch to 23XI Racing?
With Chastain taking over the No. 1 ride in 2022, Busch is moving on after three years with Ganassi. Just a few weeks ago, Busch talked about his future and what he envisioned happening during an interview with fellow Cup driver Corey Lajoie on the Stacking Pennies podcast.
"I'm so happy these last few weeks that we have fans back," Busch said. "We're doing stage events and autograph sessions and things are back to somewhat normal at the track. That's drawing me in. We'll see what next year brings, man, but I don't have a deal signed yet. The Trackhouse thing changed the way the Ganassi structure was being chatted about. And yeah, 23XI is out there as well."
Just the fact that Busch would bring up 23XI Racing unprompted suggests that a move to join Bubba Wallace on the team co-owned by Denny Hamlin and Michael Jordan has some legs. And now, with the door officially closed at Ganassi-Trackhouse, it sounds even more likely. 
Time will tell.   
Like Sportscasting on Facebook. Follow us on Twitter @sportscasting19.