Dale Earnhardt Jr. Explains Why the Daytona 500 Is the Super Bowl of NASCAR
For Dale Earnhardt Jr., the Daytona 500 is a place full of memories – some good, some bad, and some horrific. For NASCAR, it's the Super Bowl of the season, although it's the first race of the year. Earnhardt Jr. recently explained why so much emphasis is put on that first race of the season.
The ups and downs of Daytona for Dale Earnhardt Jr.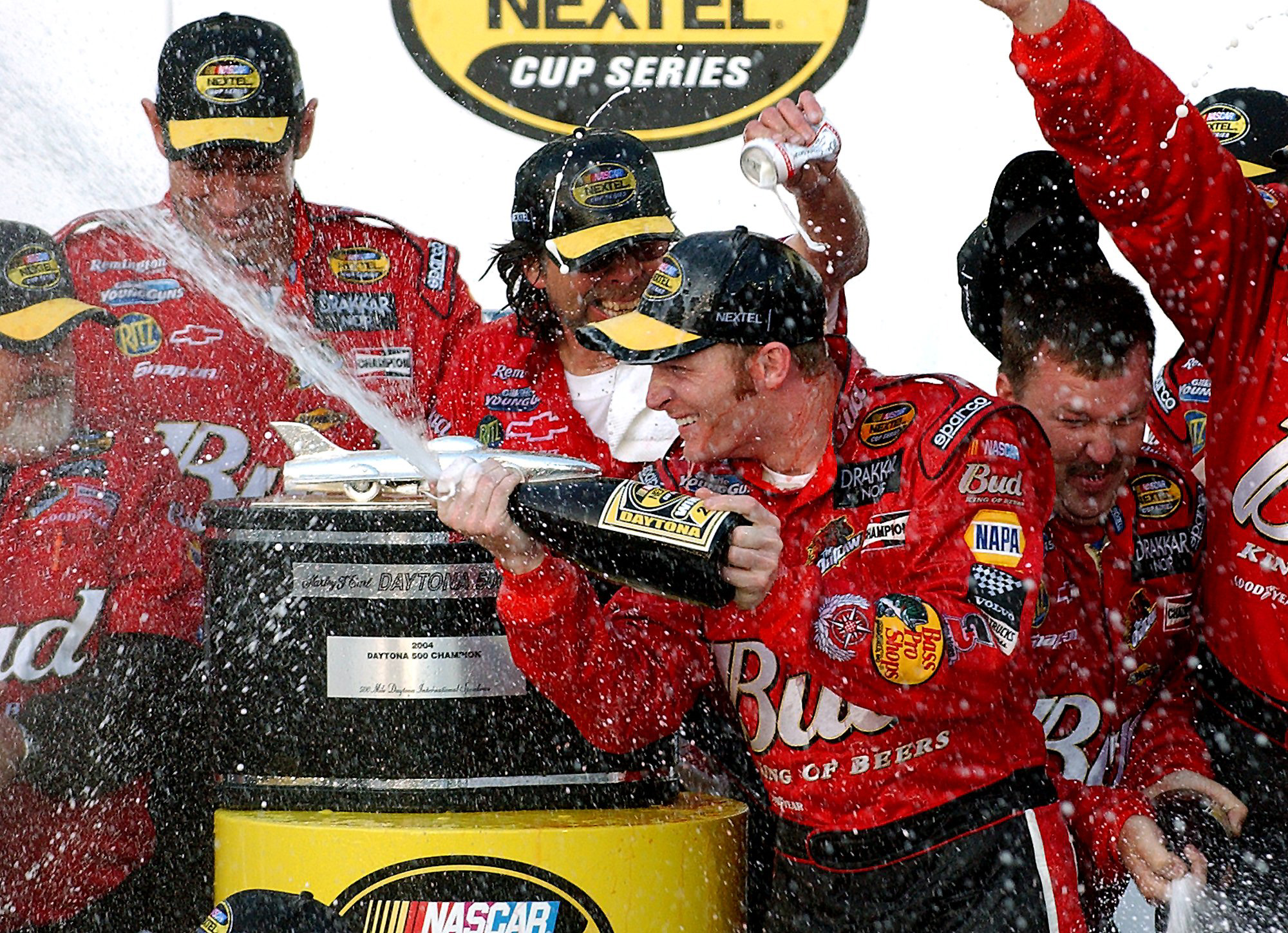 The Daytona 500 was always a stressful race for the Earnhardt family. Dale Earnhardt Sr. struggled for 20 years before he finally was able to win his first and only one in 1998. He'd be close to capturing that first opening-day win, only to see it fall apart for one reason or another. Junior won the first of his two Daytona 500s in 2004, ending his personal stress.
"I won it in '04," Junior recently said on the I Am Athlete podcast. "It was my fifth full-time season, and I was so relieved that I didn't have to chase that for 20 years. He was miserable trying to figure that out. He was leading in 1990, led every lap. Nobody could touch him, and he ran over a piece of metal on Turn 3 on the last lap."
The elder Earnhardt, of course, was killed during the 2001 Daytona 500 on the final lap of the race. Junior won the race three years later and then claimed it again in 2014. "When I won it in '04, I was like – I know it sounds so cliche, but they can't take that from you," he said.
Earnhardt Jr. explains why the Daytona 500 is the 'Super Bowl'
The Daytona 500 has been referred to as the Super Bowl of NASCAR. It's tough to figure that out since the race kicks off the season and isn't the season finale like the actual Super Bowl. Earnhardt Jr. explained why so much stock is put into that particular race.
Junior was asked by I Am Athlete co-host Chad Johnson what race in his Hall-of-Fame career made him feel like he had arrived. "I think the Daytona 500 win in 2004," he answered. "That's our Super Bowl. I know it doesn't make any sense why we would feel that way about it because it's the first race of the year and not the last race of the year.
"We start working on those cars months in advance. Every other race, it's weeks to get a car ready. To run here (Charlotte Motor Speedway), they'll put weeks into that car. For Daytona, we put months into that one car. We massage on it and just try to make it as good as we can. When you win, they're gonna celebrate you. You're gonna do a week and a half, two weeks of media. Everybody wants to win that race."
Junior said winning Daytona was his dad's biggest accomplishment
Earnhardt Sr. had one heck of a racing career. He racked up 76 victories and a record-tying seven championships in his day. A member of the inaugural NASCAR Hall-of-Fame Class of 2010, Earnhardt had many memorable moments on his resume. His son believes his father would think his 1998 Daytona win was his biggest moment.
Maybe it was because that race eluded him for so long. Maybe it was because he finally won a "Super Bowl." "He had come that close to winning that race multiple times and had something weird happen at the end," Earnhardt Jr. said.
"Finally, he wins it and it's his greatest accomplishment. In his mind, he's like out on top of the car like, 'finally.'"