Bengals Receiver Chad Johnson Once Placed a $100,000 Bet on His Own NFL Performance
Under normal circumstances, professional athletes betting on their own games is a recipe for disaster; just ask Pete Rose about that. During his time with the Cincinnati Bengals, however, Chad Johnson put his own money on the line in a more acceptable manner.
Early in the 2003 campaign, the NFL star was disappointed with his performance, so he went to see the Bengals offensive coordinator with a $100,000 check and an unusual offer. If Chad Johnson didn't step up the next game, the money belonged to his boss.
Chad Johnson had an impressive career with the Cincinnati Bengals
When you hear the name Chad Johnson, it's easy to focus on his colorful personality and forget anything he did on the football field. During his time on the gridiron, though, the receiver was a legitimate talent.
Johnson started his college football career at Santa Monica State; while the Corsairs might not be the biggest program around, the receiver still made a name for himself. He earned a transfer to Oregon State, played one season with the Beavers, and then entered into the 2001 NFL draft.
While the receiver had a quiet rookie year with the Cincinnati Bengals, he eventually showed the Bengals that he had what it took to make it in the pros. From 2002 through 2007, Johnson broke the 1,000-yard receiving mark every season; after that streak ended, he'd play three more campaigns in Ohio before joining the New England Patriots.
After being cut from the Dolphins' roster on Hard Knocks in 2012, Johnson's NFL career came to an end; he finished with 766 catches, 11,059 yards, and 67 touchdowns over the years. The receiver wasn't completely done with pro football, however. He went on to some time in the Canadian Football League, though, and even played a single game in Mexico.
The receiver was known for his on-field antics, in addition to his talent
Looking at Chad Johnson's stat line only tells you part of the story, though. As anyone who watched the receiver take the field can tell you, the Bengals man was equal parts showman and NFL player.
Even if you're not a football fan, you probably remember when Johnson legally changed his last name to 'Ochocinco,' in honor of his jersey number. That was only one part of his repertoire, though.
Johnson, like Terrell Owens and Joe Horn, was a master of end zone celebrations. On one occasion, for example, he proposed to a Bengals' cheerleader after scoring a touchdown; on another, he performed an Irish step dance.
While not everyone cared for those antics—the NFL fined Johnson for a couple of his celebrations—they made the receiver a star. Whether you loved or hated him, you were going to see what he did next.
Chad Johnson placed a $100,000 bet on himself during the 2003 season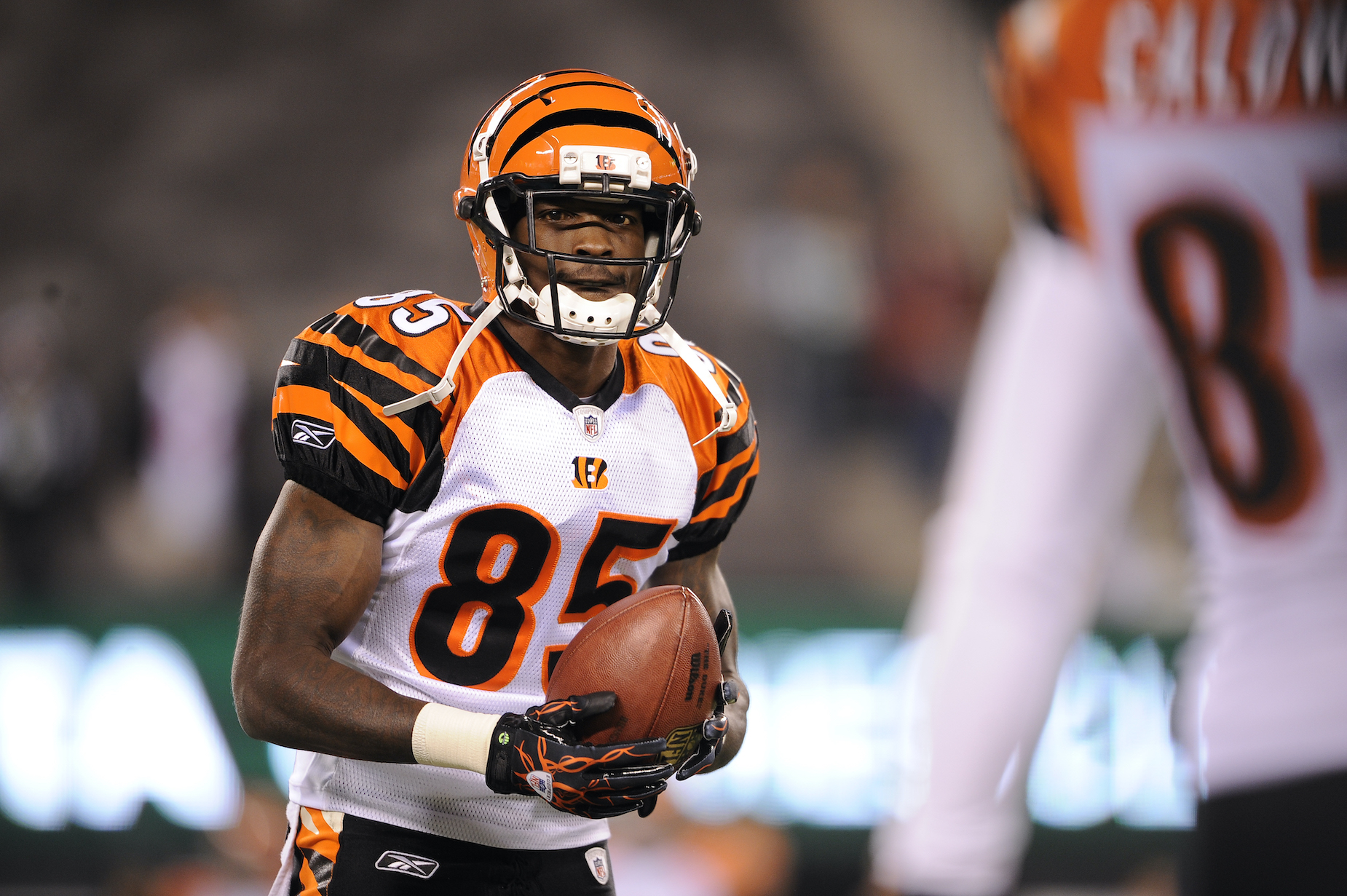 Chad Johnson didn't just put on a show for the cameras, though. In 2003, he apparently made a bold move behind closed doors after a disappointing performance.
As explained in an NFL video, Johnson wasn't happy after his Week 5 outing against the Buffalo Bills; for the record, he caught six out of 13 passes thrown his way, finishing the game with 59 yards and no touchdowns.
The receiver then went to see his offensive coordinator, Bob Bratkowski, with a $100,000 check and an offer. "If my next game I don't perform up to par," Johnson said, "I want you to keep this and cash that check."
While Bratkowski insisted that he had no plans on keeping the money and eventually tore up the check, Johnson's plan worked. In Week 6, he only caught five passes but accumulated 130 yards and scored a touchdown.
"I needed the pressure to perform at a high level," Johnson explained. "It's really weird. Most players like to go into games quiet and just play. I needed to force myself, I needed to put pressure on myself to go out there and play week-in and week-out."
Placing a $100,000 bet on yourself isn't the most conventional move, but Chad Johnson always did things his own way. In this case, the plan worked out.
Stats courtesy of Pro-Football-Reference