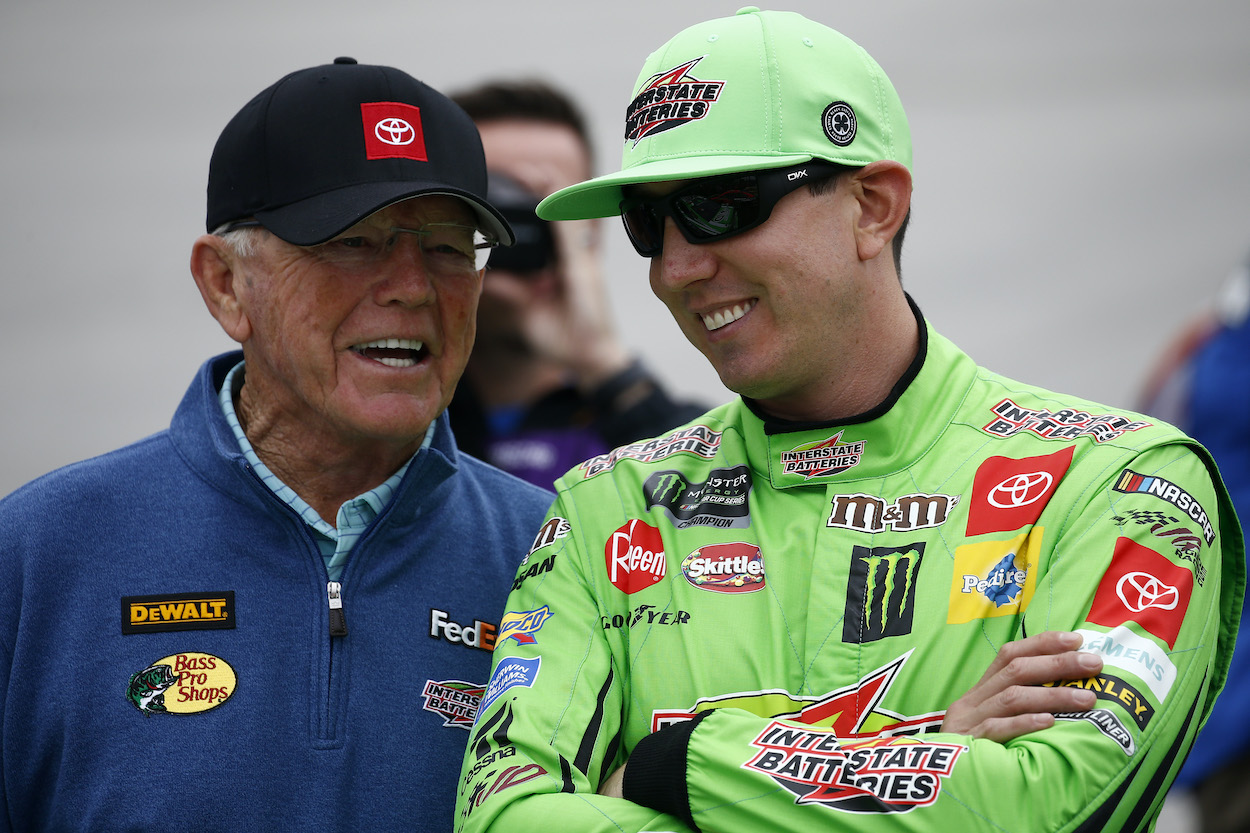 Joe Gibbs Candidly Reveals the Greatest Sports Moment in His Life and It's Likely Not What You Think It Is
Joe Gibbs revealed the greatest sporting event of his life on an episode of NASCAR Race Hub and it's not what most people think it is.
Joe Gibbs will go down as one of the most iconic figures in sports history. Two very specific achievements summarize his greatness — his induction into the Pro Football Hall of Fame in 1996 and induction into the NASCAR Hall of Fame in 2020.
Gibbs appeared this week on NASCAR Race Hub as a guest with Bobby Labonte. The pair talked about their time together, including winning the team's first championship in 2000. The conversation also drifted over to Gibbs' career as an NFL coach. At one point, the 80-year-old candidly offered up what he considered to be the greatest sporting event he'd ever been a part of, and the answer is surprising.  
Joe Gibbs and his impressive list of accomplishments in two sports
Joe Gibbs is special. His achievements alone as the head coach of the then Washington Redskins put him in an elite class. In two separate stints as the head coach, he guided the team to a 171-101 record, which included three Super Bowl titles in 1982, 1987, and 1991. 
For his efforts, Gibbs was named NFL Coach of the Year in 1982 and 1983. He was also named to the NFL 100th Anniversary All-Time Team. He was inducted into the Pro Football Hall of Fame in 1996. 
And that's just his success in football.
Gibbs has been equally successful as team owner of Joe Gibbs Racing in NASCAR, which he launched in 1991 while still serving as the coach of Washington. Like his time in the nation's capital, Gibbs built a winner at JGR that has impressively won a pair of Xfinity Series championships and five Cup Series titles, the most recent coming in 2019 with Kyle Busch. 
In addition, the team has won five Brickyard 500 championships and, more importantly, three Daytona 500s, the season-opening race often referred to as the Super Bowl of NASCAR. For all of his accomplishments, Gibbs was inducted into the NASCAR Hall of Fame in 2020.    
Joe Gibbs admits one moment stands out above them all for an emotional reason
While most athletes or coaches who have won multiple championships in any sport often deflect when asked if one title is more special than the other, Joe Gibbs, who has a plethora of choices across two sports to choose from, did just the opposite this week during an appearance on a special edition of NASCAR Race Hub.
When host Shannon Spake asked if winning the Daytona 500 or winning a Cup championship was more important, Gibbs provided a surprisingly candid answer.
"Boy, that's a tough one," Gibbs said. "I'd say the championship. That means so much to you. But I gotta tell you, that 500, that was so hard to win. That's a thrill. I'd say the one that we experienced when J.D. (Gibbs) went to be with the Lord – that Daytona 500 – I'd say that was the greatest sporting event I've ever been a part of." 
JGR wins 2019 Daytona 500 following son's death
Denny Hamlin earned Gibbs his first Daytona 500 win back in 2016. That was a special moment for the coach, but it paled in comparison to what would happen three years later.
In January 2019, Gibbs' son J.D., who had served as president of JGR from 1997 to 2015, died after a four-year battle with a degenerative neurological disease. A month later, Hamlin brought home the Daytona 500 win, and Gibbs was understandably emotional.
"What happened here is really unreal," Gibbs said in a postrace interview. "I'm just thrilled. I think J.D. had the best view of everything."
If anyone ever wonders about Gibbs' most significant accomplishment in sports, they can visit the NASCAR Hall of Fame where the No. 11 car from the 2019 Daytona 500 has resided since his induction. 
Like Sportscasting on Facebook. Follow us on Twitter @sportscasting19.