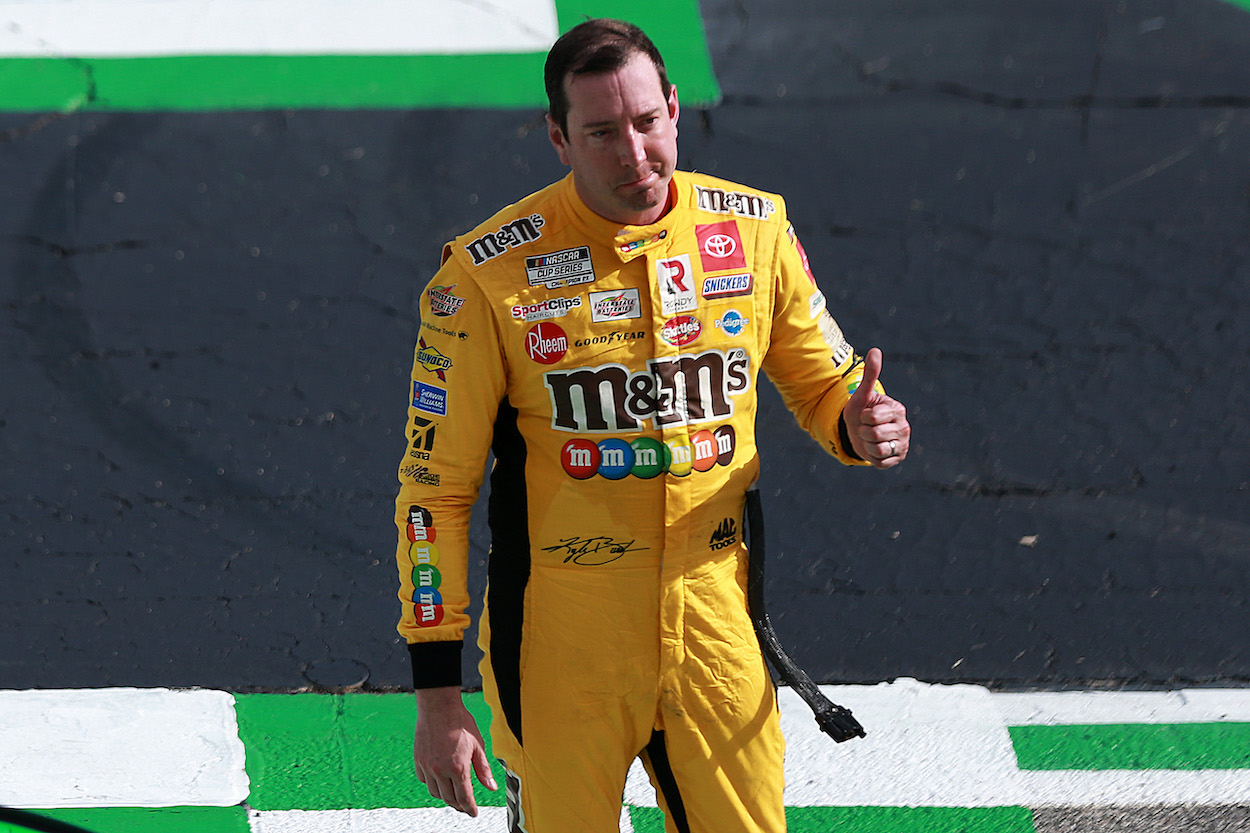 Somber Kyle Busch Skips Burnout and Trademark Bow After Winning Xfinity Race in Atlanta Before Absolutely Blasting Track Officials for Changing Track: 'It's Going to be S—'
Kyle Busch won the Xfinity Series race in Atlanta and delivered a somber victory speech before ripping track officials for the track changes slated for 2022.
Kyle Busch has jubilantly celebrated victory 101 times after a NASCAR Xfinity Series race in his illustrious career. He's done it four times this season alone. On Saturday in Atlanta, Busch won for a record 102nd time, but his celebration was dramatically different.
There was no burnout. There was no trademark bow. Instead, there were repeated apologies during the live postrace interview for a late-race incident with his Joe Gibbs Racing teammate Daniel Hemric. Then, when Busch met with the media, he was asked about the future changes at the track. Not surprisingly, he didn't hold back.
Kyle Busch wrecks teammate Daniel Hemric 
While Kyle Busch won both of the first stages of the Xfinity Series race at Atlanta, it was his Joe Gibbs Racing teammate Daniel Hemric who was the dominant car in the final stage, leading 45 laps. And Hemric had to fight for it at the end, holding off Busch after multiple cautions and restarts.
With seven laps remaining, the pair lined up for yet another restart, with Busch in row two directly behind Hemric. On the restart, Busch gave Hemric a push, and that's when things went awry. 
With the Busch push, Hemric surged out in front of A.J. Allmendinger, who was running on his outside. Then the No. 18 car wiggled and veered off to the right in front of Allmendinger, who gave him another push. Hemric then slid up toward the outside wall and attempted to save it. He couldn't. He hit the outside wall and another caution came out.
Hemric dropped from first to the back of the pack. He finished 30th. 
Kyle Busch delivers somber victory speech
Busch held on for his record-setting 102nd Xfinity Series win. After the race, fans in the stands expected to see the standard Kyle Busch celebration with a burnout and a bow. They got neither. He was clearly in no mood to celebrate and admitted as much in the post-race interview. 
"Yeah, obviously, I meant to push him. I wanted to hit him," Busch said of the incident with Hemric on the restart. "I just wanted to hit him forward and straight but I turned him sideways a little bit and then I think he got more help on his right side. But just trying to help a teammate there. That's why I restarted behind him. 
"Just overall a great day for our No. 54 car, but the 18 was better and deserved this win. I'm sorry to Daniel and those guys. I hated that all that transpired. That's restarts in Atlanta I guess… You hate it when it does happen. That's why this win is a little more somber than some others that have been. You know, you don't take solace in having a win like that. A win's a win. I got to do an interview with you anyways. I can't just go elsewhere."
Rips Atlanta for upcoming track changes

After the on-air interview with NBC and celebration in victory lane, Busch met with members of the media, where his tone dramatically changed, especially when talking about the plans for a massive reconfiguration of Atlanta after Sunday's Cup Series race.
Among the most notable changes, the banking will increase from 24 to 28 degrees, and the turns will narrow from 55 feet down to 40. Many drivers have expressed their unhappiness with the changes. On Saturday, Busch joined them.
"Other than getting into my teammate Daniel Hemric and him crashing, I sure am glad to win the final Xfinity Series race on a real Atlanta racetrack," Busch said. "Because the next one is just going to be a showpiece, and it's going to be s—."
While Busch may have raced his last Xfinity Series, fans will still have an opportunity to watch him race and deliver his colorful marks with the Cup Series. And no matter whether you love him or love to hate him, there's no denying he makes the sport more entertaining.
Like Sportscasting on Facebook. Follow us on Twitter @sportscasting19.