Kurt Busch Candidly Admits Michael Jordan Showed Who Was in Charge During Their Initial Meeting
Kurt Busch will go down in NASCAR history as a great driver who won the 2004 Cup Series title. All of that success throughout his career made him a good fit for a young organization like 23XI Racing in the eyes of co-owners Denny Hamlin and Michael Jordan. 
The driver recently admitted during an interview on SiriusXM NASCAR Radio that even though he's attained success and fame of his own, it was just "different" when he met His Airness this summer to discuss a potential ride. He also revealed that early on in their conversation Jordan made it clear who was in charge. 
Kurt Busch details how Michael Jordan showed him who was in charge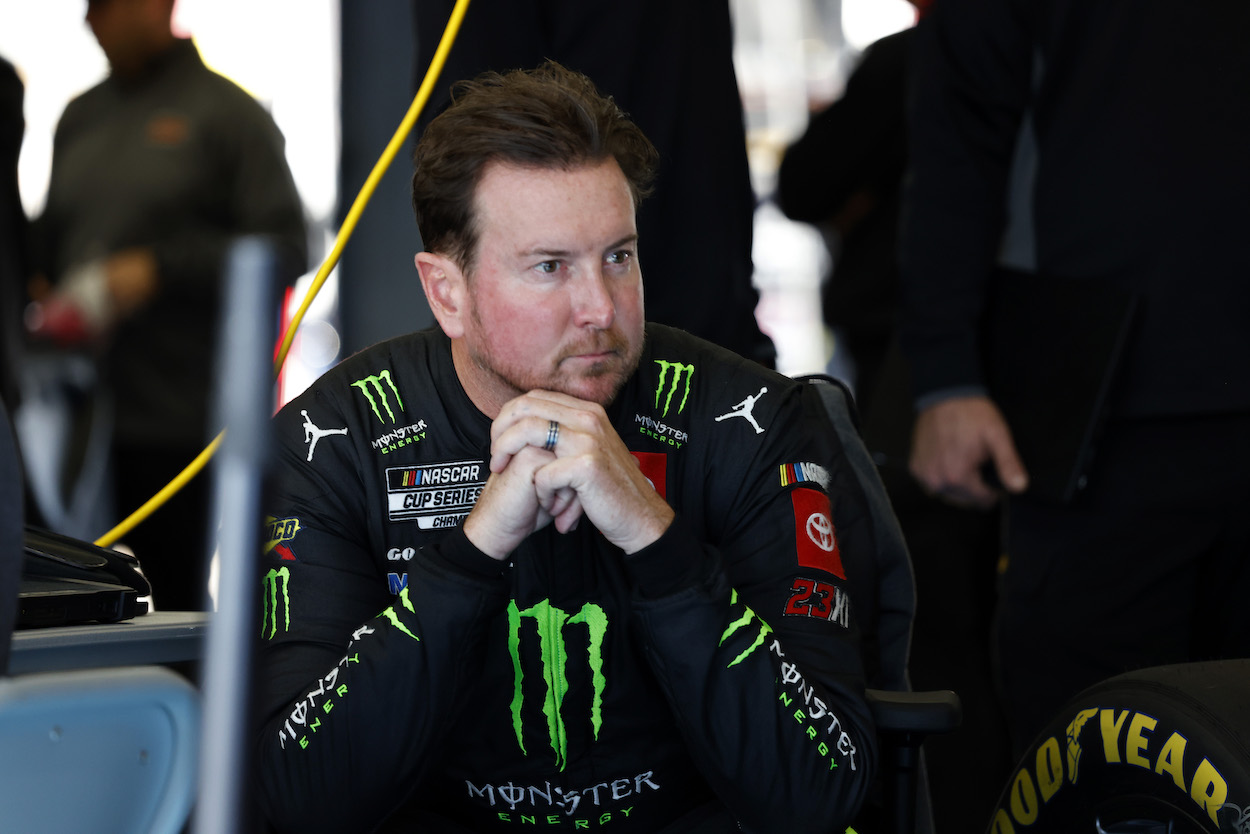 Kurt Busch to 23XI Racing was one of the worst-kept secrets in NASCAR. Various reports indicated the veteran driver was headed to the first-year organization in 2022. Now, weeks into his new role, the 33-time Cup winner recently revealed in a SiriusXM NASCAR interview how it all went down, including that initial meeting with Jordan and how it made him feel.
"I mean he is the GOAT. The situation, the way it all came together, it was this impressive meeting out in Sonoma earlier this summer. Right away, I got along with him. Just with the way he was chill but also presented this aura about him. 'We will win. We are here to win. This is what this is about,'" Busch remembered Jordan telling him. "And it was like, 'Yes sir.' He's like, 'Don't call me sir.' I said, 'Alright, let's win.'"
Busch said the stars aligned, and everything fell into place. 
"It was just easy right away to piece together what the contract is," he recalled. "Monster Energy was incredibly excited about it. Toyota, they were the ones behind the scenes, kind of pushing for a veteran to jump in the program and move the needle with 23XI. I've raced a long time for a lot of different legendary owners and Hall of Famers in NASCAR. MJ definitely has a different presence about him."
Kurt Busch making impact at 23XI Racing 
In late August, and after weeks of rumors, 23XI Racing confirmed Kurt Busch as the team's second driver. Hamlin said adding a driver with Busch's pedigree would help the entire organization. 
"When we started this team, our vision was to grow to a multi-car organization. To be able to expand in just our second year is a huge step for us," Hamlin said in a team release. "Kurt brings a wealth of knowledge and a championship mindset to our team, and will be able to help us grow stronger and more competitive each and every week."
In one of his first roles at the new job testing out the Next Gen car and "finding things a veteran is supposed to find within a new car," the 43-year-old acknowledged how he was looking forward to sharing his knowledge with various members of the team, including Bubba Wallace. 
"There's young engineers and young crew members that are eager to learn, and all the knowledge that I have in certain areas, I'd love to kind of transfer it off to certain guys," said Busch. "Then, with Bubba, we want him to jump into the program with a mindset to win and to be there at another level next year."
Jordan sets high expectations for Wallace
Having high expectations of Bubba Wallace is nothing new. In Jordan's first-ever meeting with the lone Black driver in the Cup Series, which happened during a television interview on Fox before the 2021 Daytona 500, the six-time NBA champion set out especially lofty goals for a first-year team starting from the ground up. 
"I feel like he's going to learn how to win," Jordan said of his driver. "He's got the talent. We would have not invested in him and picked him if he didn't have the talent to win. By the end of the year, I think he's going to have an opportunity and probably will win at least a couple of races. If it's more, I'll be elated." 
Wallace had a mixed bag in his first season with 23XI. He struggled to get top-10 results but did earn the first win of his Cup career late in the season at Talladega. 
Based on what the pundits and even those within the the organization are saying about Year 2 goals, Busch's addition will go a long way in helping 23XI Racing achieve them. And years from now, when the team has numerous wins and championships to its credit, he can remember back to that first meeting when Jordan told him what the organization was about and let him know who was in charge. 
Like Sportscasting on Facebook. Follow us on Twitter @sportscasting19.