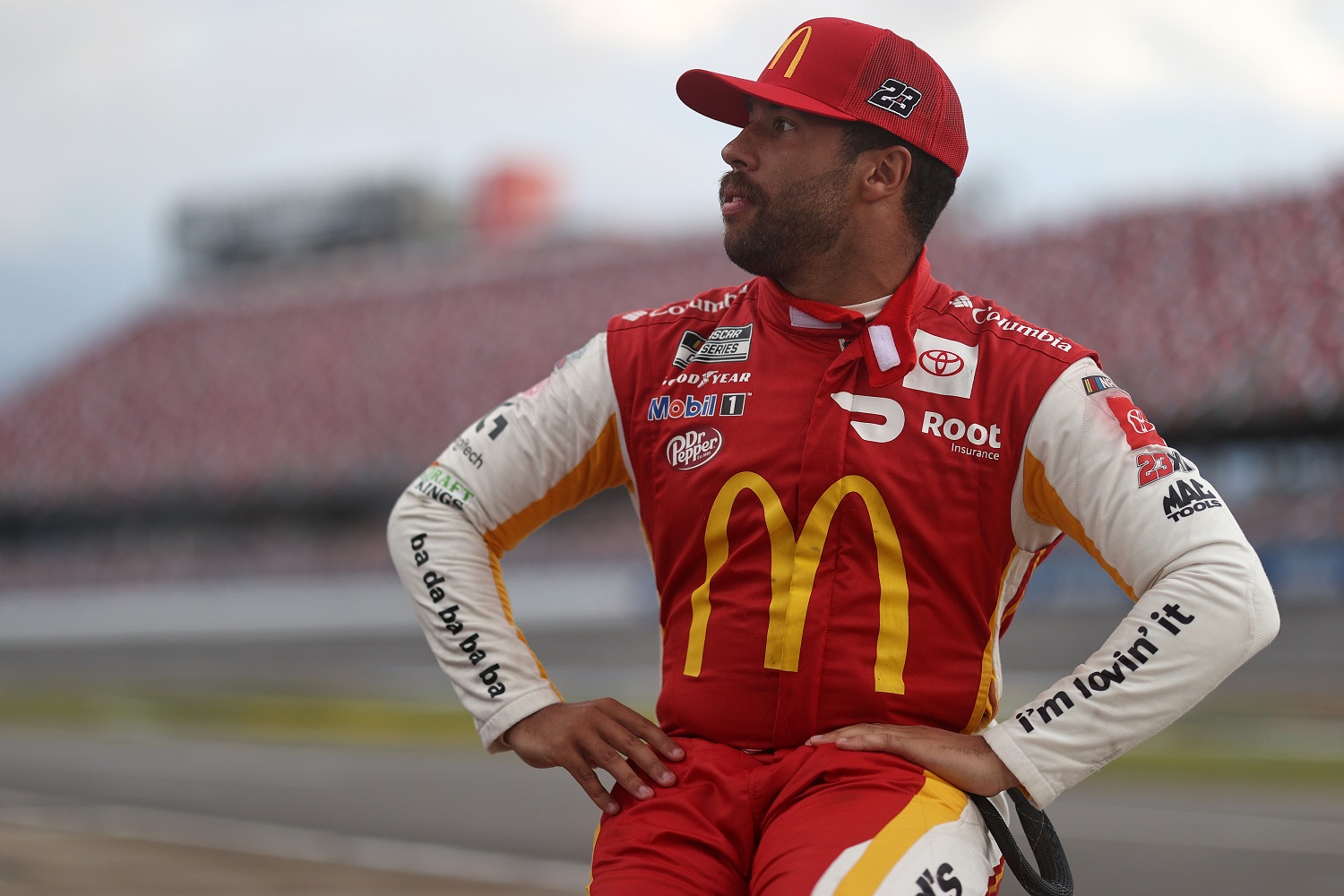 Bubba Wallace May Pay a Price for Winning at Talladega in a Wild Twist of Fate for Michael Jordan's 23XI Racing Team
Winning at Talladega made Bubba Wallace that much more valuable to 23XI Racing, which now realizes that it can't get by with just one charter in 2022 when the size of the team doubles.
If all goes well, the fresh dose of drama will be blowing over for 23XI Racing in a matter of days or weeks, Michael Jordan will acquire a second NASCAR Cup Series charter, and Bubba Wallace will breathe easily again.
For now, however, Wallace and Jordan are experiencing NASCAR's version of a First World problem: Winning that race at Talladega this month might have mucked up the presumed deal between 23XI and Front Row Motorsports.
23XI Racing and Front Row Racing have reached a stalemate
Fox Sports' Bob Pockrass is to NASCAR reporting what Adrian Wojnarowski of ESPN is to the NBA; if Pockrass doesn't report something, then it didn't happen.
This week, Pockrass cited sources while reporting on Twitter that a tentative deal that would have 23XI Racing, the year-old team created by Michael Jordan, acquire a charter from Front Row Motorsports has fallen through. Pockrass tweeted that Front Row ownership "walked away" from final talks.
As a single-car team this season, 23XI Racing operates just fine with its one charter for Bubba Wallace's No. 23 Toyota.
NASCAR adopted the charter system in 2016, in essence granting 36 racing franchises to Cup Series teams. Teams operating with charters are exempt from having to qualify for the weekly race fields, but it is still possible to compete without a charter. JTG Daugherty Racing did that very thing this year with Ryan Preece in the No. 37 Chevy, which has posted four top-10 finishes.
However, 23XI is growing in 2022, and a second charter would come in handy.
Bubba Wallace winning at Talladega altered the dynamics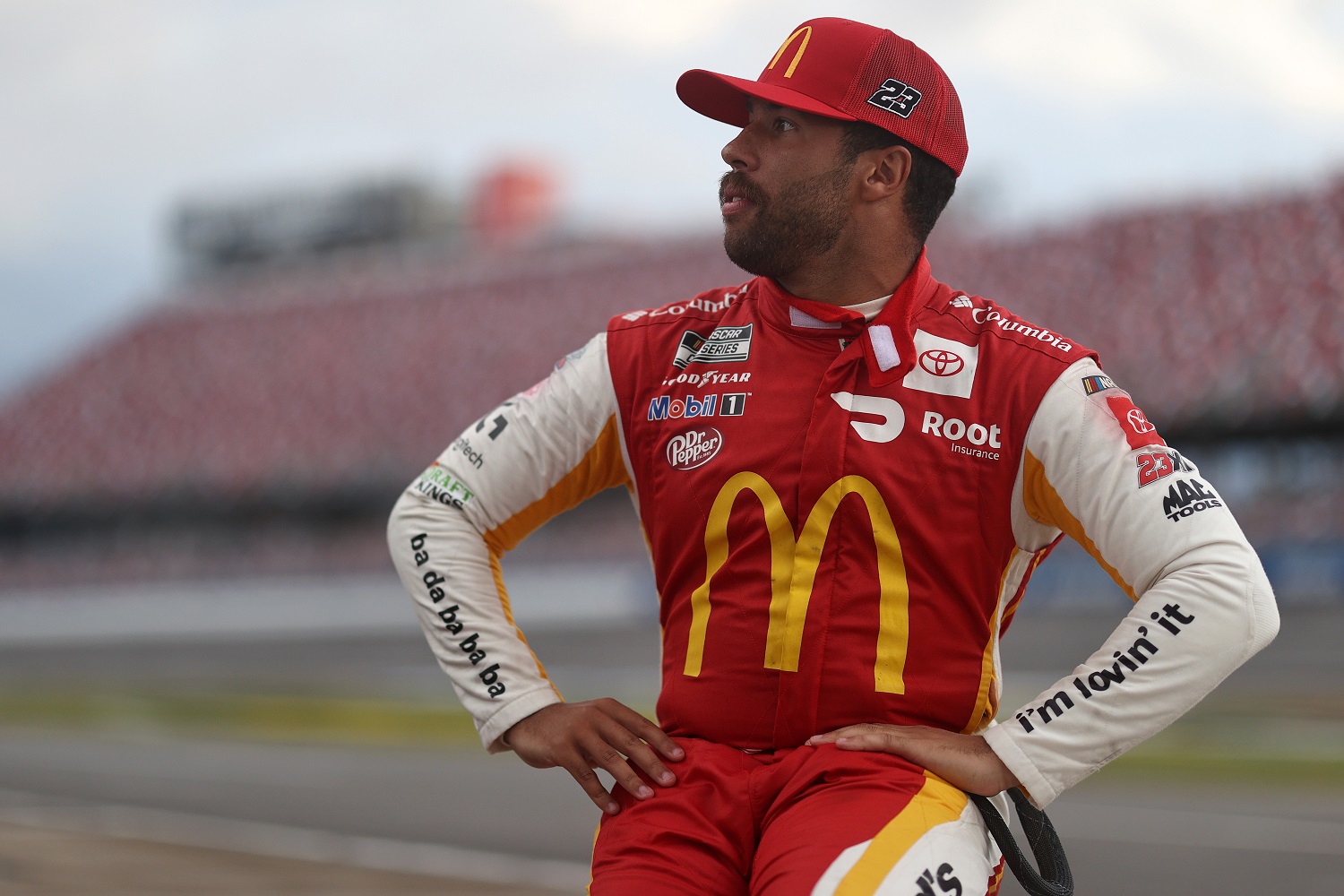 Bubba Wallace is getting a teammate next year. The 23XI Racing team is adding a second car, and Kurt Busch has signed on to drive the No. 45 Toyota.
Elsewhere in the NASCAR Cup Series, Chip Ganassi Racing is exiting, having sold its assets to Trackhouse Racing, which intends to run two cars in 2022. Kaulig Racing will make its debut at the top level with at least one car — and probably two if the sponsorship money is there. GMS Racing finally firmed up its plans and will debut with Ty Dillon in the driver's seat.
All told, NASCAR expects a net increase in Cup Series cars at the same time that it will restore qualifying sessions to most racing weekends. Suddenly, then, possessing charters for cars has added value to teams. No one with sponsors paying for visibility wants the car parked on race day.
That's where Wallace's Talladega breakthrough suddenly made things interesting. Wallace made the leap from potentially unemployed by 2024 to a guy who will probably hang on to all his sponsors for a long time, which makes for job security.
Thus, if 23XI Racing was toying with the idea of shifting its charter from the Wallace car to the Busch car, the idea went out the window after Talladega.
The guess is that Front Row Motorsports made a similar calculation and raised the proposed sale price for its charter, knowing how badly Jordan now needs that second charter.
Why does landing the second charter matter more now for Michael Jordan's 23XI Racing?
Bubba Wallace and Kurt Busch will be teammates in 2022 whether Michael Jordan's 23XI Racing has one charter or two. And truth be told, Jordan will probably acquire the second charter from StarCom Racing or Spire Motorsports in the coming weeks anyway.
However, there's a penalty ahead if 23XI can't swing a deal. Charters provide an advantage to teams beyond not having to qualify on Saturdays. NASCAR does not divulge purse money anymore, but the 36 charter teams earn significantly more than the non-charter teams.
Even on a bad day, Busch (12 top-10s this year to Wallace's three) is a more reliable driver than Wallace, which means he could generate several million dollars a year more in prize money if 23XI moves the charter from the No. 23 Toyota to the No. 45.
Such a move would potentially be insulting to Wallace and could cause some of his sponsors to express concern. On the other hand, Busch's sponsors aren't going to want their guy driving without the security of a charter either.
If push comes to shove, Busch remains the better bet to drive down victory lane and bring in the bigger haul of prize money.
Like Sportscasting on Facebook. Follow us on Twitter @sportscasting19.