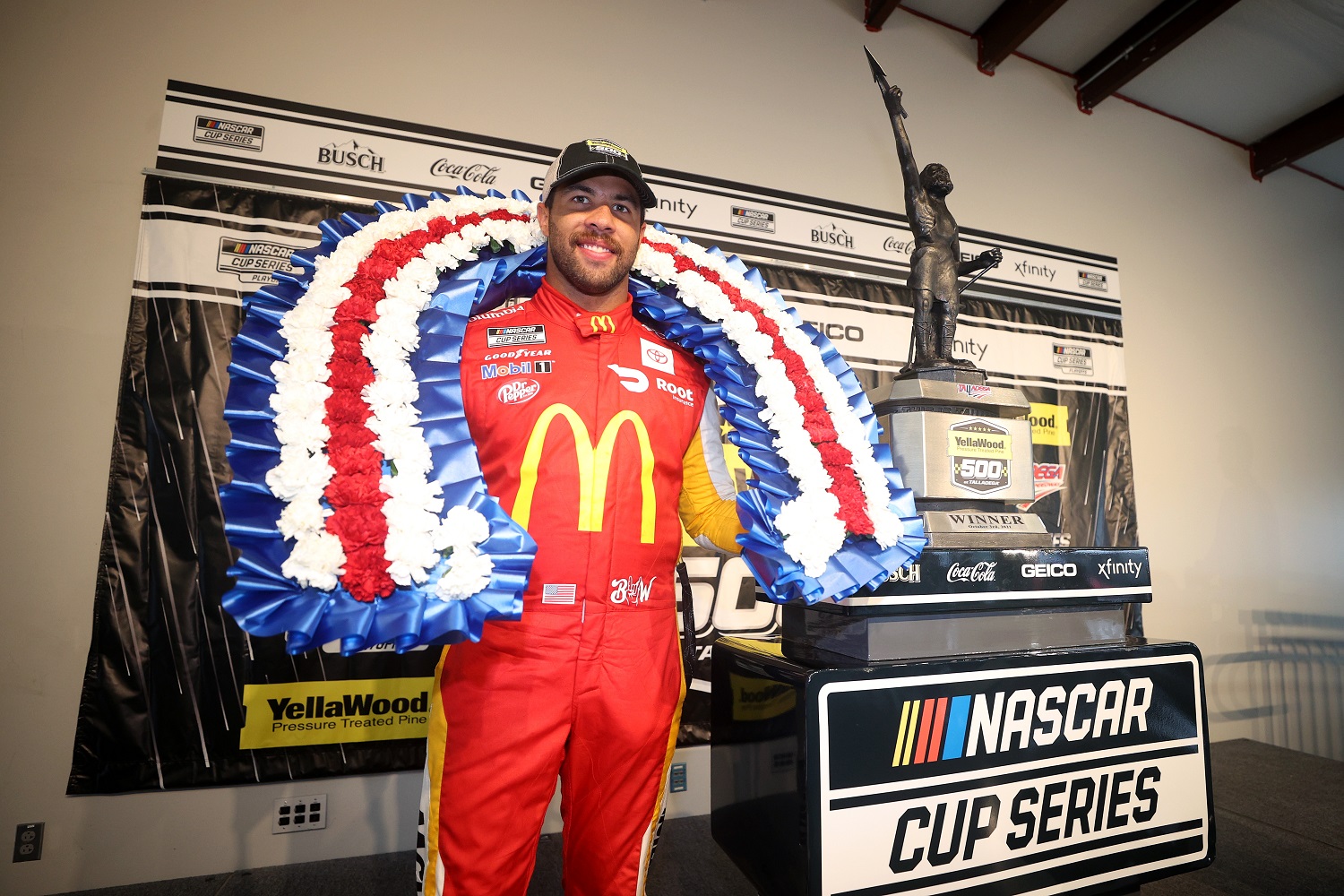 Bubba Wallace Delivered for Michael Jordan's NASCAR team, and Talladega Was the Most Appropriate Place
Bubba Wallace scored his first NASCAR Cup Series victory at Talladega, which holds special significance in his career.
Mother Nature may have taken away the third stage of the Talladega playoff race, but Bubba Wallace will be a NASCAR Cup Series race champion until there is no longer a Father Time.
Wallace's victory in the YellaWood 500 went beyond breaking a string of 142 misses in NASCAR's top series. He became just the second Black driver ever to win, and he did so at the track at which race replaced racing as the sport's most compelling story a year ago.
Bubba Wallace's victory doesn't make NASCAR history, but it's close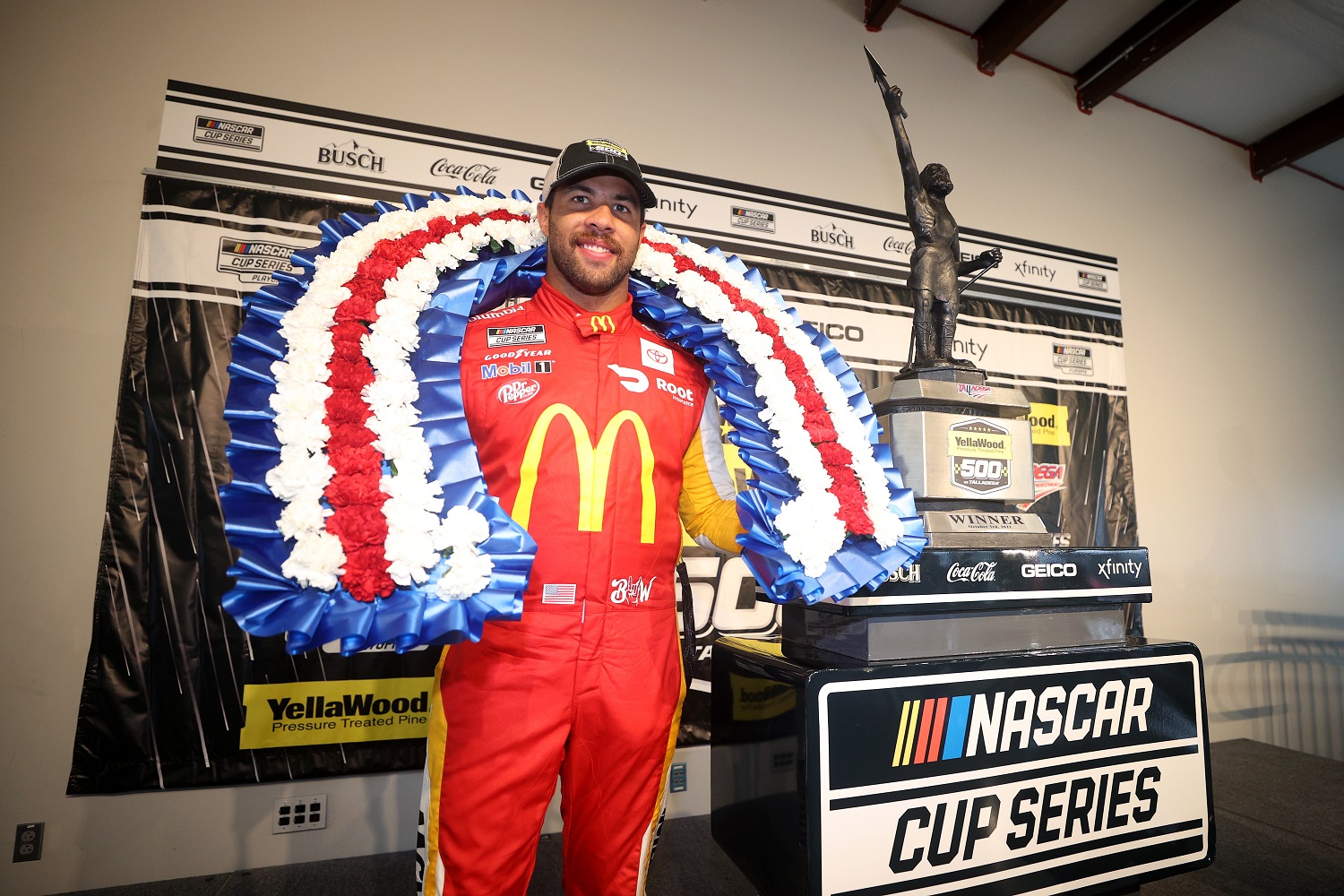 Wendell Scott became the first Black driver to win a NASCAR Cup series, but that breakthrough moment in December 1963 came without the appropriate recognition. Race officials awarded the trophy and the check to Buck Baker before acknowledging hours later that Scott had actually won, saying there was a "scoring error."
Nearly 58 years later, Bubba Wallace was also denied the honor of taking the checkered flag. This time, though, circumstances were different. Bad weather on Sunday kept the race from starting, and more rain followed on Monday. Officials red-flagged the race late in the second stage, attempted to dry the track, and then called the race after heavier precipitation started falling.
Thus, Wallace, who hails from nearby Mobile, Alabama, became the second Black driver to win a race in NASCAR's top series. It doesn't put him into the playoffs, but it does boost both the driver and 23XI Racing team launched by retired NBA great Michael Jordan.
Bubba Wallace winning at Talladega is completely appropriate
Wendell Scott and Bubba Wallace, 27, are the only two Black drivers to have raced full-time in NASCAR's top level. Wallace's first of two Talladega appearances last season, his fourth year in the Cup Series, triggered a firestorm.
Upon arriving at the garage in mid-June, the Richard Petty No. 43 team discovered a rope fashioned into a noose hanging in the stall. More than 15 months later, no one has delivered the definitive explanation of how and when the noose got there.
Investigators determined there was no federal crime, but the incident came at a time when George Floyd's death at the hands of Minneapolis police was national news, and protests were common across the country. Wallace had just shamed NASCAR into banning the Confederate flag from tracks when the Talladega incident occurred.
On June 22, 2020, fellow drivers pushed Wallace's car to the front of the grid with every member of every team walking behind in a show of unity. In a summer of protests across the sports world over issues of racial inequity, it was arguably the most powerful statement of all.
In the right place at the right time
Wallace took the lead on lap 113 on Monday. Radio chatter between crew chiefs and drivers turned to the likelihood that rain was imminent. Three laps later, Ryan Preece, William Byron, and Matt DiBenedetto wrecked to bring out a caution flag. Once the rain started, NASCAR sent the cars to pit row and dispatched the dryers.
Wallace paced on pit row, and a steady stream of competitors came by to offer congratulations. Wallace didn't want to hear it until NASCAR declared the race was over. That call came minutes later.
Wallace's voice cracked during an interview with NBC Sports while discussing the historical significance of winning,
"I never think about those things," he said. "When you say it like that, it obviously brings a lot of emotion, a lot of joy to my family, fans, friends. It's pretty damn cool."
Wallace added a simple reminder to his followers:
"You've always got to stay true to your path and not let the nonsense get to you," he said. "Stay strong, stay humble, stay hungry. There were plenty of times where I wanted to give up."
Like Sportscasting on Facebook. Follow us on Twitter @sportscasting19.
RELATED: Bubba Wallace Makes Major Personal Announcement About Future and His Fans Are Ecstatic