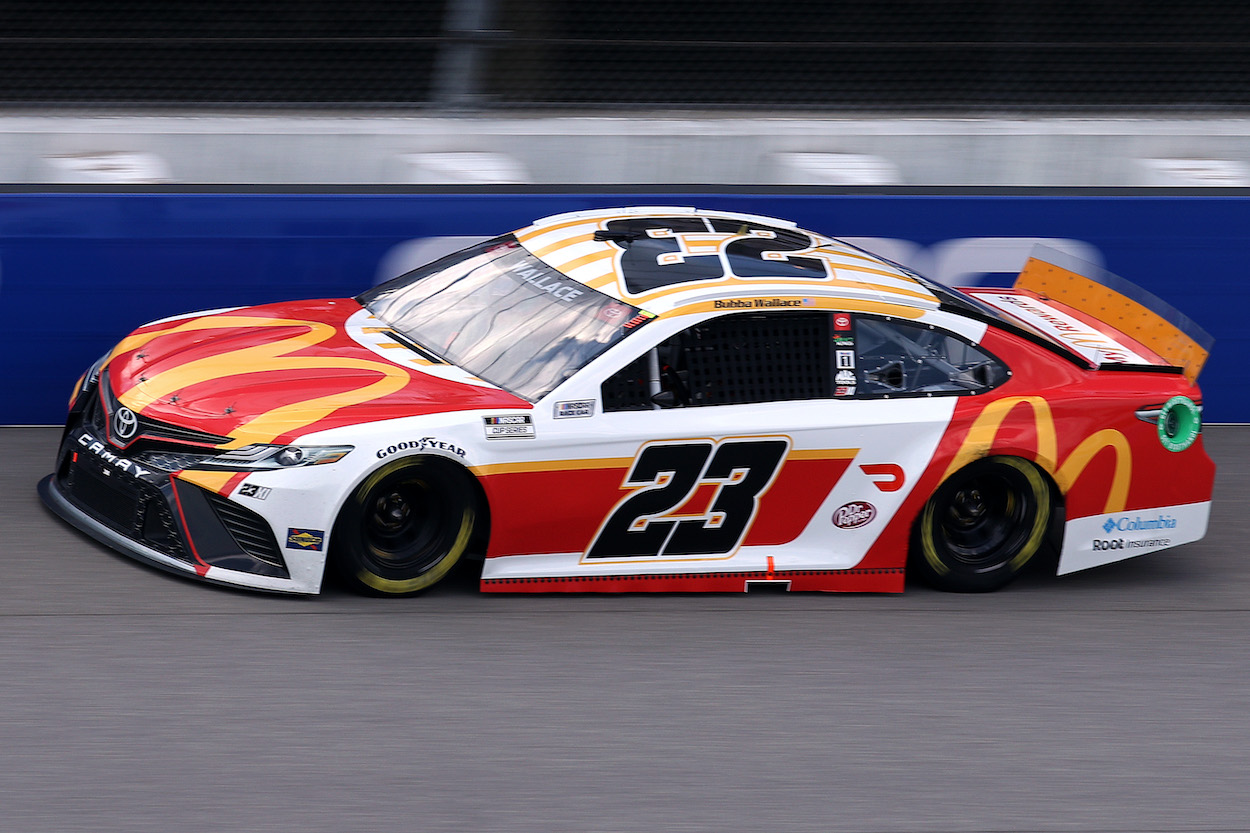 Bubba Wallace & Co. Surprisingly Announce Major Shakeup to Team Effective Immediately
Could the major shakeup for Bubba Wallace's team result in an improved performance for the rest of this year? Time will tell.
Bubba Wallace has undeniably struggled in his first Cup Series season with 23XI Racing. Through 28 races, he's managed just a pair of top-10 finishes. He has 13 finishes of 21st or worse. It's a far cry from the predictions of team co-owner Michael Jordan who suggested before the season that the No. 23 car would win one or two times.
Now, with just eight races remaining and after missing the playoffs, the team surprisingly announced a major shakeup on Thursday. Crew chief Mike Wheeler is out. His replacement is journeyman crew chief Bootie Barker. 
Bubba Wallace struggles in first season with 23XI Racing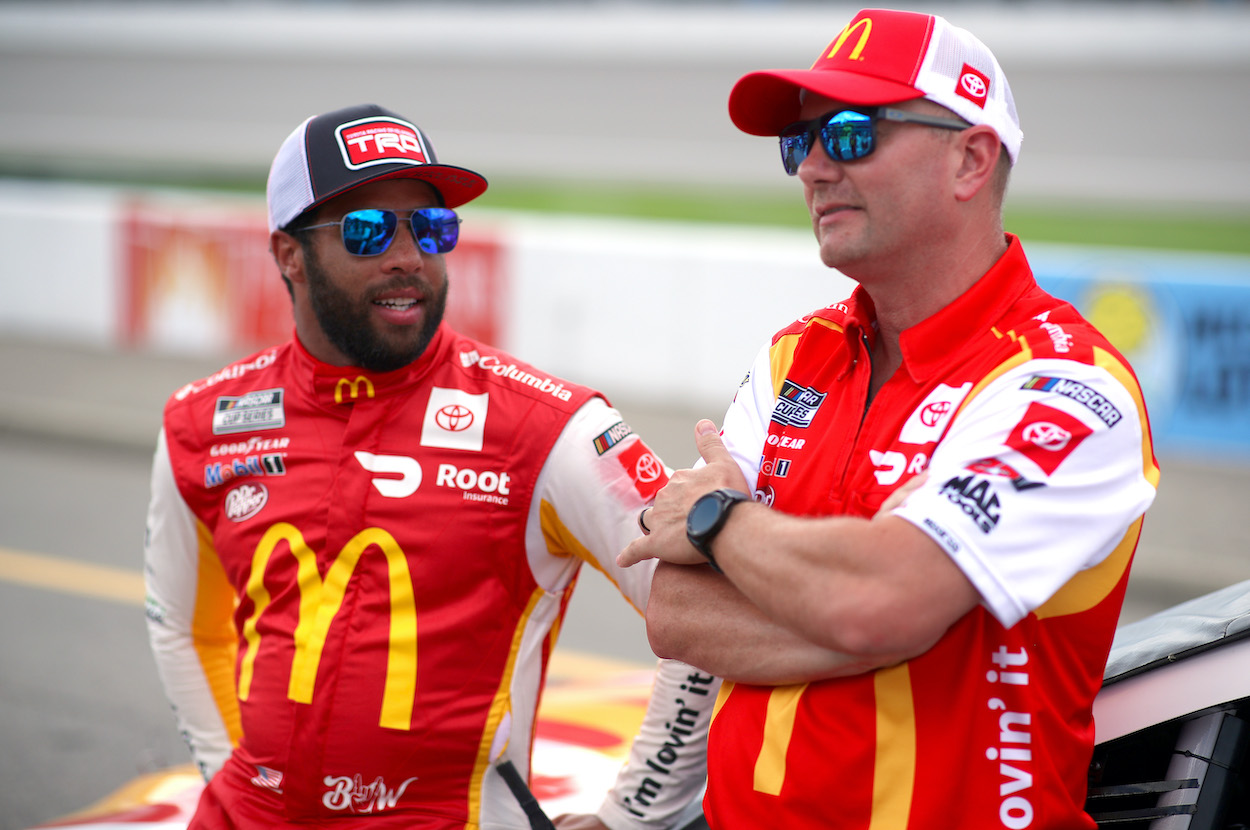 Bubba Wallace knew expectations would be high when he was announced as the first-ever driver for 23XI Racing. Michael Jordan publicly confirmed it during an interview with Fox before the Daytona 500. 
"I feel like he's going to learn how to win," Jordan said. "He's got the talent. We would have not invested in him and picked him if he didn't have the talent to win. By the end of the year, I think he's going to have an opportunity and probably will win at least a couple of races. If it's more, I'll be elated."
Wallace hasn't come close. His best finish, a second at Daytona last month, was initially a third but he moved up a spot after NASCAR disqualified Chris Buescher. The No. 23 car also earned a fifth-place finish during the second race at Pocono. Outside of those two results, in 20 of Wallace's 28 races, he's finished 15th or worse.   
Bubba Wallace's crew chief Mike Wheeler moving full-time to director of competition effective immediately
There are plenty of reasons why Bubba Wallace hasn't performed better this year, including lapses by the driver, mistakes on pit road, and calls by crew chief Mike Wheeler. 
On Thursday, 23XI Racing announced that Wheeler is out as crew chief and will work solely as the full-time director of competition for the organization, a role he's held since the company's inception. His replacement is Bootie Barker, who has worked with 23XI this season and previously served as a crew chief in the various series, including Xfinity, Trucks, ARCA, and in Cup, most recently with Ty Dillon in 2017. 
"Being a part of 23XI Racing from when it was just an idea, to seeing the plans come to life, securing our temporary shop and working to build the team has been an amazing opportunity and one I'm excited to continue as the team grows and expands," Wheeler said in a statement. "I've enjoyed the opportunity to be back on the box this season with the No. 23 team and Bubba, but to be able to solely focus on the next steps it takes to expand to a multi-car team, build a new shop, and get this team to where it's in contention to win each and every week is exciting for me and I'm ready to give it my full attention as we finish the season and move into 2022. Bootie has been a great asset to 23XI Racing all season and with his experience, he was the right choice to step in and finish the 2021 season with Bubba and the No. 23 Toyota Camry team." 
Wheeler admits 2021 presented unexpected challenges
While the move by Wheeler to the director of competition is a logical step with the organization adding a second car driven by Kurt Busch in 2022, the suddenness of the move with eight races remaining in the season suggests that the No. 23 team was ready for a change of scenery. In fact, just last month, Wheeler didn't hide his disappointment when asked about the team's performance and what kind of grade he would give.
"I knew starting a team from scratch would be difficult," Wheeler admitted. "I knew getting Bubba to run highly up the chart and having good performance would be a challenge, too. I definitely expected to be running better and higher up in points for what we had as far as equipment and a team. It's definitely not an A, but I really can't tell you we're doing terrible or poor because a lot of the effort's there. We're making progress. A lot of challenges are coming around the corner that we were not expecting but definitely battling the battles we have to battle and we are making progress.
"Without practice and Bubba's new experience in the car is definitely a bigger challenge than we ever anticipated but our goals are similar in the fact that I know everyone thought before we started the season that we could go and win two races. That was something that MJ said. Honestly, we knew from the start that wherever we started we wanted to make sure we made progress and work to be a contender in the future. We've gotten there. We've had some highlights of winning a stage and leading laps, having top-10 cars a few of these times, but we haven't been able to put a lot of races together as a whole event. But we are getting better at that. Obviously, we're coming short of where we want to be right now but it's a never-ending battle."
Those are Wheeler's own words. His move to a full-time role as director of competition may be considered a promotion, but it's one that he sounded ready to make long before it was announced.  
Like Sportscasting on Facebook. Follow us on Twitter @sportscasting19.