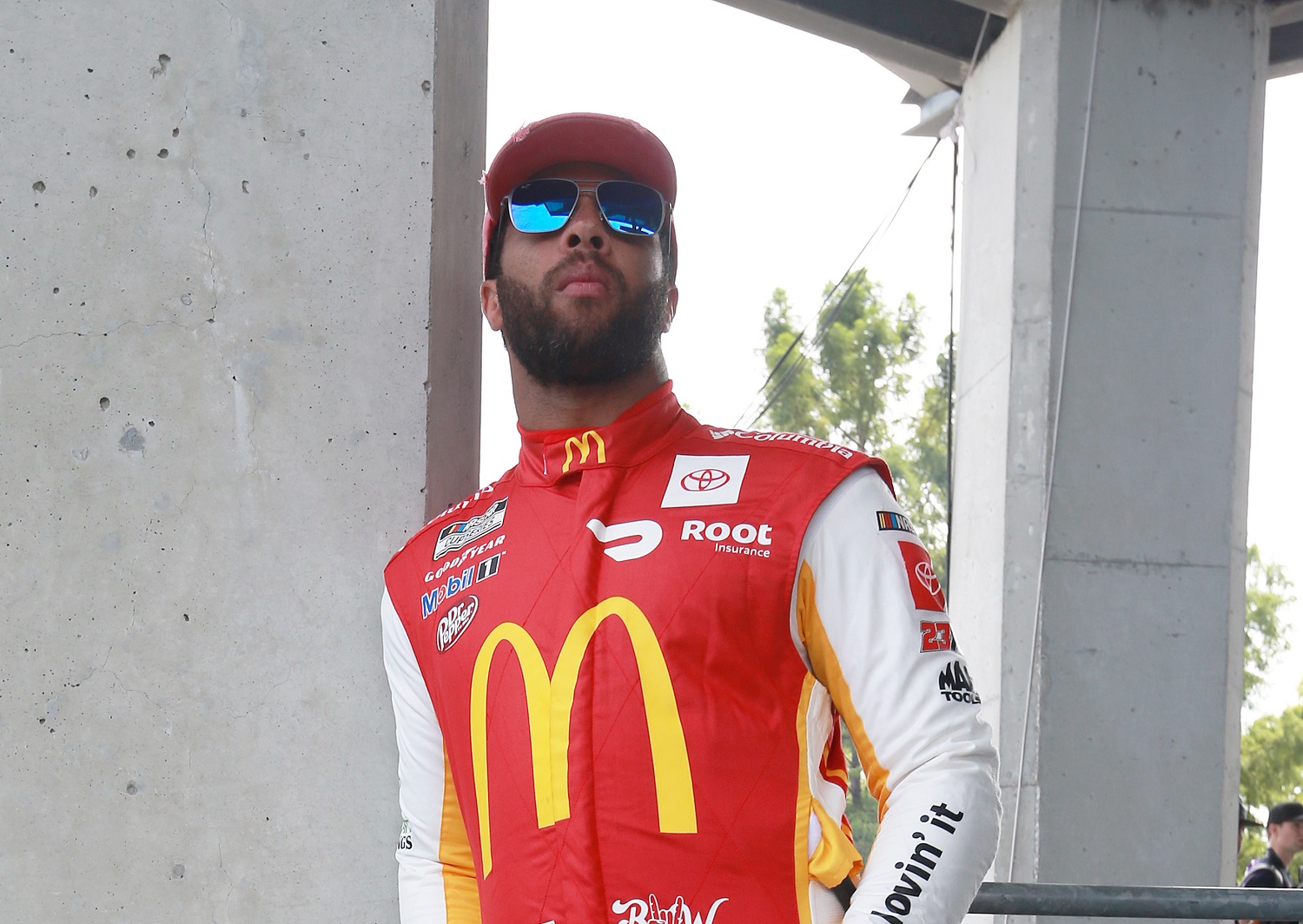 Bubba Wallace Faces 3 Scenarios for the 2022 NASCAR Season, and the 2 Involving Daytona 500 Winners Aren't Good
Bubba Wallace is all but certain to return to 23XI Racing in 2022, but the organization could look drastically different and he might not be the star of the show.
His first season with the new Michael Jordan team isn't going well for Bubba Wallace. The 2022 NASCAR Cup Series is not shaping up as a joyride either.
With few high finishes under his belt, Wallace is at risk of taking a backseat in next season's 23XI Racing operation to one and possibly two Daytona 500 winners. Even the scenario that has him remaining as the team's only driver doesn't work out especially well.
Scenario 1: Bubba Wallace remains the only 23XI Racing driver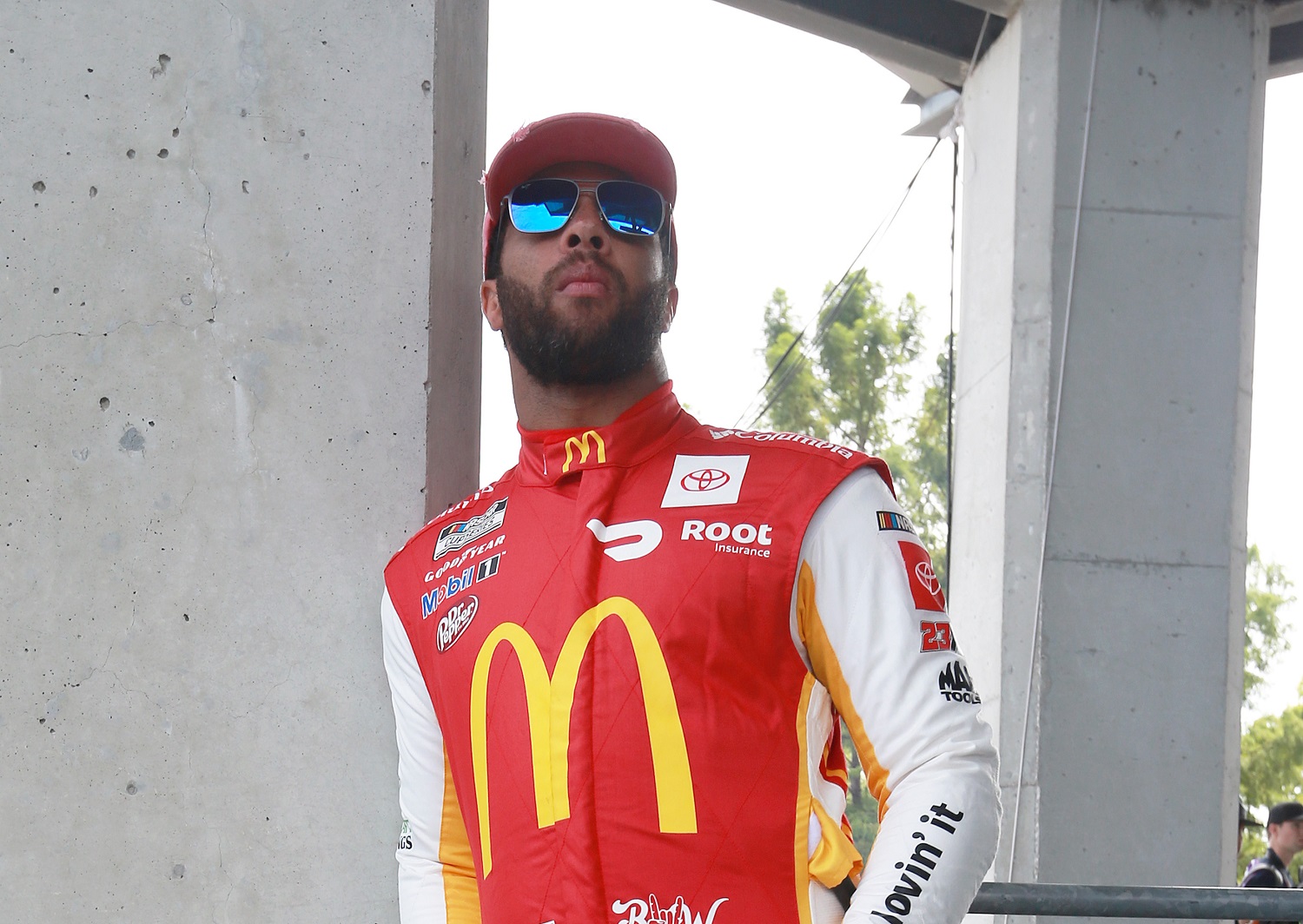 If Wallace doesn't have teammates next season, it won't be for lack of trying by Jordan and minority partner Denny Hamlin. They have been pursuing options since the spring for acquiring a second charter, which would simplify fielding a second car in the NASCAR Cup Series.
Growing to two teams reduces the cost per car and accelerates learning by the drivers and crew chiefs, who can learn from strategies or innovations developed by the other team. That can be anything from research on optimal braking patterns entering turns to pairing up as drafting partners on the superspeedways.
There are only 36 charters, and charters that go on the market have become expensive as other teams like Kaulig Racing prepare to come online in 2022. Nearly all the recent speculation has 23XI Racing buying one of Front Row Racing's two charters.
Experience alone should make Wallace better next season. But being able to put a second car on the track with a guaranteed spot on the starting grid would benefit 23XI Racing.
Scenario 2: Michael Jordan brings in Kurt Busch alongside Bubba Wallace
Rumors since June have connected 23XI Racing and Kurt Busch. Trackhouse Racing is buying the NASCAR portion of Chip Ganassi Racing, Busch's home since 2019. Busch's contract is up in November, and Trackhouse has already made its plans for 2022.
Busch is a coveted free agent on several counts, not the least of which is that he can bring his Monster Energy Drink sponsorship with him. He has won 33 races, including the 2017 Daytona 500.
Busch, 43, undoubtedly could teach Wallace a few things. However, Wallace clearly becomes the No. 2 driver the moment that Jordan lands a second charter and completes the anticipated deal with Busch.
Trackhouse and Kaulig have made bold moves to secure two charters apiece for 2022, which  has set off speculation that Jordan could pump a lot more of his Nike money into NASCAR than originally planned at such an early stage.
Scenario 3: 23XI Racing becomes a three-car team
The future of Front Row Motorsports is the new hot topic in NASCAR circles. Michael McDowell gave the outfit a boost by winning the Daytona 500 to start the season, and the team has two charters. However, FRM is a relatively low-budget team facing the prospect of retooling two teams as NASCAR officially rolls out the Next Gen car in 2022.
Although the Next Gen should save money over the long haul, the initial buy-in might be too much FRM. The speculation has centered on 23XI Racing buying one of the charters and Front Row shutting down rookie Anthony Alfredo's team.
More recently, though, the whispers have been that perhaps Jordan and Hamlin are pushing for a total buyout. That would give them the charter they need for Busch and one more that they could either lease for 2022 or use on McDowell.
McDowell's No. 34 Ford doesn't have a signature sponsor approaching Busch's deal with Monster. Aside from the surprising win to start the season, his overall record is no better than Wallace's record. However, he will always be a Daytona 500 champion, and five top-10s suggest this year suggest he has at least a puncher's chance in the playoffs.
As valuable as he is to 23XI because of the sponsorship money he attracts, Wallace would become the No. 3 driver if McDowell, unsigned for 2022, comes aboard as part of a Jordan deal to buy out Front Row.
In short, there just isn't a great scenario for Wallace in 2022 unless he racks up some strong performances to finish out the current season.
Like Sportscasting on Facebook. Follow us on Twitter @sportscasting19.