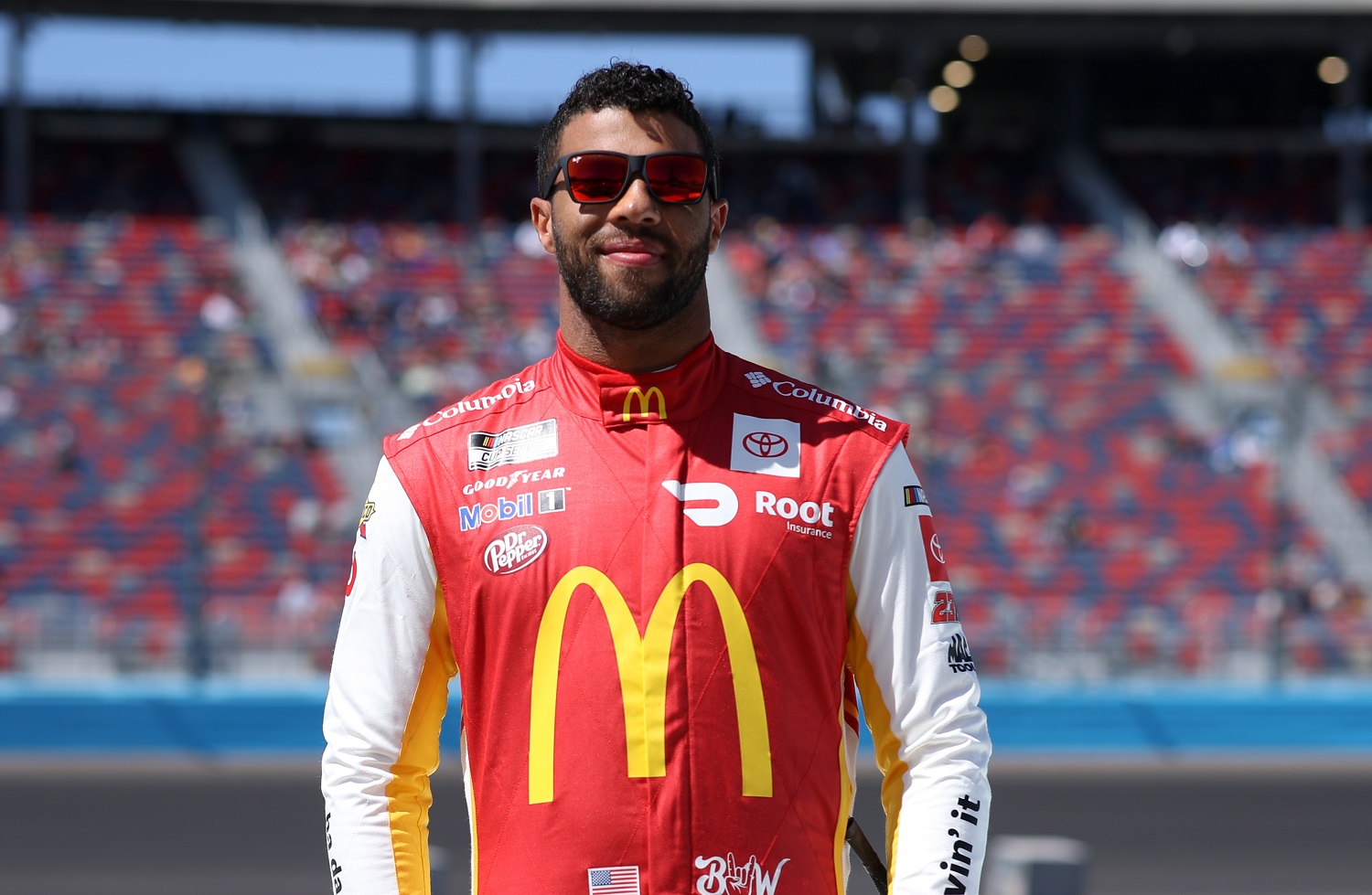 Bubba Wallace Says Dying in a NASCAR Race Is Always in the Back of His Mind
Bubba Wallace admits that dying in a NASCAR Cup Series accident is a thought that always hovers in the back of his mind.
There must be a lot of thoughts rattling around inside the head of NASCAR Cup Series driver Bubba Wallace these days. After all, Wallace is more than a month into his first season driving for Michael Jordan and Denny Hamlin at 23XI Racing, a huge development in his career.
It means he should be well settled into his routine and focused on weekly improvements. But it's fair to wonder if he's feeling some anxiety yet over results that haven't matched the hype over the team's million-dollars-a-week investment.
As if that isn't enough, Wallace recently admitted there's another thought always on his mind – and it's a scary one.
Bubba Wallace has had a chaotic 12 months
No list of athletes grateful to see 2020 come to an end would be complete without Bubba Wallace's name. Wallace's fourth season in the NASCAR Cup Series proved was intense, beginning with the pandemic that shut down the season for two months. What should have been a time for rest and relaxation got turned upside down when Wallace threw a tantrum during an iRacing event meant to fill the void ended up costing his Richard Petty Motorsports team a sponsor.
Mid-June brought about the episode in which a rope fashioned into a noose was found hanging in the team's garage area at Talladega. With Wallace being the only Black driver in the series, the immediate assumption was that there was racism involved. With the incident coming less than a month after the death of George Floyd in Minneapolis and ahead of a historic presidential election, Wallace was frequently in the national news for everything other than his driving.
Top it off with the announcement late in the season that he was leaving his team to drive for Michael Jordan at 23XI Racing, and Wallace certainly had a full year.
And, oh yeah, he finished the season with a career-high five top-10 finishes.
The move to Michael Jordan's team hasn't paid off yet
Besides Bubba Wallace leaving Richard Petty to team up with Michael Jordan, there were four other significant driver changes during the NASCAR Cup Series offseason.
Kyle Larson has been the best of class. Fired by Chip Ganassi Racing after being heard using a racial slur during an iRacing event last spring, Larson has landed on his feet at Hendrick Motorsports. The Daytona road course was a bad day at the office, but Larson is 5-for-5 in top-10 finishes otherwise, including a victory in Las Vegas.
Christopher Bell joined Joe Gibbs Racing after Leavine Family Racing fell victim to financial difficulties during the pandemic. He won on the Daytona road course and owns a pair of other top-10 showings already.
Ross Chastain moved up at Chip Ganassi Racing to fill the seat Matt Kenseth kept warm after Larson was fired. Chastain scored 15 top-five finishes in the Xfinity Series last season, but he has been overmatched this year since placing seventh in the Daytona 500.
Finally, there's Erik Jones, who replaced Wallace at Richard Petty Motorsports after being dropped by Joe Gibbs Racing. Driving Wallace's old car, Jones hasn't had much more luck than Wallace is experiencing. However, his 10th place in Las Vegas and 14th on the Daytona road course are better than anything Wallace has managed yet.
Wallace's best finishes have been a pair of 16th places the last two weekends in Phoenix and Atlanta. His average finish of 20.8 so far is only marginally better than his 21.1 a year ago with Petty's team.
Bubba Wallace says dying in a NASCAR race is always on his mind
As if the drama in his career over the past year and the pressure to perform this season after aligning with the new 23XI Racing team formed by Michael Jordan weren't enough, NASCAR Cup Series driver Bubba Wallace admits that there is always another concern rattling around in his mind when he straps into the No. 23 Toyota.
Wallace joined retired NFL players Chad Johnson, Brandon Marshall, Fred Taylor, and Channing Crowder on the I Am Athlete podcast recently for an engaging interview that covered numerous topics. A debate broke out over whether drivers are athletes, but the participants found common ground by agreeing football and racing are both dangerous.
Wallace was asked if he was afraid to die, and he answered candidly.
"No, I'm not afraid. You climb in and it's just like lining up on the field – you know this play could be your last one," Wallace said.
"You don't think that out there but it's here," he continued, pointing to suggest the back of his mind. "It's right here, very small, it's always right here. So, we do share something in common."
All stats courtesy of Racing Reference