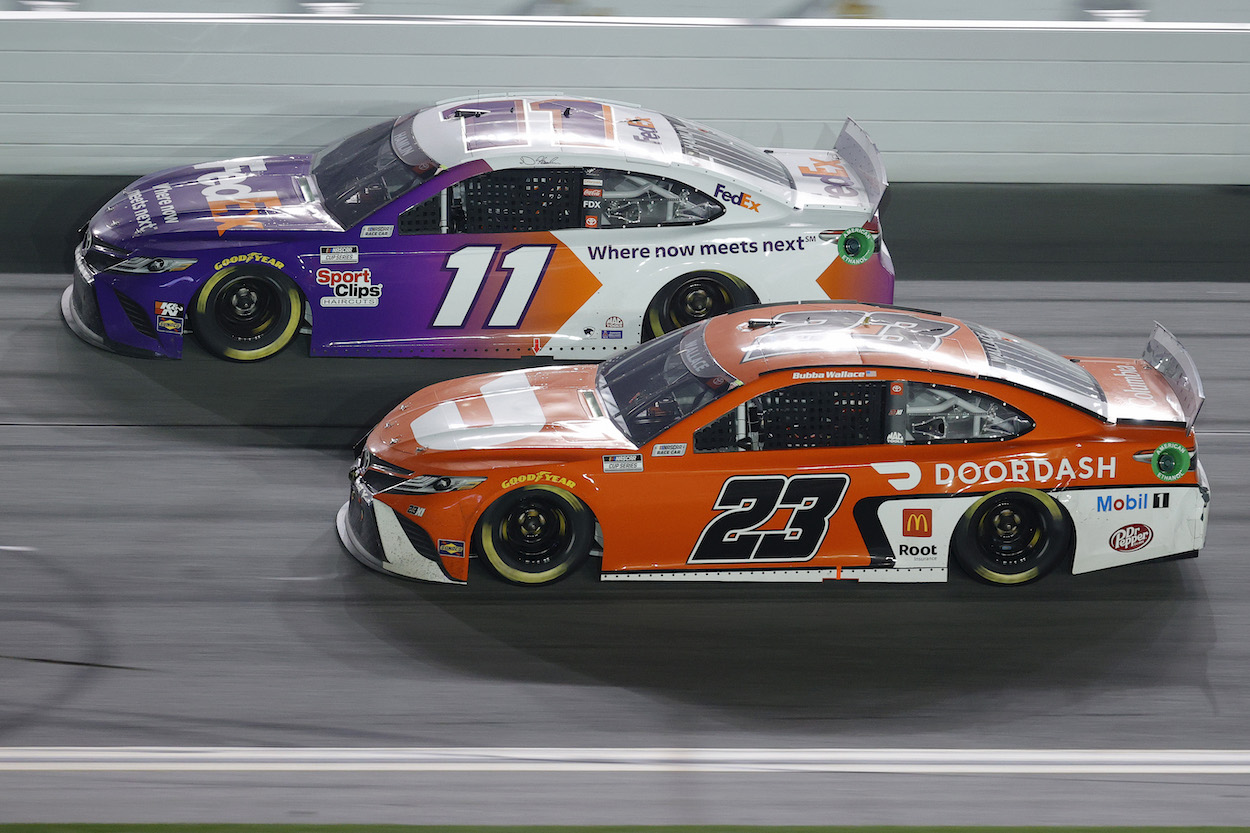 Michael Jordan Sends Bubba Wallace a No-Nonsense Message About 2021 NASCAR Season After Getting an Unexpected Surprise
Michael Jordan likes winning. He's good at it. He ambitiously expects the same from his new NASCAR team in 2021 and didn't shy away from directly telling Bubba Wallace exactly what he expects from him.
Michael Jordan is considered by many to be the NBA GOAT for his Hall of Fame career, which included six NBA championships. He's been successful in business as well, including his deal with Nike, which he reportedly makes $130 million annually.
Jordan is planning on bringing that same level of success to NASCAR and the 23XI Racing team, which debuted at the Daytona 500 with the No. 23 car and Bubba Wallace as the driver. Prior to the race, the basketball legend met Wallace for the first time and it was a revealing interview because Jordan pulled no punches when offering up his expectations for Wallace and the team during the 2021 NASCAR season.
Michael Jordan and Denny Hamlin form race team with Bubba Wallace as driver
Michael Jordan is one of the most recognizable names and faces on the planet for his basketball career. Long before he became a basketball star, Jordan grew up in NASCAR country and has been a lifelong fan. Last year, he finally became a part of the sport when he teamed up with Denny Hamlin to form the 23XI Racing Team. 
Jordan and Hamlin have been friends for years. Hamlin has been sponsored by Nike's Michael Jordan Brand for a decade. Their partnership forming a new NASCAR team together made sense. Bringing Bubba Wallace on board made even more sense. 
"Bubba has shown tremendous improvement since joining the Cup Series, and we believe he's ready to take his career to a higher level," Hamlin said in a statement at the time of the team announcement. 
Michael Jordan meets Bubba Wallace for the first time 
While Michael Jordan and Denny Hamlin announced the formation of 23XI Racing and Bubba Wallace as the driver back in September 2020, Jordan and Wallace had talked but never met in person until just before the Daytona 500 in a made-for-TV interview with Hamlin and Fox's Michael Strahan.
After Strahan hugged Jordan, he introduced him to Wallace. The 6-foot-6 NBA Hall of Famer had a surprised reaction when he met his 5-foot-6 driver.
"I didn't know you were this small," Jordan admitted after shaking Wallace's hand. "I was thinking he was like," Jordan stopped himself while holding his left hand up above his head. 
Moments later, the four sat down with Strahan asking questions, starting with how it felt to start the 2021 NASCAR season at Daytona. Jordan said he was excited, but nervous knowing he's not in control. After Wallace jokingly suggested Jordan is, in fact, in control because he signs the checks, the six-time NBA champ offered a quick retort. "And the thing is, we don't sign checks to losers," he said with a big laugh.
Mixed results at Daytona 500
Bubba Wallace knew partnering with Michael Jordan, there would be a lot of pressure for success from the start. That first encounter with Jordan on national television lived up to the hype as Jordan came right out and said he had no time for losers. 
Later in the interview, Jordan detailed more in-depth what he expected from the 23XI Racing Team and Wallace in the first season. 
"I feel like he's going to learn how to win. He's got the talent. We would have not invested in him and picked him if he didn't have the talent to win," Jordan said. "By the end of the year I think he's going to have an opportunity and probably will win at least a couple of races. If it's more, I'll be elated."
Bubba Wallace started the NASCAR season ominously as the No. 23 car failed two pre-race inspections and had to start at the back of the field. He overcame the bad start and weather delays to become the first-ever Black driver to lead a lap at the Daytona 500. He hung around in the top 10 until late in the race when he was involved in a multi-car accident. He finished 17th.  
Like Sportscasting on Facebook. Follow us on Twitter @sportscasting19.