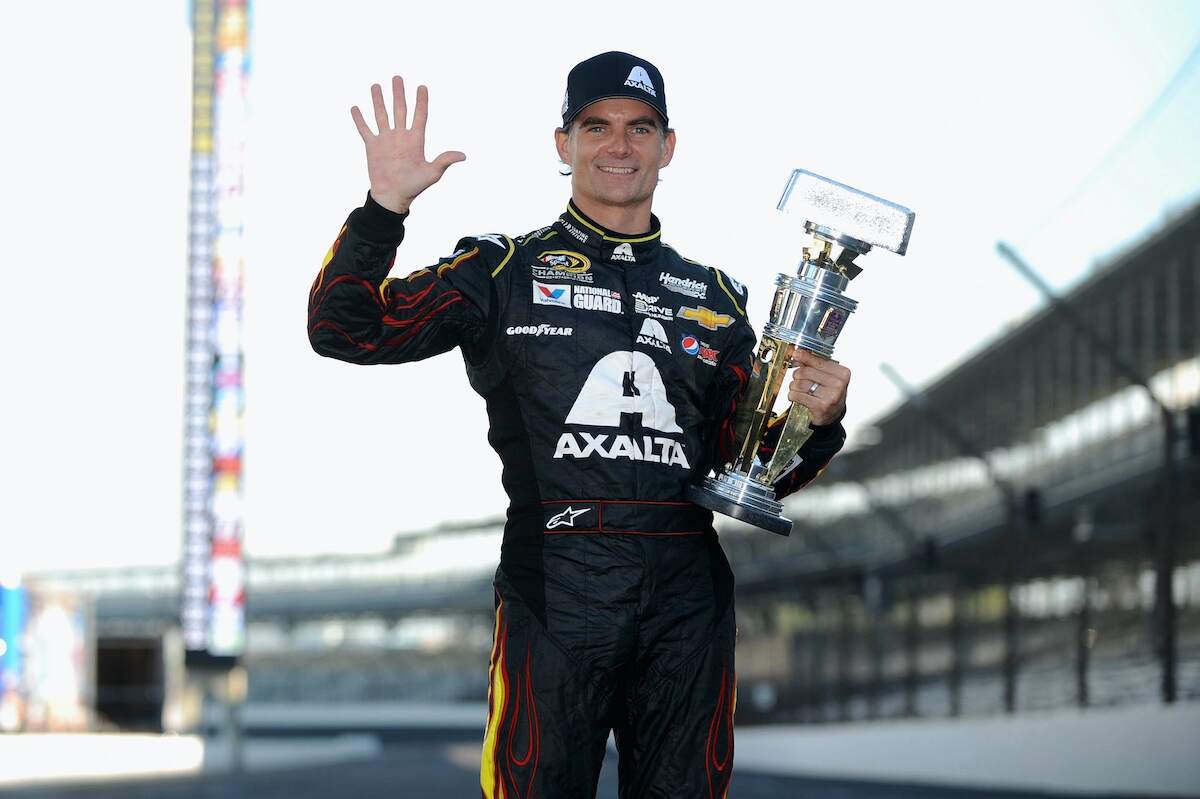 Jeff Gordon Turned NASCAR Into a $200 Million Net Worth but Almost Quitting Racing for Waterskiing
Jeff Gordon eventually found fame and fortune in NASCAR but, as a teenager, considered quitting racing to start waterskiing professionally.
While Jeff Gordon wasn't always a fan favorite during his time on the NASCAR circuit, he still had quite the career. The California native claimed four Cup Series championships, won nearly 100 races, and, perhaps most impressively, turned his motorsports career into a $200 million net worth. As a teenager, though, he almost left racing for good.
Yes, you read that correctly. Before he found fame and fortune as a NASCAR star, Jeff Gordon briefly considered leaving racing to become a professional waterskier.
Jeff Gordon nearly quit racing to become a professional waterskier
Based on both his trophy case and his net worth, it's safe to say that Jeff Gordon made the right career choice by becoming a NASCAR driver. During his youth, however, another job was briefly on the cards.
"The year he turned seven, Gordon won 35 races in northern California," Jeff MacGregor explained in a feature preserved in the SI Vault. "The next year, he began to race more widely and won the Grand National Championship. He won 52 other events that year. The family slept in the car. They slept in their truck. They bought a used motor home. For the next several years, in quarter-midgets or go-karts, from California to Illinois, he won almost every time he showed up. By age 12, he had won hundreds of races. He signed autographs for packs of fans, and his parents sold JEFF GORDON T-shirts off the back of their trailer. He was a star."
From one perspective, you could argue that lifestyle prepared Gordon for the pressures of NASCAR stardom. At the same time, though, it was an incredible burden for a growing boy.
"He was also completely burned out — on the travel, on the stopwatch, even on the winning," MacGregor continued. "He took up waterskiing. Within months he'd become so good that he briefly considered a career as a professional."
At the end of the day, though, Gordon climbed back behind the wheel and raced toward NASCAR stardom. While it's impossible to know what would have happened if No. 24 became a professional waterskier, it's safe to assume that he'd be much less famous and have significantly less money in the bank.
Jeff Gordon had an impressive NASCAR career
As mentioned above, Jeff Gordon wasn't always the most popular driver on the NASCAR scene. Even if you didn't care for the Californian, it was impossible to argue with his on-track resume.
Growing up on the west coast, Gordon cut his teeth driving midget cars. He quickly proved to be an incredible talent and a serial winner. It seemed to be a matter of when, rather than if, he'd turn pro.
While Gordon considered heading into IndyCar racing, he eventually chose the stock car scene. He joined the Busch Series in 1990 and earned Rookie of the Year honors at the end of the 1991 campaign. He then repeated the feat at the next level, taking home the 1993 NASCAR Cup Series Rookie of the Year crown.
From there, Jeff Gordon put together an impressive NASCAR career. He won four Cup Series titles, earning 93 wins at stock car racing's highest level. As you might imagine, that success also brought some serious financial rewards.
Jeff Gordon's net worth is almost as impressive as his racing career
Whether you like it or not, modern professional sports have become a big business. During his time behind the wheel, Jeff Gordon reaped that reality's rewards.
Thanks to his impressive track record, Gordon had no problem bringing home the metaphorical bacon. In 2016, Forbes reported that he'd earned $515 million in winnings throughout his career. That earning power, though, hasn't completely dried up in retirement. The former driver holds a lifetime ownership stake in the No. 24 DuPont Automotive Finishes Chevrolet team and has found a home in Fox's broadcast booth.
In total, Celebrity Net Worth estimates Jeff Gordon's fortune at roughly $200 million. Even if that isn't as impressive as Dale Earnhardt Jr.'s, it's still pretty impressive.