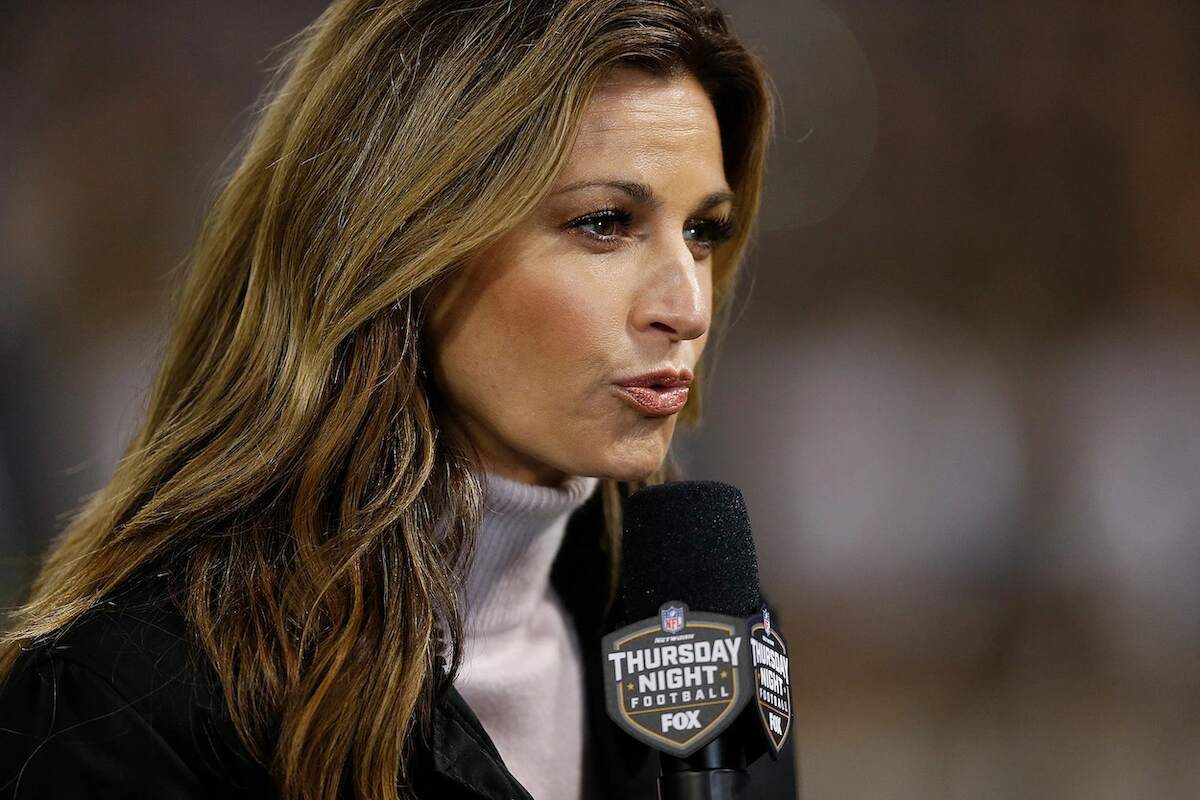 The Incredibly Awkward Kiss Between Erin Andrews and Rapper 50 Cent at the Daytona 500 Evoked Memories of Joe Namath and Suzy Kolber
At the Daytona 500 several years ago, Erin Andrews was seeking out Danica Patrick when she ran into rapper 50 Cent, who kissed her in an awkward moment that evoked memories of Joe Namath and Suzy Kolber.
Erin Andrews is recognized as the top sideline reporter for Fox and its NFL coverage. Since she arrived at Fox back in 2012, Andrews has shown her versatility, covering various sports, including the Daytona 500. 
Back in 2013, Andrews endured one of the more awkward moments in her career at the Great American Race while pursuing an interview with Danica Patrick. She never found Patrick but did encounter rapper 50 Cent, who pulled off his best Joe Namath impression — with one big difference — he didn't say a word about kissing her. He just did it. 
Erin Andrews has covered a variety of sports at Fox
After starting her career in 2001 with a regional sports network in Florida, Erin Andrews moved to ESPN in 2004. She worked with ESPN until 2012, when she decided to head out west and join Fox Sports. 
Since debuting at Fox covering football, Andrews has covered a broad spectrum of sports, including many of the biggest events like the Super Bowl, World Series, and Daytona 500. 
Just a couple of years after arriving at Fox, Erin Andrews received a promotion, replacing Pam Oliver as the top sideline reporter for Fox's No. 1 NFL broadcast team. She has worked with Joe Buck and Troy Aikman for years, including Thursday night games broadcast on the NFL Network. 
Erin Andrews fails trying to dodge kiss from 50 Cent at Daytona 500
In the 2013 Daytona 500, Danica Patrick was the story, becoming the first female driver to win the pole position in a NASCAR event, and she did it on the sport's biggest stage. During the pre-race festivities, Erin Andrews sought out Patrick for an interview.
"We're going to go to the person who stole the spotlight here at the Daytona 500," Andrews said as she meandered her way through a crowd of people on pit road, escorted by a large man in front and the camera and audio crew walking behind her. "That's, of course, Danica Patrick, who made history earlier this week and is on the verge of making history. We're going to try and see if we can talk to her."
Right then, the person in front of Andrews came to an abrupt halt. She stopped and turned to her right. 
"Of course, 50 Cent, here," she said, as the rapper walked up with a big smile. She extended her left arm as if she wanted to put it around the rapper's neck and set up for a quick interview.
He had other things in mind as he hugged her and leaned in for a kiss. A surprised Andrews shifted her head a couple of times, eventually stopping long enough for him to kiss her left cheek.
"I'm going to go talk to Danica Patrick," she said, ignoring what had just happened. "Good to see you. What are you doing here?" 
"I'm enjoying myself. I'm enjoying all the festivities while we rolling," he said as Andrews began walking away, and he followed.
Erin Andrews never found Patrick for the interview. She did, however, find the rapper, whose initial greeting couldn't help but evoke memories of a decade earlier.   
Another infamous kissing moment: Joe Namath and Suzy Kolber
December 20, 2003. That day is remembered for one of the most awkward moments on live television when ESPN's Suzy Kolber interviewed Joe Namath during a game between the New York Jets and New England Patriots. 
After Kolber asked an inebriated Namath about the team's struggles, he leaned down toward her. "I want to kiss you," he said. "I couldn't care less about the team struggling."  
Namath continued talking about the Jets and then, a few seconds later, out of the blue, again announced how he wanted to kiss Kolber. Keeping her composure, Kolber told Namath she took what he said as a compliment and wrapped up the interview. 
Joe Namath later admitted in his book All the Way: My Life in Four Quarters that he had problems with alcohol and how that moment changed his life. The embarrassment and shame he caused himself and his family opened his eyes to the problem of addiction. To his credit, Namath has been sober since.