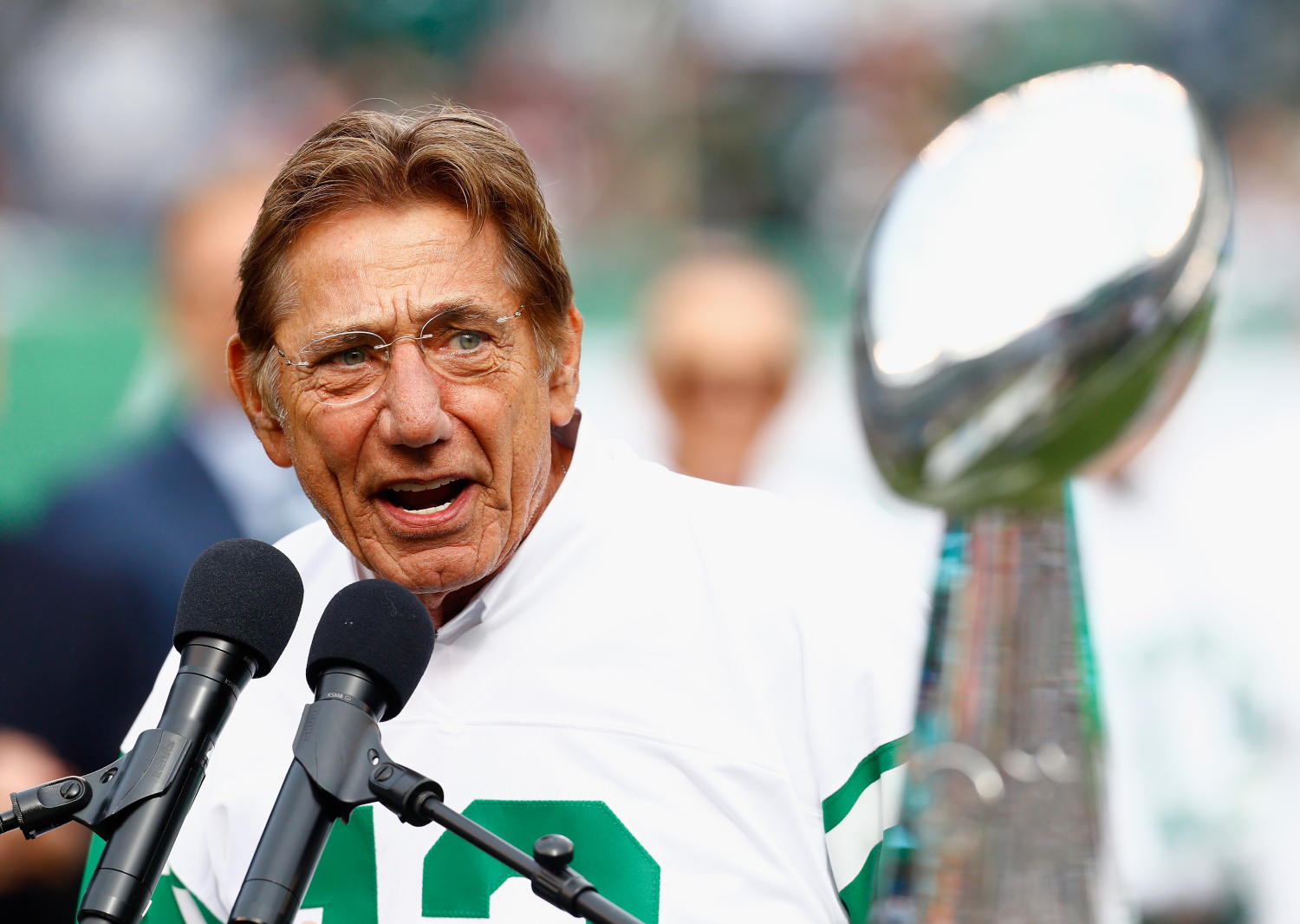 Joe Namath's Drunken Attempt to Kiss Suzy Kolber May Have Saved His Life
Former New York Jets quarterback Joe Namath's embarrassing drunken attempt to kiss ESPN's Suzy Kolber may have saved his life.
It was one of the most awkward interviews done on live TV. It happened during the New York Jets game against the New England Patriots on Dec. 20, 2003. Former Jets quarterback Joe Namath was being interviewed by ESPN's sideline reporter Suzy Kolber. During the interview, a clearly drunken Namath leaned over and told Kolber he wanted to kiss her. It's an embarrassing moment, but it's one, Namath said, that may have saved his life.
Joe Namath's football career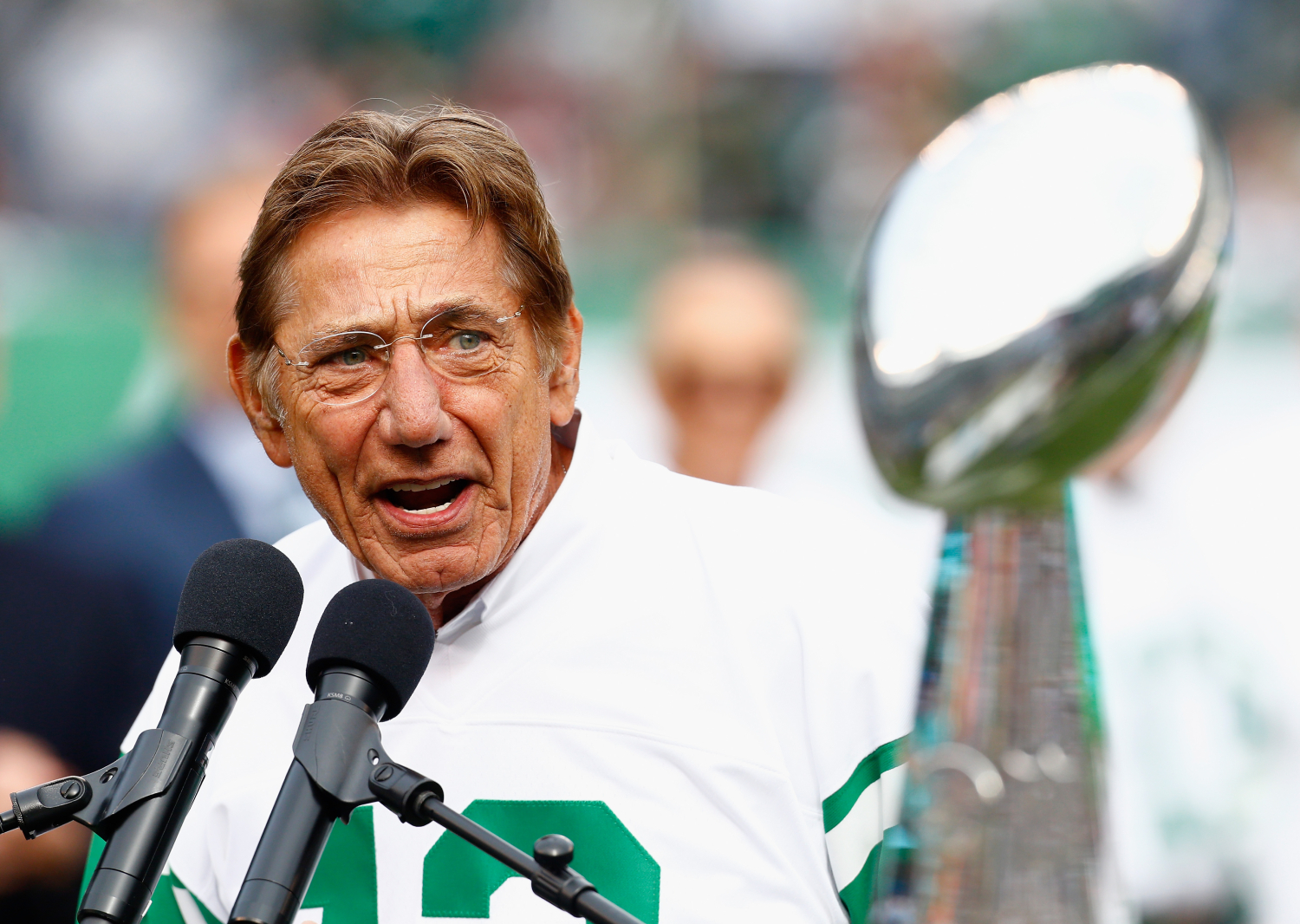 Joe Namath isn't the owner of any staggering individual numbers. He played three years at the University of Alabama as quarterback under the legendary Paul 'Bear' Bryant. While he wasn't flashy in the numbers department, he was a winner. In those three seasons at Alabama, the Tide went 29-4 and won a national title with him at the helm in 1964.
Namath was selected in the first round of the 1965 AFL draft (first overall pick) by the New York Jets and was also taken in the first round by the St. Louis Cardinals (No. 12) in the NFL draft. Namath signed with the Jets and came on as the full-time starter midway through the season as the Jets won five of their last eight games. He was named AFL Rookie of the Year.
Despite battling knee injuries, Namath was an AFL All-Star in four of his first five seasons. He led the league in both yards and interceptions in the 1966 and 1967 seasons. Namath spent 12 years with the Jets and finished with a 60-61-4 record. He closed out his career with the Los Angeles Rams where he played four games and went 2-2. He was named to the Pro Football Hall of Fame in 1985.
Namath makes good on guarantee
Joe Namath's biggest moment as a pro football player came after the 1968 season and right before Super Bowl III that was played Jan. 12, 1969. The New York Jets entered as an 18-point underdog to the NFL's Baltimore Colts. The significant underdog role did not affect Namath, who publically announced that the Jets were going to win. He famously guaranteed it.
"For 10 days, we're being told by oddsmakers and the media that we did not have a chance," Namath told AARP in 2019. "The Colts were a good team, but we knew what we could do. I was angry when I said that. It was in response to a wise guy in the back of the room (at a large banquet). He said, 'We're gonna kick your ass.' I said, 'Wait a minute, big boy, we're gonna win the game — I guarantee it.' Yeah, my teammates were upset but in a humorous way. They knew me." 
Namath did his part in securing that upset Jets win when he completed 17 of 28 passes for 206 yards. New York's defense also held the Colts scoreless through three quarters as the Jets built a 16-0 led en route to a 16-7 victory. Running back Matt Snell rushed 30 times for 121 yards and a touchdown and wide receiver George Sauer caught eight passes for 133 yards. Namath, however, was named the game's MVP.
Broadway Joe's embarrassing moment with Suzy Kolber
During a 2003 NFL game between the New England Patriots and the New York Jets, Joe Namath was interviewed by ESPN's Suzy Kolber. Kolber asked Namath about his former team's recent struggles, and a clearly inebriated Namath changed the subject. "I want to kiss you," he said on live TV. "I couldn't care less about the team struggling and I want to kiss you."
In Namath's book All the Way: My Life in Four Quarters, Namath wrote candidly about his struggles with alcohol. He said that moment with Kolber, captured in front of millions, was embarrassing, but it was a life-changer. "I saw it as a blessing in disguise," Namath said. "I had embarrassed my friends and family and could not escape that feeling and I haven't had a drink since.
"That shame is where I found my strength to deal with the addiction," he said. "With the help of my recovery, I learned that I had used my divorce as an excuse to go back to drinking. That knowledge made me a stronger individual."