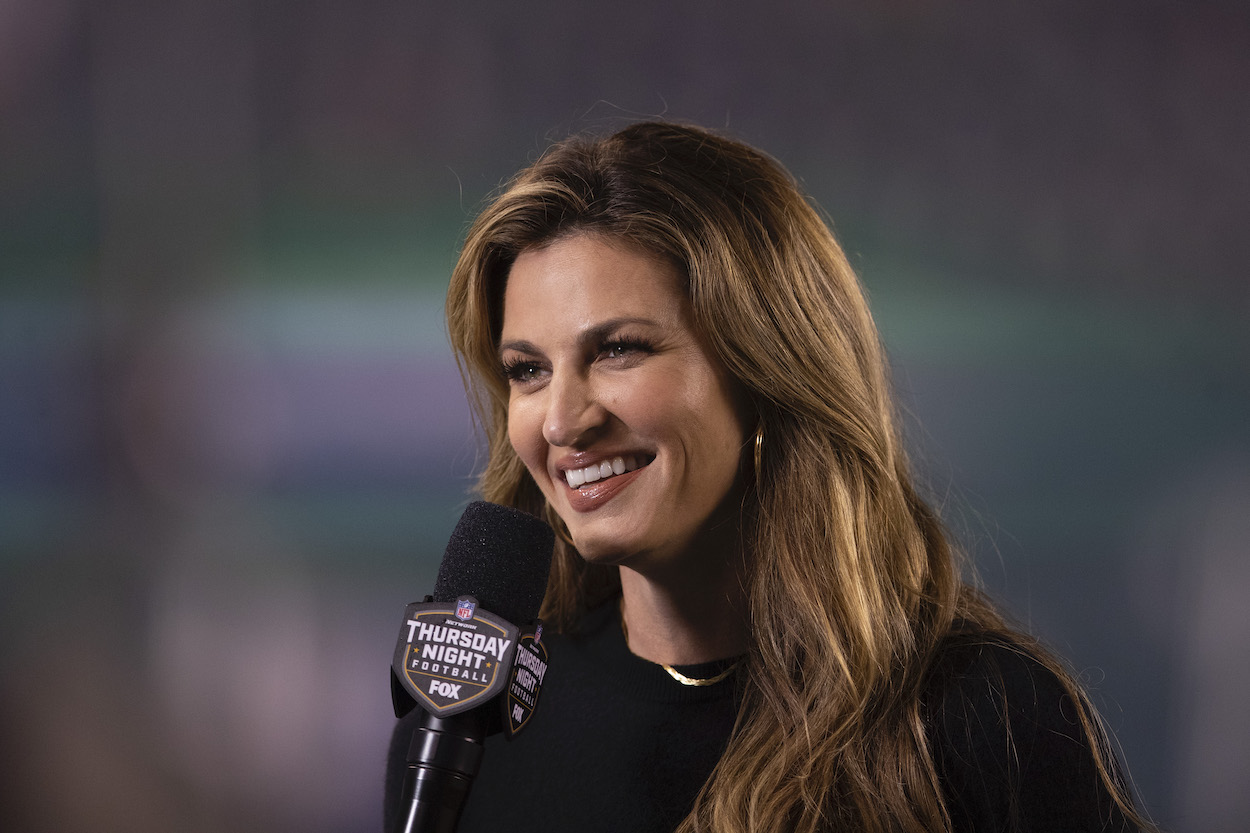 Erin Andrews Applauds Andy Reid for His 'Onions' on Call That Sealed Chiefs Victory
Erin Andrews watched in amazement as Andy Reid and the Chiefs went for it on fourth-and-1 and the veteran reporter called out the coach for his "onions" on such a big call.
Erin Andrews has covered a lot of big football games in her broadcasting career, including multiple Super Bowls. She's witnessed firsthand some amazing plays and some of the most memorable moments in NFL history. 
During Sunday's AFC divisional playoff game between the Kansas City Chiefs and Cleveland Browns, Andrews, like so many watching, witnessed one of the gutsiest calls in NFL playoff history when head coach Andy Reid decided late in the game to go for it on fourth-and-1 in Chiefs territory. To say Erin Andrews was impressed is an understatement.
Andy Reid shockingly goes for it on fourth down late in game
Andy Reid has long been considered one of the NFL's best coaches. That description always included an asterisk because Reid had failed to win a Super Bowl until last season when the Chiefs topped the San Francisco 49ers, 31-20. 
Reid has continued to add to his legacy this season as the Chiefs breezed through the regular season with a 14-2 record and captured their fifth-straight AFC West title. Kansas City opened the 2020 NFL playoffs hosting the Cleveland Browns in the divisional round. 
Late in the fourth quarter, with the Chiefs clinging to a 22-17 lead and backup quarterback Chad Henne subbing for an injured Patrick Mahomes who had suffered a concussion, Reid did what most thought unthinkable when he went for it on fourth-and-one on his end of the field with just over a minute to play.
Erin Andrews applauds Andy Reid for his 'onions'
CBS analyst Tony Romo was absolutely certain the Chiefs never planned on running a play. He told the audience as much as both teams lined up on fourth down. Romo and everyone else watched in total disbelief when the ball was snapped and Henne calmly rolled to his right and fired a quick pass to Tyreek Hill, who caught the ball at the line of scrimmage and hustled five yards to gain a first down and seal the win.
More than 800 miles to the south inside the Superdome in New Orleans, Erin Andrews was just as stunned as everyone else by what she had just witnessed. In a YouTube streaming session promoting her line of clothing this week, Andrews described her reaction.
"I'm not going to say what I texted to Troy Aikman when I saw it," Andrews said. "Freaking awesome. Can the Chiefs do no wrong? I mean, mercy. Huge call. Huge call. What did Bill Raftery use to say, onions? Onions. Major, major call."
Erin Andrews looking forward to rest of NFL playoffs
In that same Q&A session with fans, Erin Andrews, who will be at Lambeau this weekend roaming the sidelines of the Packers-Buccaneers NFC title matchup, also offered her thoughts on the upcoming playoff games.
"I have no freaking idea. I don't know because, I mean, I feel like with our NFC championship this weekend, it could go so many different ways. I didn't expect, obviously, the four takeaways for the Bucs defense yesterday and for their offense to score points off three of them. And I don't know if I expect Aaron Rodgers to throw interceptions or for their offense to have turnovers. It's going to be really, really interesting.
"I have no clue how this is going to work out because even with Kansas City, is Mahomes going to come back and play? I don't know. And if he doesn't, how is Josh Allen going to play? It's unscripted reality and it's just so much fun, isn't it?"
It is indeed, and it's even more exciting when coaches like Andy Reid show their chutzpah and make one of the gutsiest calls in NFL history.
Like Sportscasting on Facebook. Follow us on Twitter @sportscasting19.