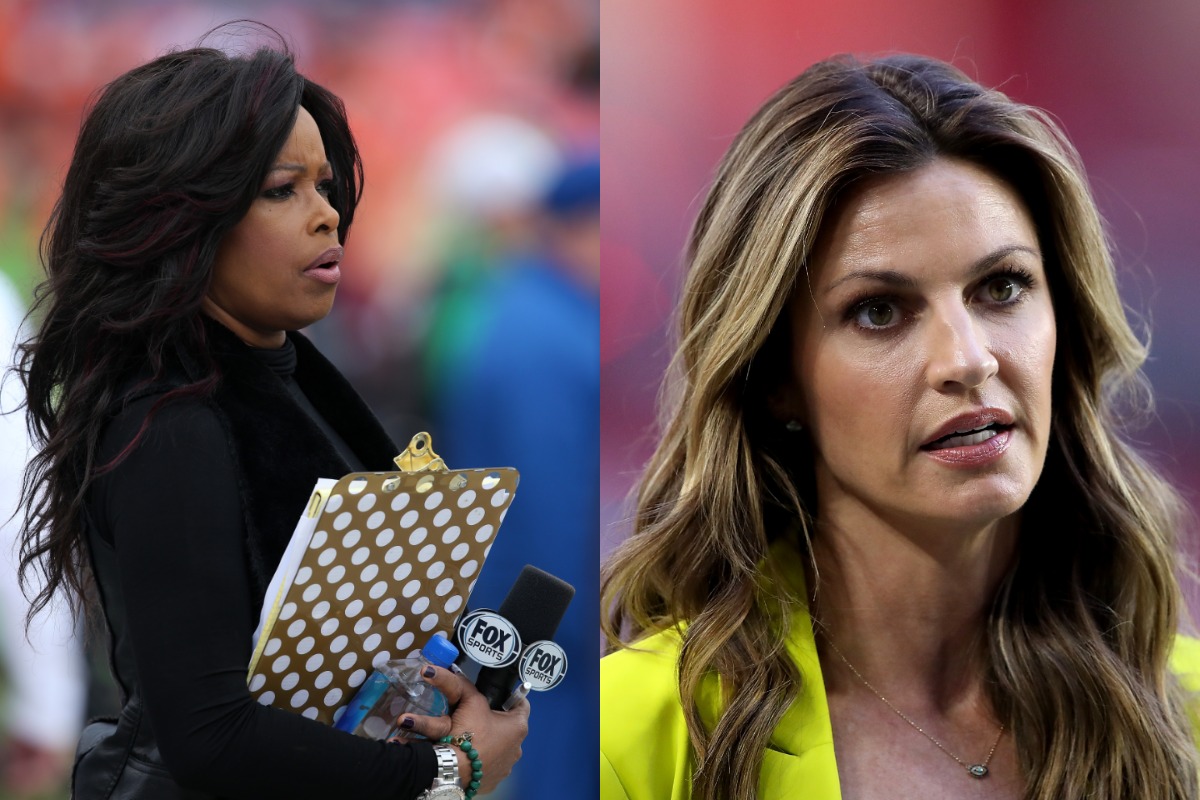 Fox's Pam Oliver Was 'Humiliated' When Erin Andrews Replaced Her on Top Team
Pam Oliver has been a mainstay for football fans since 1995. When Fox demoted Oliver for Erin Andrews in 2014, she said she was "humiliated."
Fox knew it lucked out when the network had both Erin Andrews and Pam Oliver in sideline reporting roles.
Things got ugly in 2014, when Fox replaced Oliver — a veteran analyst who is Black — for Andrews, a younger and white reporter. Fox demoted Oliver to its No. 2 football team.
In an interview that year, Oliver explained what went through her mind when she learned about the demotion, and how she felt "humiliated."
Pam Oliver has been at Fox since 1995
A graduate of Florida A&M University, Pam Oliver got her big break in 1993, when she joined ESPN.
Two years later, Oliver signed with Fox as a sideline reporter and joined the network's No. 1 broadcast team, a duo that then consisted of Pat Summerall and legendary Raiders coach John Madden. Oliver held that role for nearly 20 years, doing sideline interviews and feeding the announcers with information and updates.
When Summerall and Madden left Fox, Oliver teamed up with a Hall of Fame duo in Joe Buck and ex-Dallas Cowboys quarterback Troy Aikman.
Oliver also worked NBA postseason games for TNT from 2005-09.
Fox demoted Oliver to the 'B' team in 2014
Football fans may have noticed something different on their screens when the 2014 NFL season kicked off.
Joe Buck and Troy Aikman still made up Fox's No. 1 broadcast team, or the 'A' team, but Oliver wasn't patrolling the sidelines. Instead, former ESPN reporter Erin Andrews held that role.
Oliver was still at Fox, but on the 'B' team with Kevin Burkhardt and longtime NFL safety John Lynch.
Burkhardt and Oliver still work together in 2020. Former Cowboys fullback Daryl "Moose" Johnston moved to the No. 2 team when Charles Davis left for CBS.
Pam Oliver said she was 'humiliated' by the move
Fox's change on the sidelines in 2014 left a bad feeling in many fans' mouths.
The optics of replacing Oliver, a veteran analyst and a 54-year-old Black woman, for the younger — and white — Erin Andrews, didn't look good at all.
Still, Oliver stuck with Fox and went about her business. That didn't mean she didn't feel the pain from the network's decision to demote her.
In an article for Essence Magazine that summer, Oliver said she was "humiliated" not only by the demotion, but how others reacted.
"Colleagues, and even coaches and players, would come up to me and say things like, 'Boy, you're handling this well. You're really a class act. But I let the rumors roll off my back. Without official confirmation about a change in my position, I decided I was going to do my work like I always had.
This season marks Pam Oliver's 26th season with Fox. Only play-by-play announcers Dick Stockton and Kenny Albert, as well as pregame hosts Howie Long and Terry Bradshaw, have been involved in the network's NFL coverage longer.
Like Sportscasting on Facebook. Follow us on Twitter @sportscasting19.