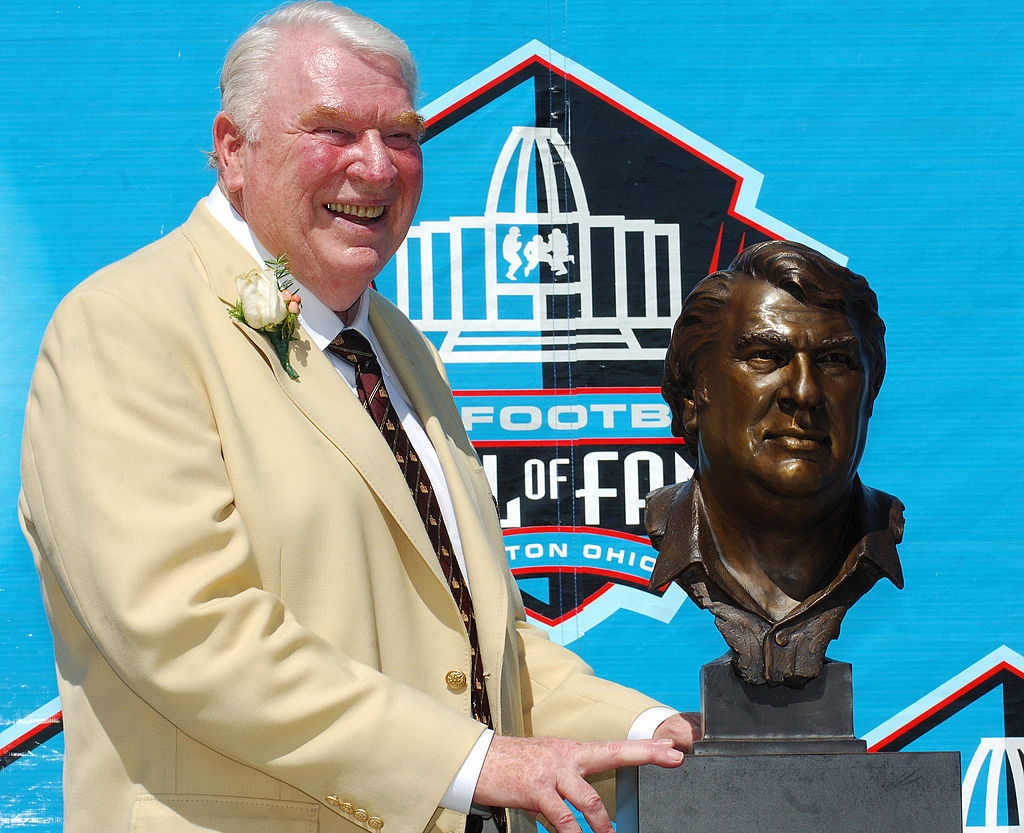 John Madden Could Have Been a Sitcom Star Instead of a Football Broadcaster
Hall of Fame football coach John Madden could have been a sitcom star on 'Cheers' instead of an NFL broadcaster.
Whatever John Madden did, he did it well.
Madden was tops in the NFL coaching game and followed that up with a very successful broadcasting career before settling down to retire. For years, Madden's name has been synonymous with football, but what if Madden had chosen a different career path?
John Madden's coaching and broadcasting careers
John Madden began his NFL coaching career in 1967 when he was the linebackers coach with the Oakland Raiders. He held the position for two seasons before being promoted to head coach for the 1969 season when he became the youngest head football coach in the league at the age of 32.

In his first season as the head coach of the Silver & Black, Madden compiled a 12-1-1 record over the 14-game season. From 1973-1977, Madden and the Raiders went to five consecutive AFC Championships. The Raiders defeated the Minnesota Vikings 32-14 to win Super Bowl XI.
Madden finished his coaching career with a record of 103-32-7 for a .763 winning percentage. His coaching career spanned 10 seasons and ended in 1978 when he resigned due to health reasons.
From 1979-2008, Madden was in the television booth as a color commentator, working for various networks. In 1981, he paired with legendary broadcaster Pat Summerall as his post-coaching career took off.  In 2002, Madden teamed up with Al Michaels to work on Monday Night Football, where the Associated Press reported he was going to be paid $5 million annually.
Madden called his final game on Feb. 1, 2009, when the Pittsburgh Steelers played the Arizona Cardinals in Super Bowl XLIII.
Madden was offered a role on the sitcom 'Cheers'
Imagine watching football without hearing the legendary 'BAM' and 'BOOM' sound effects coming out of the mouth of Madden?
Well, Madden's broadcasting career was nearly interrupted when the ever-popular television sitcom 'Cheers' came calling. Madden said the show originally wrote him in to play the role of 'Coach,' a bartender who shared the floor with Sam Malone, played by Ted Danson.
Madden said he would rather stick to live television rather than the uncertainty of an acting role and was very hesitant in giving up calling football games, something he dearly loved.
Since 1988, Madden has also given his name (and his voice) to EA Sports, a company that produces the ever-popular Madden video games.
Madden's reluctance to fly
It was well known that Madden toured the country in a bus known as the Maddencruiser when he went from city to city to call each football game.
Madden's fear of flying seems to stem from claustrophobia.

"In 1979, my first year in broadcast, I continued to fly, until one day, on a plane from Milwaukee, I was eating breakfast and I just had this feeling that I had to get out of there," He said. "It was like a panic attack."
As an alternative to flying, Madden started by taking trains, but then became more comfortable when he rented a bus. From there. he purchased his own bus and the Maddencruiser was born.