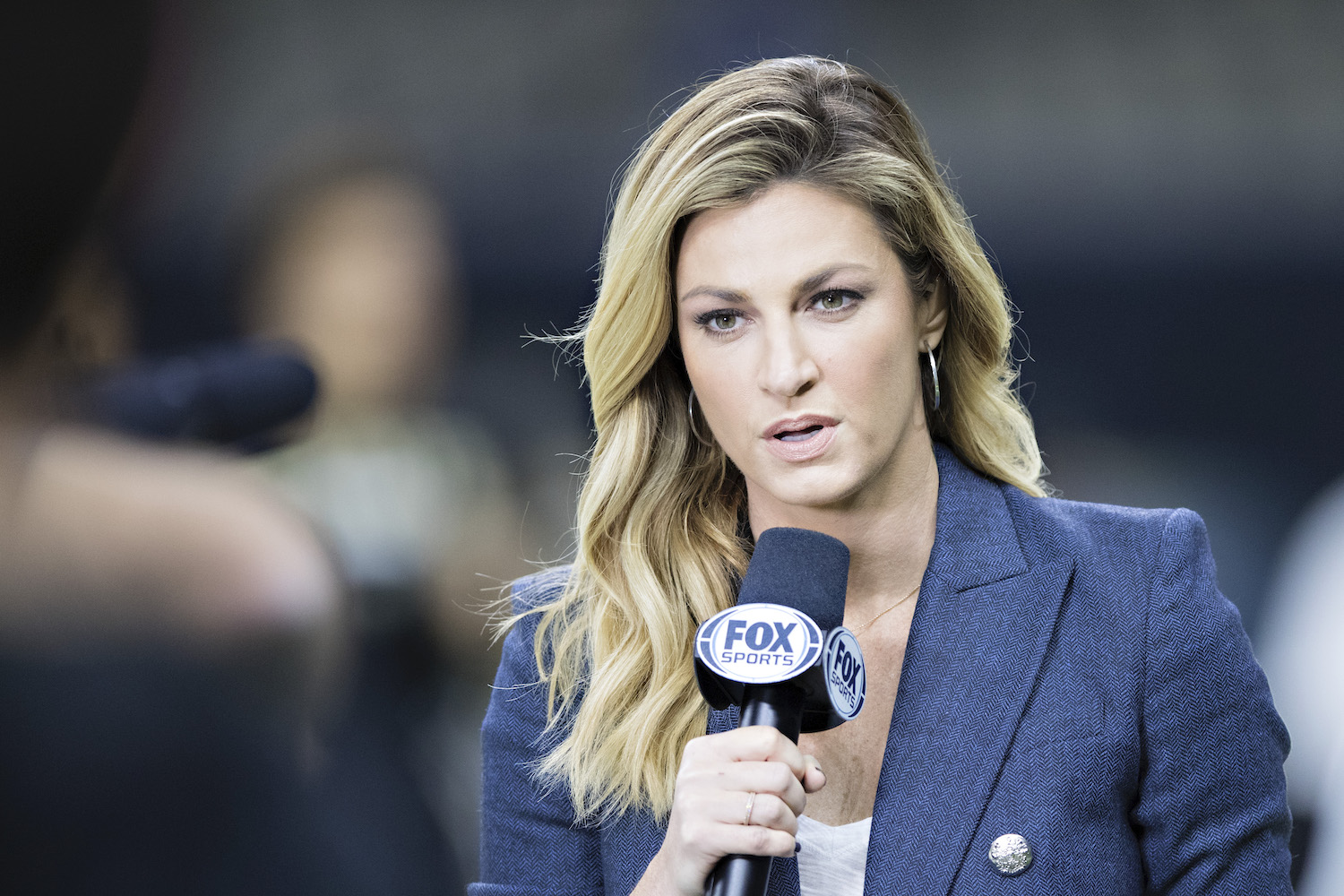 Erin Andrews Won't Be on Sidelines for Fox Sports During 2020 NFL Season
Erin Andrews has been a reporter for Fox Sports since 2012. However, this season, for the first time in years, Andrews won't be on the sideline for NFL games.
Erin Andrews has had a rough couple of months. In July, ABC announced that Andrews and Dancing with the Stars co-host Tom Bergeron would not return for the 2020 season. Andrews had worked with the show since 2014, which is the same year she became the No. 1 sideline reporter for NFL games on Fox Sports. Andrews recently received another round of bad news when she learned she won't be working on the sidelines this season for Fox Sports. 
Erin Andrews and her early career at ESPN
Erin Andrews made her sideline reporting debut in 2001. She worked for the Sunshine Network in Florida, where she covered the Tampa Bay Lightning. After a couple of years, Andrews headed north to Atlanta, where she covered the Atlanta Braves, Atlanta Hawks, and Atlanta Thrashers for Turner South.
In 2004, Andrews joined ESPN as a reporter for ESPN National Hockey Night. During her career with the Worldwide Leader in Sports, Andrews served as the sideline reporter for ESPN College Football Saturday Primetime and Thursday Primetime, Big Ten college basketball games, and Major League Baseball.
In 2008, Andrews was involved in a stalking incident where a man filmed her naked in her hotel room through the peephole and posted the video online. She sued the man and the hotel and was awarded a $55 million settlement. 
Andrews joins Fox Sports
After eight years in Bristol, Erin Andrews joined Fox Sports in 2012. She made her debut with the network as a co-host on Fox College Football with Eddie George and Joey Harrington. Like her time with ESPN, Andrews' roles expanded soon after her arrival.
Since that time, she has served as a contributor to Fox NFL Sunday, where she does one on one interviews with the biggest names in the NFL. She also was an intricate part of the launch of Fox Sports 1 in 2013, where she worked for Fox College Football Kickoff and Fox College Saturday.
In 2014, Erin Andrews received a promotion. She was named the sideline reporter for Fox's lead NFL broadcasting team, replacing Pam Oliver. Andrews has remained on the No. 1 team and has also worked the sidelines for numerous other events, including the MLB All-Star Game, the World Series, and Daytona 500.
Erin Andrews and others not working on sidelines
It's 2020. Nothing is normal. As you might expect, NFL games will look very different this season. Just like the other sports, there will be limited or no fans in the stands. 
Last week, the NFL announced its new pandemic-specific policies for the upcoming 2020 season. Among the more notable changes, cheerleaders and mascots will not be allowed on the sidelines. In addition, Erin Andrews and all sideline reporters will be relegated to the stands, according to NFL Network's Tom Pelissero. 
"Other groups now prohibited from field access in 2020, according to the updated game day protocols, include network sideline reporters and pregame TV reporters. So … see you guys from the stands on Sunday mornings."
One reporter told Front Office Sports the new policy would definitely make it challenging to provide accurate injury reports. 
"It will be challenging for audio eavesdropping and immediate injury observation. But with cameras and good positioning up behind the bench, I feel there will be items of interest to add."
While the NFL season and sideline reporting certainly won't look the same, Erin Andrews and the others will make it work. After getting the boot from Dancing with the Stars in July, Andrews is just happy to have a job.