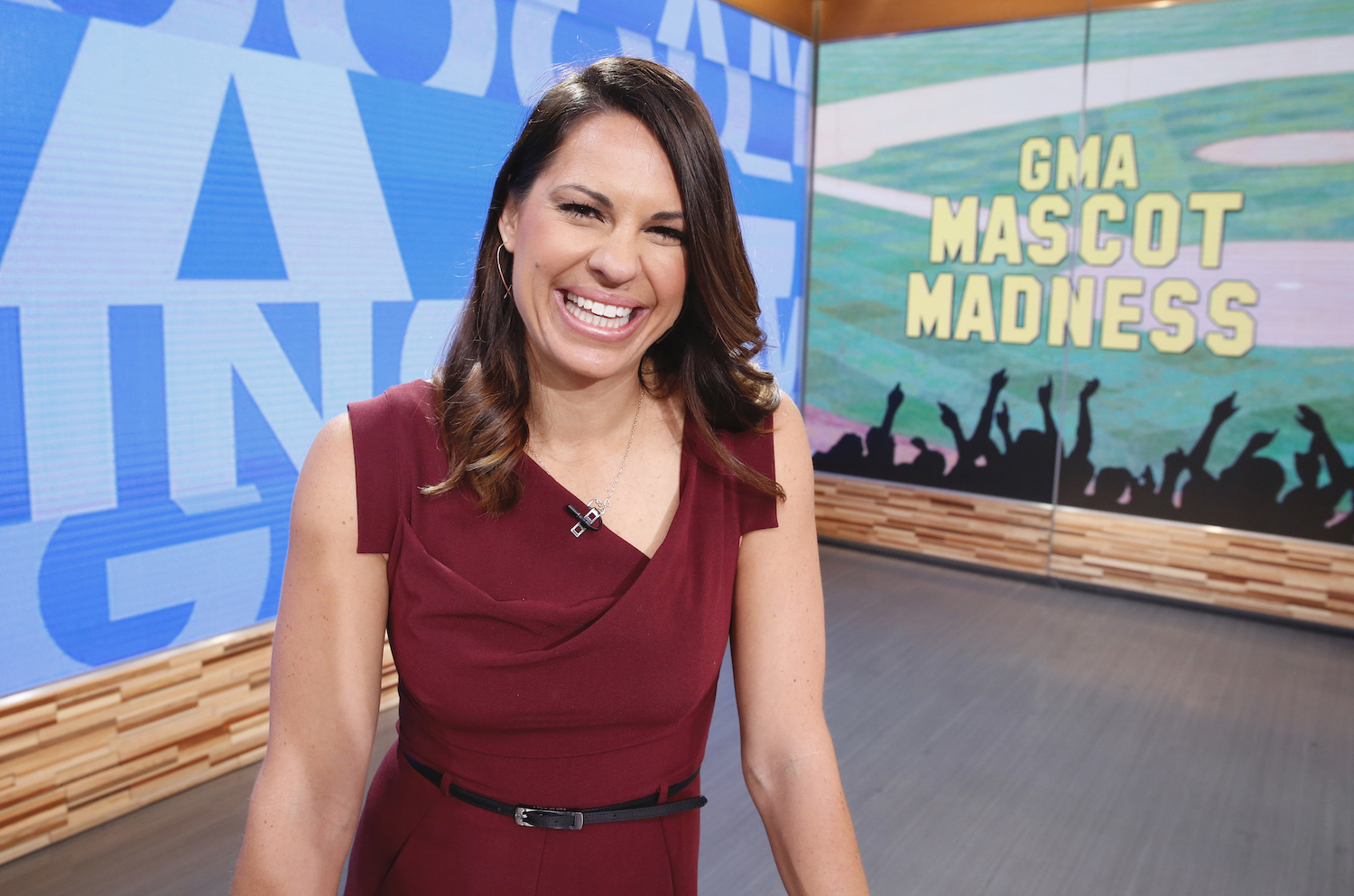 Who Is Jessica Mendoza?
Jessica Mendoza has been with ESPN since 2007. This season, she will see her role expanded as an MLB analyst and will be featured in more weekly broadcasts.
Jessica Mendoza heads into her fifth season at ESPN covering MLB. Since joining the Worldwide Leader in Sports, Mendoza has made history on multiple occasions, setting the mark as the first female in ESPN's coverage of the College World Series and MLB. What many don't know is Mendoza also had a distinguished career as an athlete and set numerous records as a softball player. Who is Jessica Mendoza? 
Jessica Mendoza's standout softball career
Jessica Mendoza joined the Stanford Cardinal softball team as a freshman in 1999. Her statistics showed she was a freshman in name only. That first year in Palo Alto, Mendoza broke the school record for batting average (.415) and RBIs (57). She was the Newcomer of the Year in the Pac-10 and named a first-team All-American.
Mendoza successfully replicated her freshman year at Stanford, receiving All-American first team honors each season that followed. In her four years at Stanford, Mendoza holds the career records in average (.416), hits (327), home runs (50), and runs (230). 
In 2004, Mendoza was a big part of the Team USA softball team that captured gold in Athens, defeating Australia in the finals. Four years later Mendoza rejoined the Olympic team that earned silver, finishing behind Japan. In addition to playing for her country, Mendoza also played professionally four seasons where she hit for a .355 average and blasted 34 home runs. 
In 2019, Mendoza was inducted into the National Softball Hall of Fame.
Jessica Mendoza joins ESPN and makes history
Before Jessica Mendoza arrived at ESPN, she worked as a field reporter for Yahoo! Sports at the Winter Olympic Games and as the lead college softball analyst on FOX Sports. Mendoza joined ESPN in 2007 as the lead softball analyst for the Women's College World Series and a college football sideline reporter. Since her arrival, she has worked as a reporter and analyst for the Men's College World Series, as well as an analyst for the Little League World Series. 
In August 2015, Mendoza made history when she became the first female ESPN MLB game analyst during "Monday Night Baseball." A few months later, she became the first female analyst for a nationally televised MLB postseason game, when she called the American League Wild Card Game. 
After appearing on "Sunday Night Baseball" in 2015 toward the end of the season, ESPN named Mendoza as a regular member of the team in 2016, where she worked until last season. This season she will continue to break down barriers when she becomes the first woman to serve as a solo analyst for a national package of MLB game telecasts, including weeknight games and holiday baseball. 
She will conclude the 2020 campaign by making more history as the first woman to serve as a World Series game analyst on national radio, joining the MLB on ESPN Radio team for the World Series.
Mendoza's controversies
In 2019, Jessica Mendoza joined the New York Mets organization as a senior adviser to the general manager. That new role created some conflict of interest concerns as she continued her role at ESPN. The LA Dodgers went so far as to prevent Mendoza from entering the clubhouse before games broadcast on ESPN.
Mendoza also made headlines early in 2020 when she criticized former Houston Astros pitcher Mike Fiers for admitting to stealing signs during the Astros 2017 World Series-winning season. Mendoza effectively blaming the whistleblower in Fiers, generated a huge negative response. That criticism was only magnified because of her role with the Mets and ESPN. 
With pressure mounting, Mendoza resigned her position with the Mets, but she signed an extension with ESPN. Despite no longer being present on "Sunday Night Baseball," she will have a more prominent role working on numerous other telecasts throughout the week.
Jessica Mendoza has had an impressive sports career first as a record-setting athlete and then as a trailblazing broadcaster. With her latest contract extension at ESPN, she looks to be staying in the broadcast booth for years to come and making more history in the process.