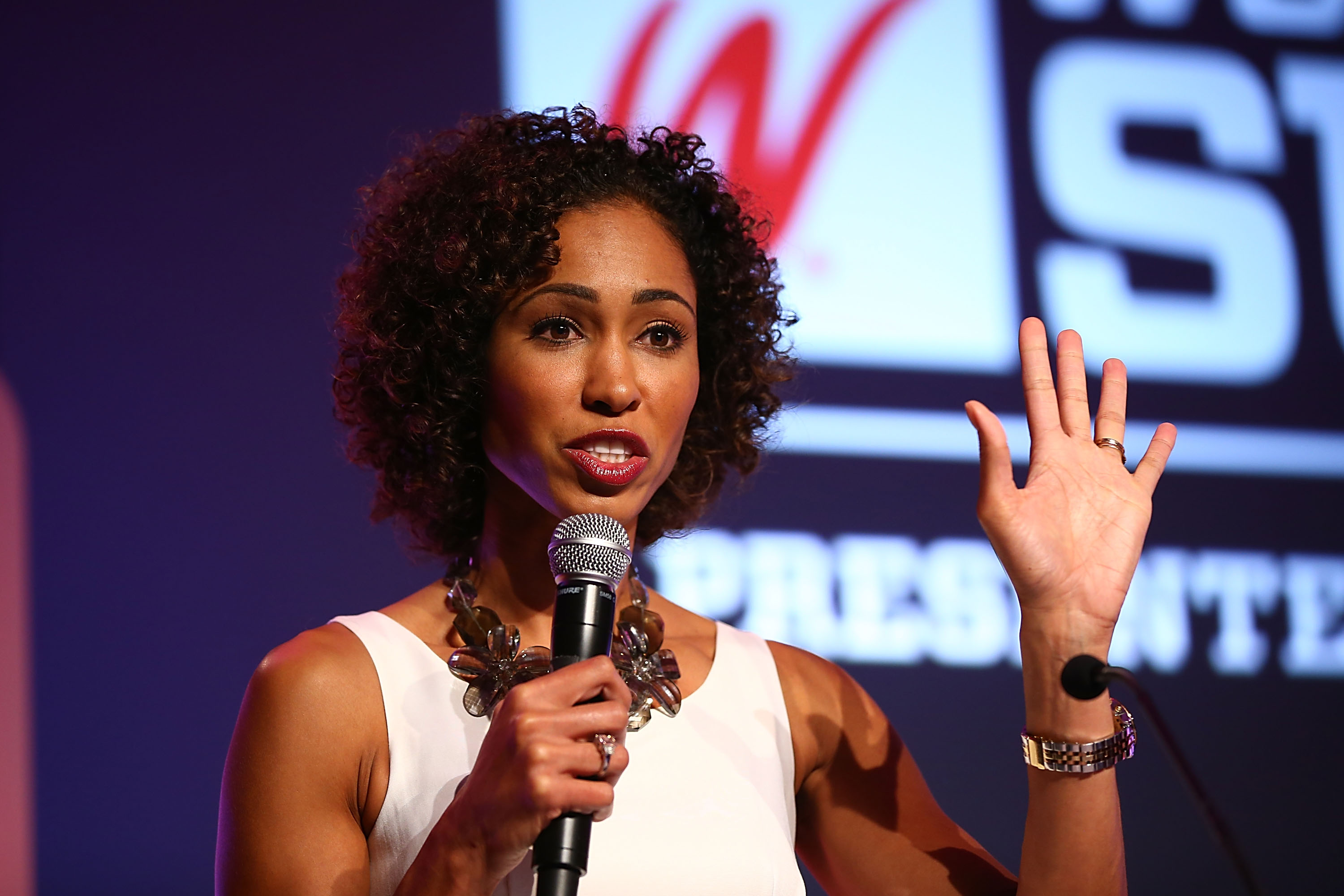 ESPN's Sage Steele Upset Other On-Air Personalities Question Her 'Blackness'
ESPN anchor Sage Steele is familiar with controversy. She's embroiled in another one as several on-air personalities have reportedly questioned her "blackness."
ESPN's Sage Steele has been with the Worldwide Leader in Sports since 2007. In addition to her main gig as a host for SportsCenter, she has been a regular contributor to NBA coverage. With her years of experience and seniority, you would think her peers would respect her. According to a report by the Wall Street Journal, that's evidently not the case as several on-air personalities have reportedly questioned the authenticity of her voice in the black community and Steele believes worked behind-the-scenes to exclude her from a recent network special on race. And the ESPN anchor is not happy about it. 
Sage Steele is no stranger to controversy
Since joining ESPN 13 years ago, Sage Steele has experienced her share of controversies with the sports network. In 2016, a few months after Colin Kaepernick took a knee for the first time, Steele directed criticism at Tampa Bay Buccaneers receiver Mike Evans for doing the same thing. 
"Hey @MikeEvans13_ look up definition of the word DEMOCRACY & remember this pic while kneeling/exercising your right to protest #perspective," Steele wrote. It included a picture of a man kneeling by a tombstone at Arlington National Cemetery.
The blowback was immense. Steele's ESPN colleagues largely remained silent. "When I was going through my social media attacks, I felt really, really, really alone in every single way," Steele told Refinery29. "It's hard when you're being attacked and no one publicly will support you." 
In 2017, Jemele Hill called President Trump a "white supremacist" after he criticized NFL players for kneeling during the national anthem. A firestorm of controversy ensued, and many other ESPN personalities came to Hill's defense. Steele wasn't one of them. She said Hill brought that criticism onto herself. 
"And I will say this; it's not a lack of supporting Jemele, it's simply, I just try to abide by the rules," Steele said in a parting shot. Her comments on the national anthem and her former colleague have ruffled more than a few feathers in Bristol. 
ESPN's 'Time for Change' special
"Time for Change" was a one-hour ESPN special that examined the experience of black athletes with injustice and the unifying role sports plays in bridging the divide between law enforcement and people of color in the United States.
The special was hosted by ESPN SportsCenter anchors Michael Eaves, Elle Duncan, Jay Harris, and college reporter/NBA studio host Maria Taylor. 
"You are going to hear some comments that are very direct and uncomfortable for some people," Eaves said in an interview with Vaught's Views, a website operated by popular award-winning Kentucky-based sportswriter Larry Vaught. "One thing we talk about is why it has been so uncomfortable for most white people to not even talk about these problems and why it makes them so uncomfortable.
"You will hear from black athletes about things they deal with off the field and off the court and yet are supposed to go out and compete at the highest level the same night or next day. White athletes do not have to deal with that and then try to play a game and win."
The death of George Floyd "woke up" the nation, according to Eaves, and there is now a spotlight on the various forms of racial injustice, including police brutality and racial profiling.
Sage Steele in conflict with other ESPN personalities 
According to the Wall Street Journal, Page Steele reportedly told ESPN management she believed that she was deliberately excluded from ESPN's "Time for Change" special because she wasn't considered an authentic voice for the black community. She said that incident revealed a divisive work environment within the network. 
Colleagues told Steele she was considered for the special but Duncan and Eaves, who both eventually hosted the show, complained that Steele's previous actions would not be accepted by what they considered the "black community." 
"I found it sad for all of us that any human being should be allowed to define someone's 'blackness.' Growing up biracial in America with a black father and a white mother, I have felt the inequities that many, if not all black and biracial people have felt—being called a monkey, the 'n' word, having ape sounds made as I walked by—words and actions that all of us know sting forever," Steele said in a statement. "Most importantly, trying to define who is and isn't black enough goes against everything we are fighting for in this country, and only creates more of a divide."
An ESPN spokesman denied Steele was excluded because of a campaign to undermine her. Duncan and Eaves released a joint statement. "We wish we had more than an hour to include more of the many strong voices we have at ESPN; however, we are hopeful that this doesn't distract from the important message conveyed that night." The pair didn't address the comments Steele attributed to them.
Since the pandemic shutdown, ESPN has been heavy on the story-telling dramas that have played out in the past in Michael Jordan's "Last Dance" and the Lance Armstrong documentary series. Sounds like ESPN has its own drama brewing that could make for some interesting headlines and must-see TV in the near future.