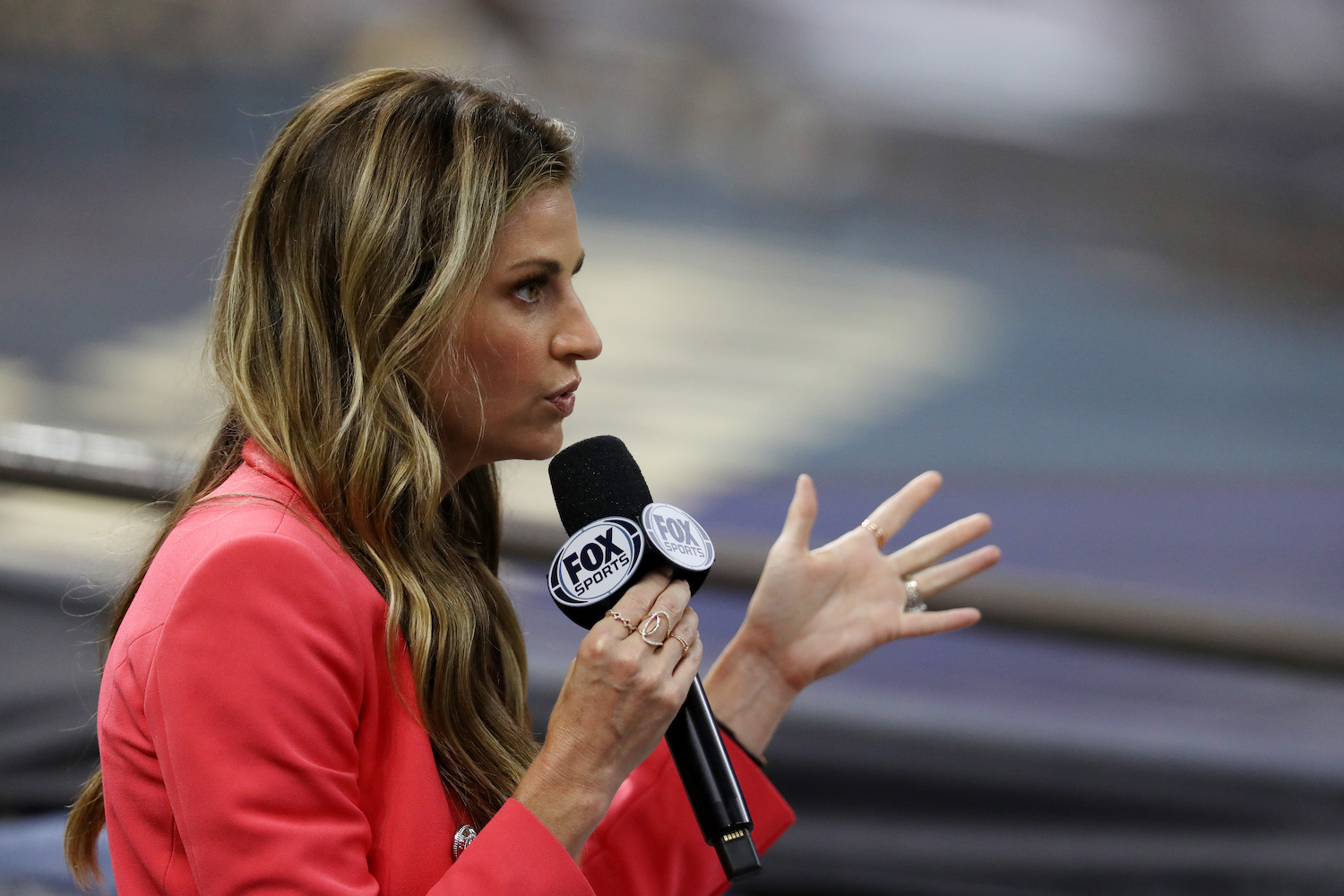 What Is Erin Andrews' Salary and Net Worth?
Erin Andrews has been on the sidelines reporting sports since 2001. She has been with Fox Sports since 2012. What is her salary and net worth?
Erin Andrews is one of the most recognizable reporters covering the NFL. Her journey started almost 20 years ago as a reporter on a regional sports network in Florida. She worked her way up the ranks to ESPN, where she stayed for a dozen years. Since 2012, she's called Fox Sports home. As one of the top reporters at Fox Sports, she makes a nice salary. What is Erin Andrews' salary and net worth?
Erin Andrews starts career on sidelines
In 2001, Erin Andrews made her sideline reporting debut with the Sunshine Network in Florida and reported on the Tampa Bay Lightning. A couple of years later she joined Turner South and covered the Atlanta Braves, Atlanta Hawks, and Atlanta Thrashers.
Andrews initially joined ESPN in 2004 as an NHL reporter. Her career at ESPN spanned across various sports, as she was a field-side reporter for College Football Saturday Primetime and Thursday Primetime, Big Ten college basketball, and Major League Baseball.
Erin Andrews made headlines in 2008 for a stalking incident after a man filmed her naked in her hotel room through the peephole and posted the video online. She sued the man and the hotel and received a $55 million settlement. 
Erin Andrews moves to Fox Sports
In 2012 and after a dozen years with the Worldwide Leader, Erin Andrews joined Fox Sports. She debuted as a co-host with Eddie George and Joey Harrington on Fox College Football. Similar to her job in Bristol, her roles expanded soon after her arrival.
At Fox, she has been a contributor to Fox NFL Sunday, which includes one-on-one interviews with the biggest names in the game. Andrews received a promotion in 2014 when she was named the sideline reporter for Fox's lead NFL broadcasting team, replacing Pam Oliver. 
Since that time, Andrews has been with the No. 1 team and also works on Thursday night games broadcast on the NFL Network. In addition to football, she has worked the sidelines for numerous other events, including the MLB All-Star Game, the World Series, and Daytona 500.
Andrews' work outside of sports
During her career, Erin Andrews has teamed up with various brands and their charitable projects. She partnered with Kraft Foods and their "Huddle to Fight Hunger" project. She's also worked with StubHub and their "Girls Night Out" campaign. 
Andrews, who earns a reported $2 million a year in salary, has also worked with Reebok's ZigTech brand. In 2014, she became the face of CoverGirl. Last year, Andrews used her celebrity and connection with the NFL to launch her own clothing line called WEAR. 
The apparel line for women includes NFL teams, as well as select NCAA and NBA teams. With her diverse business portfolio, including her past work on the television show Dancing With the Stars, Erin Andrews has a reported net worth of $30 million.