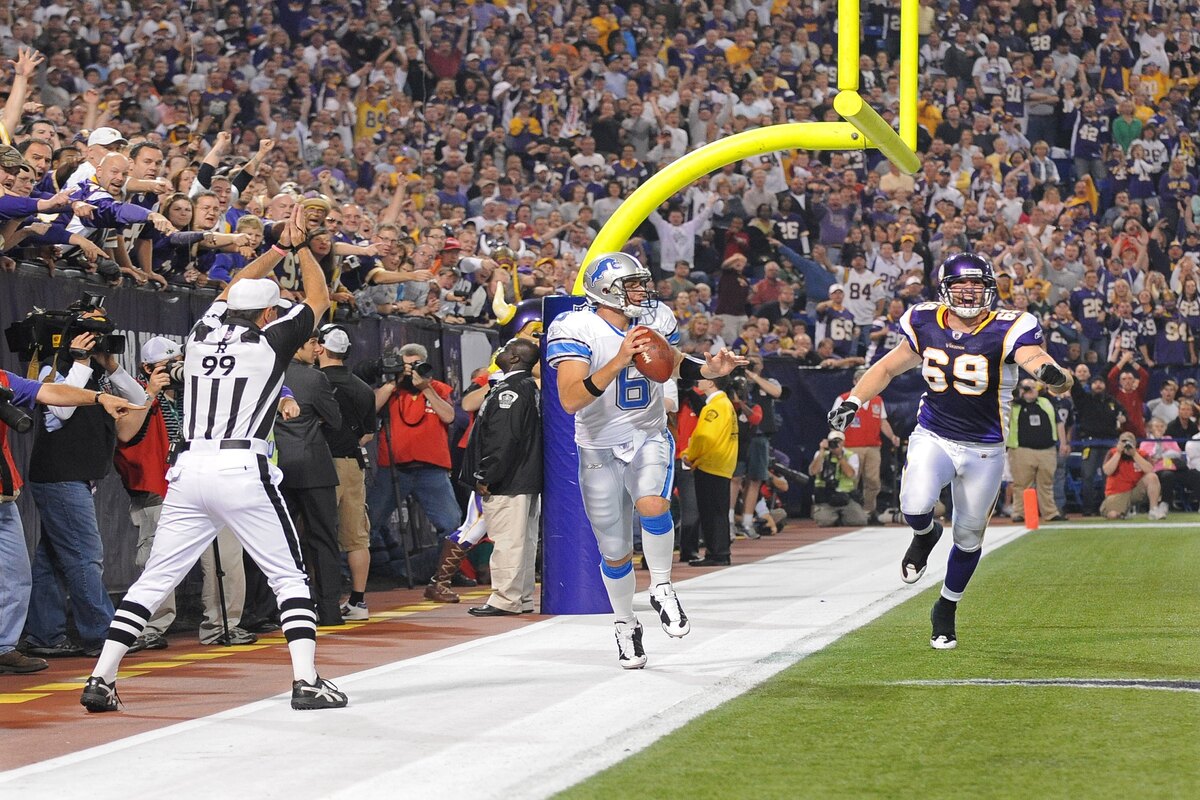 ESPN's Dan Orlovsky Is Responsible for Possibly the Dumbest Play in NFL History
ESPN analyst Dan Orlovsky played 13 seasons in the NFL. Orlovsky is responsible for possibly the worst and dumbest play in league history.
No matter how successful he is at ESPN, former Detroit Lions quarterback Dan Orlovsky's legacy may be set in stone.
Orlovsky, a journeyman backup quarterback throughout his career, is now a rising star at the Worldwide Leader. But football fans will forever know Orlovsky for committing arguably the stupidest play in NFL history when he played for the Detroit Lions over a decade ago.
Dan Orlovsky played 13 NFL seasons
Dan Orlovsky made good mileage out of being a fifth-round pick in 2005, the same draft that saw Alex Smith and Aaron Rodgers each go in the draft's first round. 
Orlovsky completed 58.2% of his passes for 3,132 yards, 15 touchdowns, and 13 touchdowns in 26 games across 13 seasons. He also averaged 2.6 yards per carry on 13 career rushing attempts. 
Orlovsky, at his best, was a solid backup or third-string quarterback who, if pressed into action, could at least keep his team in the game. People forget that Orlovsky won two games as the Colts' starting quarterback in 2011, the year Peyton Manning missed every game with a neck injury. 
Indianapolis ended that season 2-14 and drafted Andrew Luck with the No. 1 overall pick in 2012.
Orlovsky is responsible for possibly the dumbest play in NFL history
Dan Orlovsky saw his most action in 2008 on the Detroit Lions, the same team that ended the year 0-16. 
Orlovsky, who played two games as a rookie in 2005 but didn't see action in 2006 or 2007, didn't play terribly in his 10 games. Orlovsky completed 56.1% of his passes for 1,616 yards, eight touchdowns, and eight interceptions. 
Detroit lost all seven of his starts, obviously, but one of those starts stung more than others. In an October game against the rival Vikings in Minnesota, Orlovsky accidentally ran out the back of his own end zone while trying to avoid a sack.
That act is considered a safety, and it gave the Vikings two free points anyway. The worst part is, Minnesota only won the game by two points: a 12-10 final.
Dan Orlovsky is now a rising star at ESPN
In October 2017, Dan Orlovsky officially called it quits on a long NFL career. 
The Los Angeles Rams had released Orlovsky during final cuts a month prior. Orlovsky, consciously employed throughout the 2010s, only threw 47 passes from 2012-16; 40 of those came in 2015, his second stint with the Lions, and the other seven while with the Buccaneers in 2012.
Football fans are getting more of Orlovsky now than they ever did in his 13 NFL seasons. Orlovsky is a rising star and prominent voice on ESPN's football coverage.
Whether it's ranting about Lions coach Matt Patricia's failings or pointing out what makes certain quarterbacks excel, Orlovsky has been a welcome voice of fresh air for ESPN.
Look for the network to continue building Orlovsky's profile and, eventually, possibly moving him to the Monday Night Football booth.
Like Sportscasting on Facebook. Follow us on Twitter @sportscasting19.