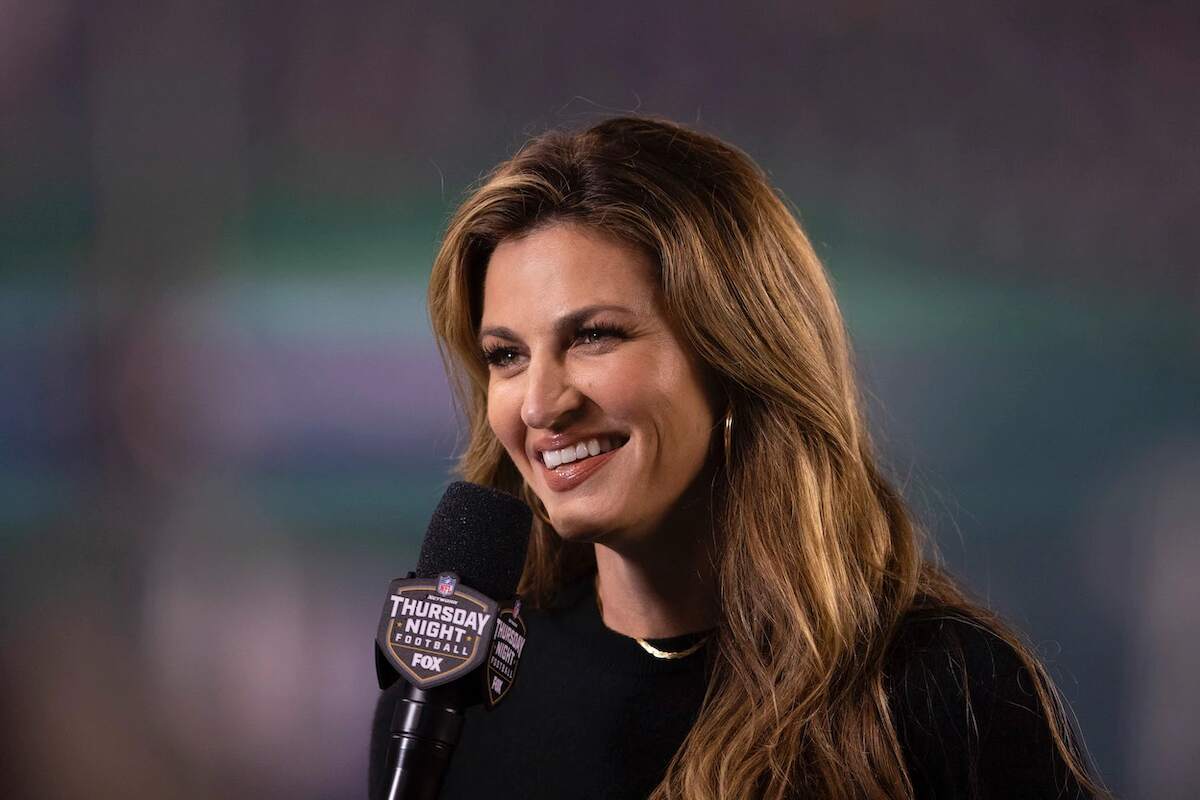 Erin Andrews Candidly Admits to Her 'Immature' Drinking Days and Details a Memorable Trip to Boston Where She Had to Be Helped Back to the Hotel by Her Broadcast Partners
Erin Andrews likes to relax and enjoy a drink when she's not roaming the NFL sidelines. On the SI Media Podcast, she candidly revealed details from some of her crazier drinking episodes of the past.
Erin Andrews is among the best in the sports reporting business, providing insightful nuggets of info for Fox on its Sunday NFL broadcast. While she's a true professional on the sidelines every Sunday in the fall, when Andrews steps away from the spotlight, she likes to unwind with a nice drink or two. 
In a recent Sports Illustrated Media Podcast with Jimmy Traina, Andrews let loose about letting loose, revealing some of her most memorable experiences. This included a painful weekend in college during the World's Largest Cocktail Party at the Florida-Georgia game in Jacksonville, and her "worst" story, a trip to a Boston bar as a green rink-side reporter for the Tampa Bay Lightning that ended in a way she would like to forget.    
Erin Andrews is a top NFL sideline reporter
Erin Andrews is in her 20th year in the sports reporting business and just completed her seventh year as the primary sideline reporter for Fox's NFL broadcasts. She recently joined Jimmy Traina on the SI Media Podcast as a guest with the NFL Network's Kyle Brandt. The three discussed various topics, including Super Bowl 55, which both of them will not be attending.
They also ventured into many non-football-related topics like music and their preferred drinks. Andrews said she was all about tequila during quarantine. 
"I'm invested. I love it. The hangover is less. I just feel fantastic drinking it. I feel good," Andrews told Traina. "Like at night, I'll do a little midnight nightcap with a red wine. Back in the days when I would start with red wine at five and wonder why I was crying by eight, that wasn't any good for anybody. Tequila is great." 
Erin Andrews parties and face plants in college
Erin Andrews attended the University of Florida, earning a Bachelor of Arts degree in telecommunication in 2000. Prior to graduating, she was in a sorority and a member of the Florida Gators Dazzlers dance team. 
On the podcast, Andrews talked about her college days and some of the fun she would have, especially on the weekends of the World's Large Cocktail Party, the annual meeting between Florida and Georgia in Jacksonville. She admitted she already struggled walking in high heels, but it was even more challenging carrying plastic football-shaped containers filled with hurricane-type drinks. 
"I would walk with these hurricane footballs for Florida-Georgia weekend in my cheap little black skirt, and fall and face plant. I was that messy. I'm missing chunks from my knees from falling and skinning my knees at the Jacksonville Landing."
The memorable road trip to Boston early in her broadcasting career
After graduating, Erin Andrews landed her first job with the Sunshine Network, covering the Tampa Bay Lightning. On one of her first out-of-town trips up to Boston, she recalled an evening when she consumed too much alcohol one night out on the town. 
"It was my second road trip I'd ever been on when I was this little rink-side reporter with the Tampa Bay Lighting. We go to this bar, we're playing the Bruins, and we had a day off the next day. I went to this bar with the play-by-play guy, our analyst — wonderful guys. They were basically babysitters on the road for this immature as—–. 
"I just pounded as many mudslides in an Irish bar in Boston as possible. They were smart enough to be like, let's take her home. I remember the cab ride with the cobblestone and just screaming. That poor hotel we stayed in. I remember calling my dad the next day, and it was like dad, the projectile vomit that was coming out."
Erin Andrews said she's never had another mudslide again and doesn't plan on ever having another one in her lifetime. Tequila, however, that's another story. 
Like Sportscasting on Facebook. Follow us on Twitter @sportscasting19.