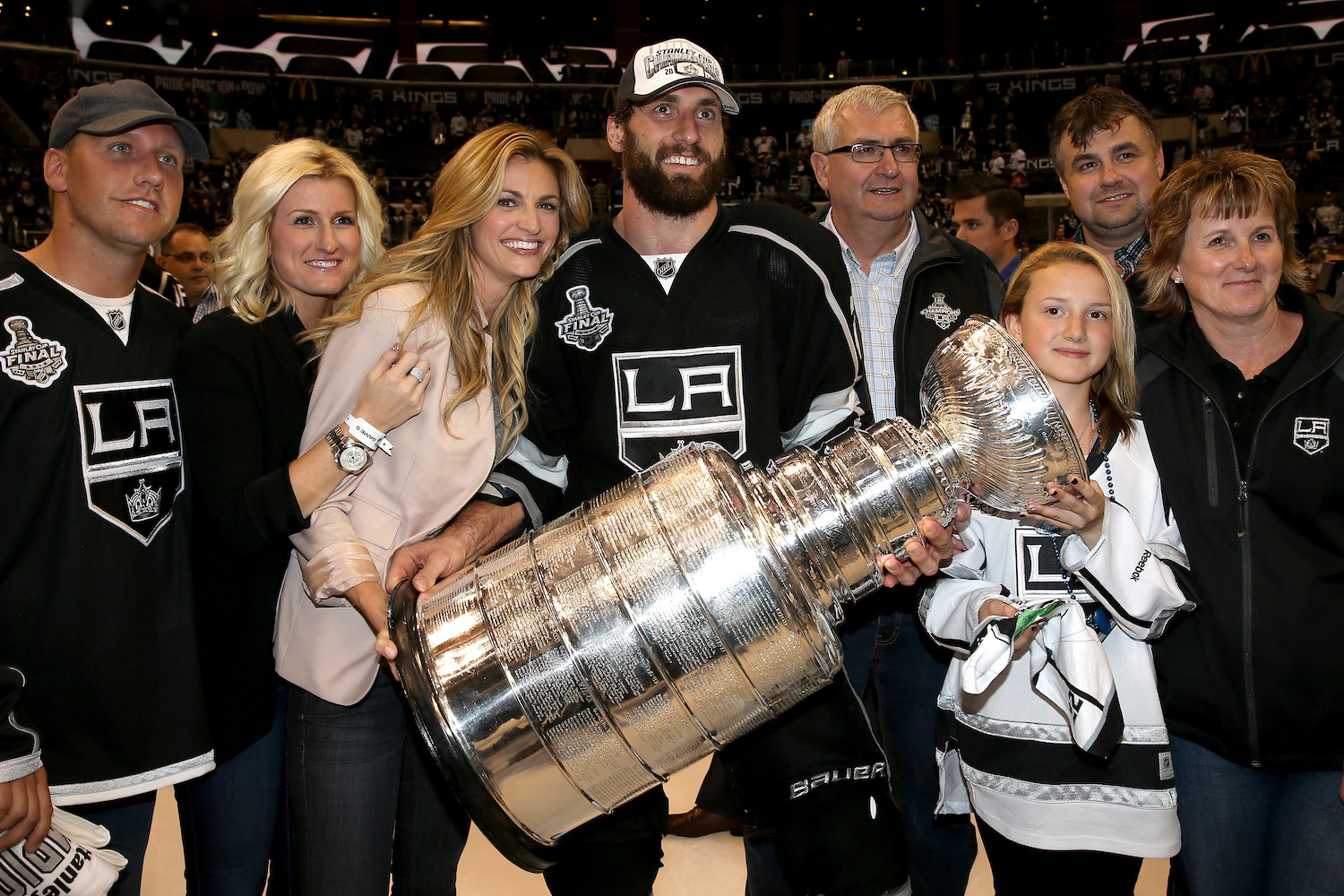 Erin Andrews' Husband Is a Two-Time Stanley Cup Champion
Erin Andrews met her future husband at a World Series game when he snuck past security and approached her in the dugout.
In almost two decades of work, Erin Andrews has established herself as one of the top sideline reporters in the NFL. While she's known for her sideline reporting work in football, Andrews has covered various other sports from MLB to NASCAR. Interestingly, Erin Andrews met her future husband at a World Series, but he was a well-known professional athlete in a sport she hadn't covered in years.  
Erin Andrews' career as a sports reporter
Erin Andrews made her sideline reporting debut in 2001 with the Sunshine Network in Florida covering the Tampa Bay Lightning. She eventually moved north to Atlanta, and after a couple of years, then joined ESPN as an NHL reporter. 
Andrews showed her versatility and worked the sidelines on a variety of sports, including ESPN's College Football Saturday Primetime and Thursday Primetime, Big Ten college basketball, and Major League Baseball.
In 2012, Erin Andrews headed west and joined Fox Sports. After debuting on Fox College Football, she began working on Fox NFL Sunday, interviewing some of the NFL's biggest stars. Fox promoted her to the sideline reporter for the network's lead NFL broadcasting team in 2014, replacing Pam Oliver. 
Erin Andrews currently works with the No. 1 team of Joe Buck and Troy Aikman on Thursday nights and Sunday afternoons. At Fox, Andrews also has broadened her portfolio, working the sidelines for numerous other events, including the MLB All-Star Game, the World Series, and Daytona 500.
Erin Andrews meets husband
According to Harper's Bazaar, during the 2012 World Series, Fox Sports co-worker and NFL Super Bowl champion Michael Strahan texted Erin Andrews, asking if she had any interest in going to dinner with his friend Jarret Stoll. Andrews declined. She was focused solely on working the World Series. 
Several days later, Stoll proved the sincerity of his interest when he showed up unannounced and approached Andrews during a World Series game in San Francisco. He snuck past a pair of security guards, leaned over a rail, and introduced himself to the surprised reporter. 
Impressed by Stoll's determination and his cunning ability to elude security, Erin Andrews decided to give him a chance. 
Who is Jarret Stoll? 
While Erin Andrews is known for her work covering the NFL and role on Dancing with the Stars, Jarret Stoll had quite a successful career of his own in the National Hockey League. The Edmonton Oilers drafted the Canadian in the 2002 NHL Draft with the No. 36 overall selection.
Stoll played six seasons in the Oilers system before he was traded to the LA Kings in 2008. Four years later, Stoll found success in both his personal and professional life when he met Erin Andrews and won his first Stanley Cup title. Two years later, he captured his second Cup. 
Jarret Stoll played three more seasons, including stints with the New York Rangers and Minnesota Wild, before retiring in 2016. He and Erin Andrews married in June 2017. They don't have any children but do have one dog.