Erin Andrews Lists the Reasons She's 'Obsessed' With Giants Coach Brian Daboll
After five playoffless seasons and nearly as many head coaches, first-year headman Brian Daboll has the New York Giants back in the playoffs for the first time since 2016. And while the organization made some good draft picks (Kayvon Thibodeaux) and free-agent finds (Isaiah Hodgins), Daboll has led the team to the postseason with roughly the same talent Joe Judge failed so miserably with the last two seasons. How's he doing it? FOX Sports reporter and Calm Down with Erin and Charissa podcast host Erin Andrews explained how Daboll has changed the culture in New Jersey and why his thoughtfulness has made her "obsessed" with the Giants coach.
Erin Andrews explains the great things Brian Daboll does as Giants coach 
On her Calm Down with Erin and Charissa podcast, Erin Andrews told he co-host Charissa Thompson about a recent sit-down she had with New York Giants head coach Brian Daboll.
Andrews gave Dabool her "Calm Down dream award" and explained to Thomson why "you're going to frickin' die for him."
First, she shared that Daboll hangs out with the Giants grounds crew before practice "because his grandpa was a groundskeeper and he has so much respect for them." The coach even FaceTime'd Andrews from his pre-practice hang to show the reporters the "hut" they hang out in.
Daboll's thoughtfulness and culture-changing attitude don't stop there, though. Another thing the Giants coach does — which he learned over his 25 years as a lower-level assistant — is that as a head coach, he makes sure he says "hi" to everyone in the building. His reasoning is that "when people say 'hi' to you [as the boss], and you don't say 'hi' back, it affects their day."
The final piece of leadership advice Daboll gave Andrews, she says, is that "when you are at this level, and people walk through your door to talk to you about something, it is the most important thing on their mind, and it has been bothering them for weeks. And they wanted to talk to you about it, and they finally have the balls to walk in and talk to you."
As Erin Andrews explained, Brian Daboll is obviously a different kind of NFL coach who puts a lot of thought into his relationships around the building. However, what has truly made the Giants successful again is that the Giants' coach's football IQ is just as high as his EQ.
The Giants coach transformed the team on the field, too
As much as Giants coach Brian Daboll understands that what happens behind the scenes in an NFL building affects the product on the field, he also understands the importance of a coach flexing his system to the strengths and talents of his roster, as opposed to the other way around.
The concerns among Giants fans coming into Year 1 of the Brian Daboll Era were that, sure, he looked like a genius with the Buffalo Bills, but he had Josh Allen to work with. How would his offense look with the heretofore disappointing Daniel Jones at QB as opposed to one of the best and most unique signal-callers in the NFL?
Daboll assuaged those fears early, telling anyone who would listen that his offense in New Jersey would look a lot different than his offense in Western New York.
And when the G-Men stepped on the field this season, Daboll treated them to a Giants-specific offense. Gone was the pass-happy offensive coordinator from Buffalo, and in his place was a coach who has leaned on the team's best player, Saquon Barkley.
The finally-healthy running back has 295 carries (and counting) this season, 34 more than his career high. And what Daboll did bring over from his Allen days was letting his QB run whenever given a chance. Jones has 120 carries this season, seven less than the last two seasons combined and two less than Allen's total in his last season with Daboll.
And when Jones does get to pass, it's on play-action, rollouts, screens, RPOs, or some other concept that moves the pocket instead of having Jones drop straight back. The latter strategy hasn't worked well in the past, but now moving the pocket at one of the highest rates in the NFL has the Giants in the playoffs and Jones as a legitimate pro QB.
This is Brian Daboll showing that he's as good on the field as off it.
Where did Brian Daboll coach before?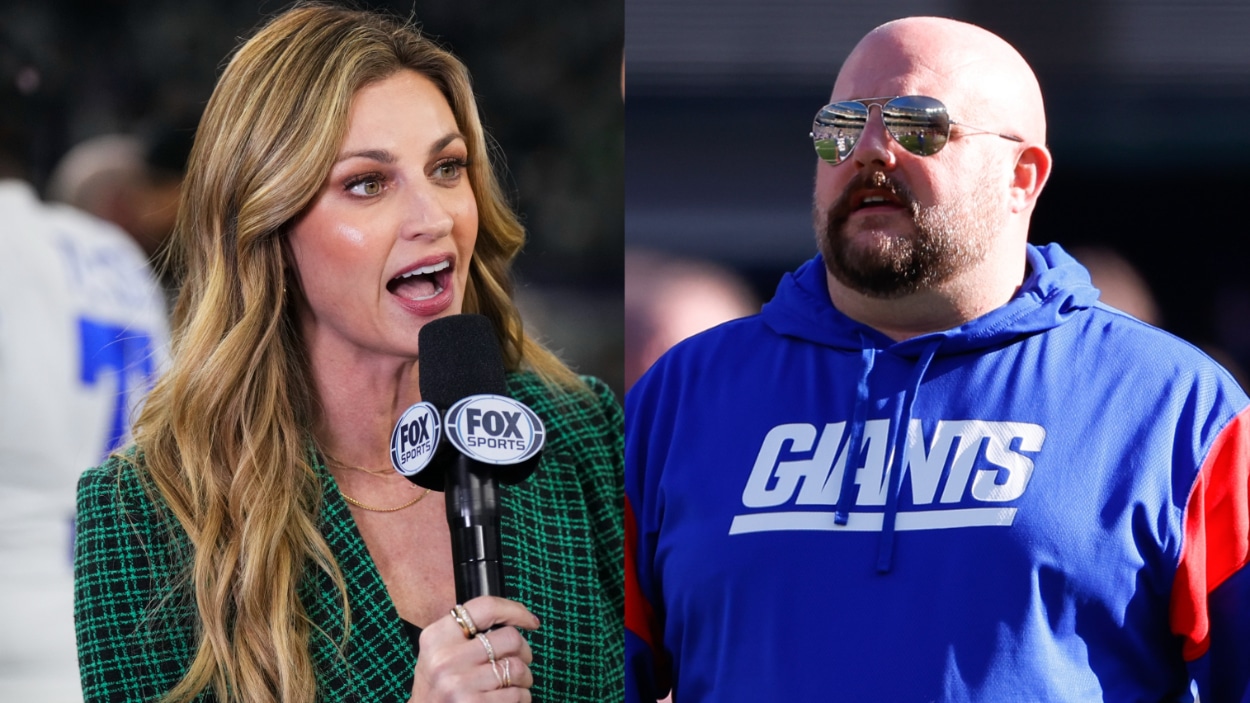 They say that professional coaches are the product of every coach they've ever played or coached for. Brian Daboll's playing career ended after a stint at Division III University of Rochester. However, the coaches he's coached under are incredible, and it's no wonder he's a success in his first stop as a head coach.
Daboll started his coaching career with the little-known College William & Mary under Jimmye Laycock, who retired as the third-longest tenured coach in Division I history. From there, Daboll jumped to Michigan State, where he worked for a young up-and-coming coach named Nick Saban.
After his time in college, Daboll jumped to Bill Belichick's staff in the NFL at 24. Following his time with Belichick, Daboll bounced around the league with Belichick and Bill Parcels' disciples learning (what not to do on several occasions) from them. His bosses included Eric Mangini, Romeo Crennel, and Tony Sparano.
In 2013, Daboll reunited with Belichick in New England and, four years later, hooked back up with Saban at Alabama. After a year of calling plays in Tuscaloosa, the offensive coordinator took a job working with Andy Reid disciple (and former his former William & Mary safety) Sean McDermott.
And that path is what led Brian Daboll to become the coach he is today, that Erin Andrews is "obsessed" with.