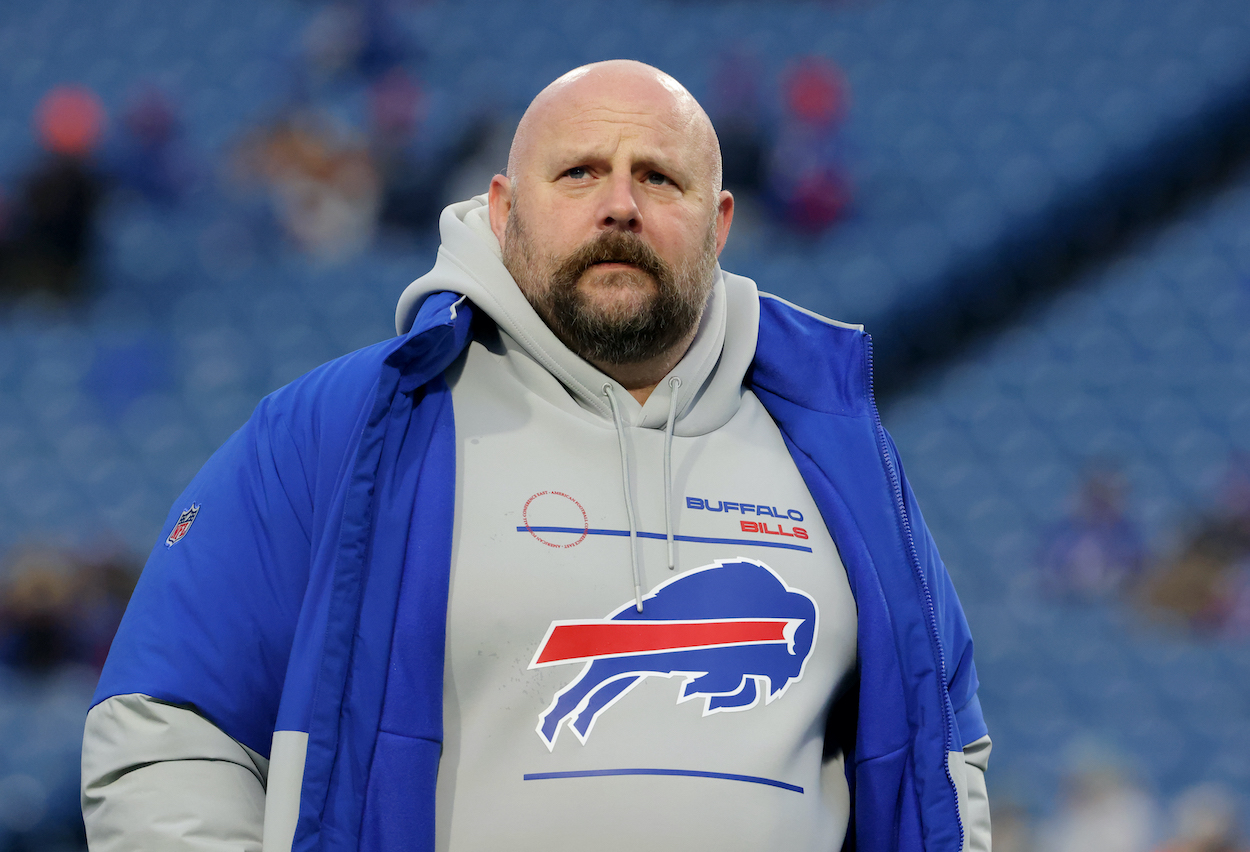 Brian Daboll Says His New York Giants Offense Won't Look Like the Buffalo Bills Scheme
Brian Daboll got the New York Giants head coaching job because of his Buffalo Bills offense, but his new unit wont look like that next season.
New York Giants head coach Brian Daboll got the job because of how he transformed the Buffalo Bills offense from a bottom half of the league unit to one of the most high-powered forces in the NFL. Despite all his success with this offense, he told Giants fans at his introductory press conference not to expect the same offense in New Jersey that they saw in Western New York.
Brian Daboll developed a high-powered offense with the Buffalo Bills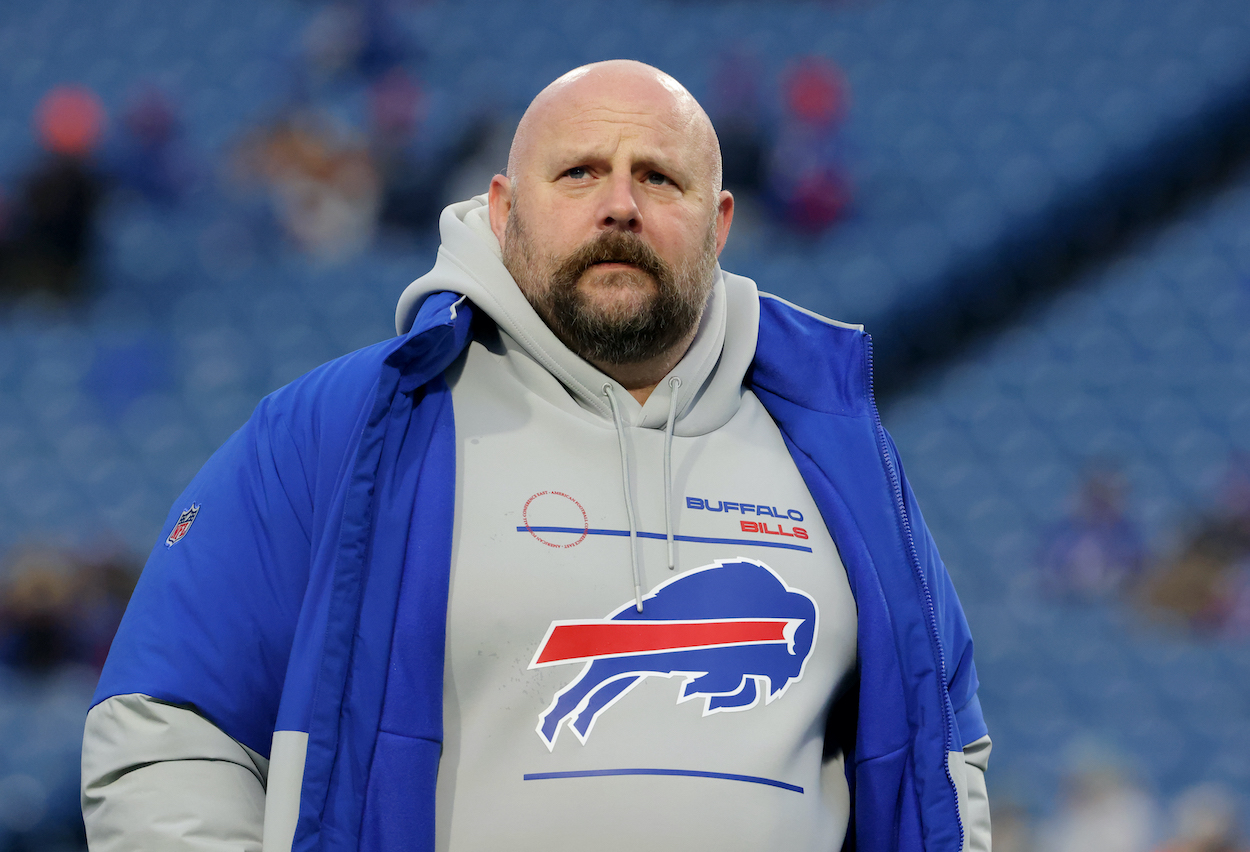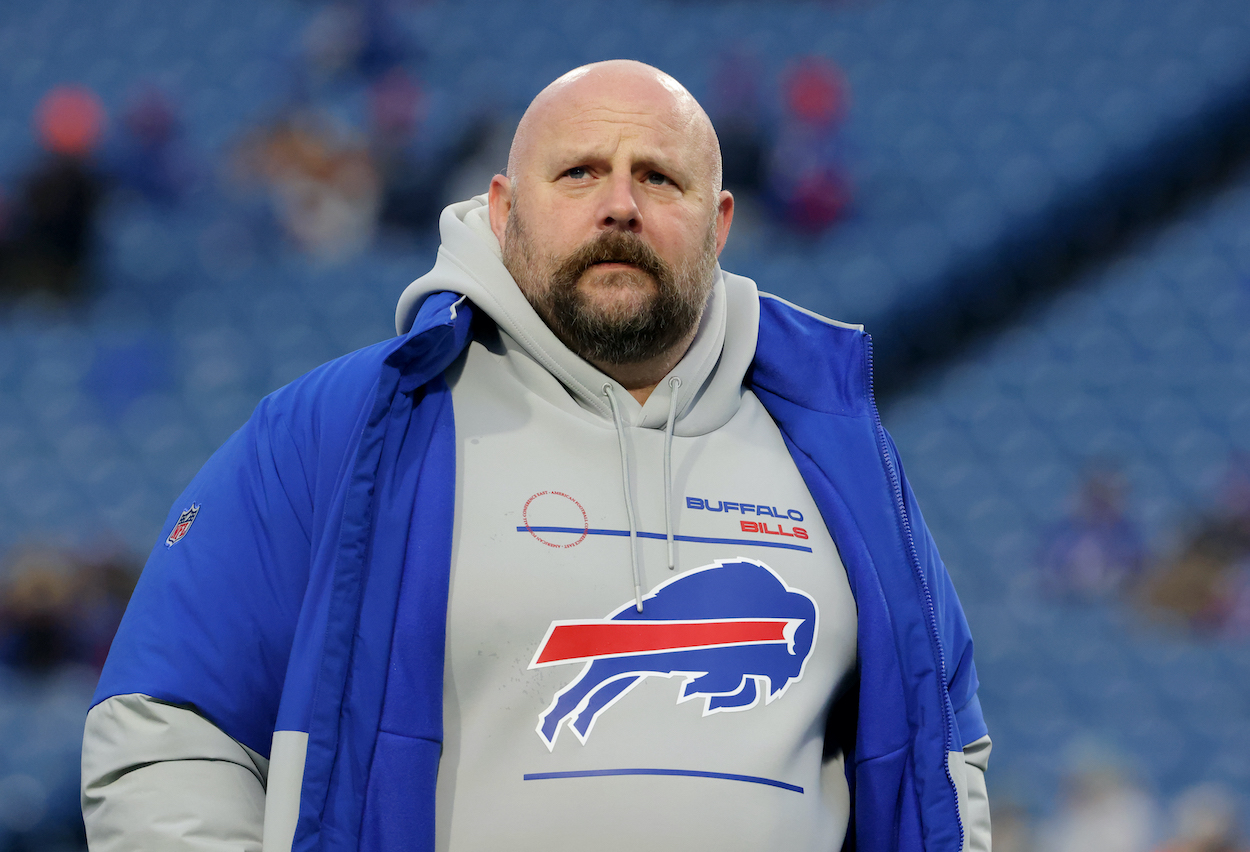 In 2017, the Buffalo Bills had the 22nd-ranked scoring offense in the NFL, putting up just 302 points. That following offseason, two things happened. The franchise drafted a quarterback out of Wyoming named Josh Allen, and it brought in Alabama offensive coordinator (and Bill Belichick disciple) Brian Daboll as offensive coordinator.
During the 2018 season, with Allen as a raw rookie, the Bills struggled. The offense scored just 269 points and ranked 30th in the league. The season raised questions about the QB and the OC, but then the two got to work.
In 2019, the Bills O started to improve, scoring 314 points and ranking 3rd. The following year, it all came together for Daboll's crew. In 2020, the Bills O put up 501 points, good for second in the league, and, in 2021, they scored 483, putting them in third overall.
Developing a first-round pick like Allen and creating a high-scoring offense based around his talents are why new New York Giants GM (and former Bills assistant GM) Joe Schoen picked Daboll to run his team.
His task is to take Daniel Jones, Saquon Barkley, Kenny Golladay, and Kadarius Toney and put them in an offense that can rank in the single-digits, not 31st (258 points) as they did in 2021.
Daboll says his Giants offense won't look like his Bills offense
At his introductory press conference that unveiled him to the fans and media as the 20th head coach in New York Giants history, Daboll showed that he understands the assignment. He talked about the team's potential and told an interesting anecdote about seeing QB Daniel Jones in the building during a snowstorm.
When Daboll opened up the presser to questions from reporters, the very first one was about his offense and what it was going to look like with the Giants. Daboll responded:
It's gonna be dependent on the players. That's the first and foremost. I don't think you can — look, each place I've been, and particularly I'd say these last four years with Josh [Allen], we tried to develop a system that was conducive to his skillset along with the other pieces that we added. That will be a work in progress.

Brian Daboll on the New York Giants offense
This is a telling answer from Daboll because the Giants personnel is very different than the Bills. Allen is a bigger, more athletic QB than Jones, who is more of a traditional pocket-passer in the mold of Giants legend Eli Manning.
The G Men also have a RB weapon in Saquon Barkley, which is above and beyond what Buffalo ever had in the backfield under Daboll. Long story short, it sounds like Daboll doesn't have a one-size-fits-all philosophy which should excite Giants fans desperate for a winner after a long decade since the last Super Bowl banner.
What should the Giants do about Daniel Jones? 
One of the biggest reasons it seems like the New York Giants brought in Brian Daboll as head coach is to work with 2019 No. 6 overall pick Daniel Jones. That said, is keeping Jones under center in 2022 the best idea?
Daboll and the Giants basically have four options for next season at quarterback:
They can keep Jones and see if Daboll can develop him like he did with Allen.
They can bring in an average veteran as insurance/to compete with Jones.
They can swing big and get a QB like Deshawn Watson or Russell Wilson.
They can draft a QB with one of their two top 10 picks this year.
This is a tough call. The best options in the draft, like Pitt's Kenny Pickett, and polarizing at best. But the Giants do have two first-rounders, so taking a chance on a youngster this year could make sense. The team could also use those picks for a big name, but giving away all that draft capital is a tough sell for a new GM and coach.
Either rolling with Jones solo or adding a vet like Jimmy Garoppolo, Gardner Minshew, or Mitchell Trubisky seems to make the most sense. With free agency and the draft starting soon, we won't have to wait long to find out the answer that Daboll goes with.
All stats courtesy of Pro Football Reference