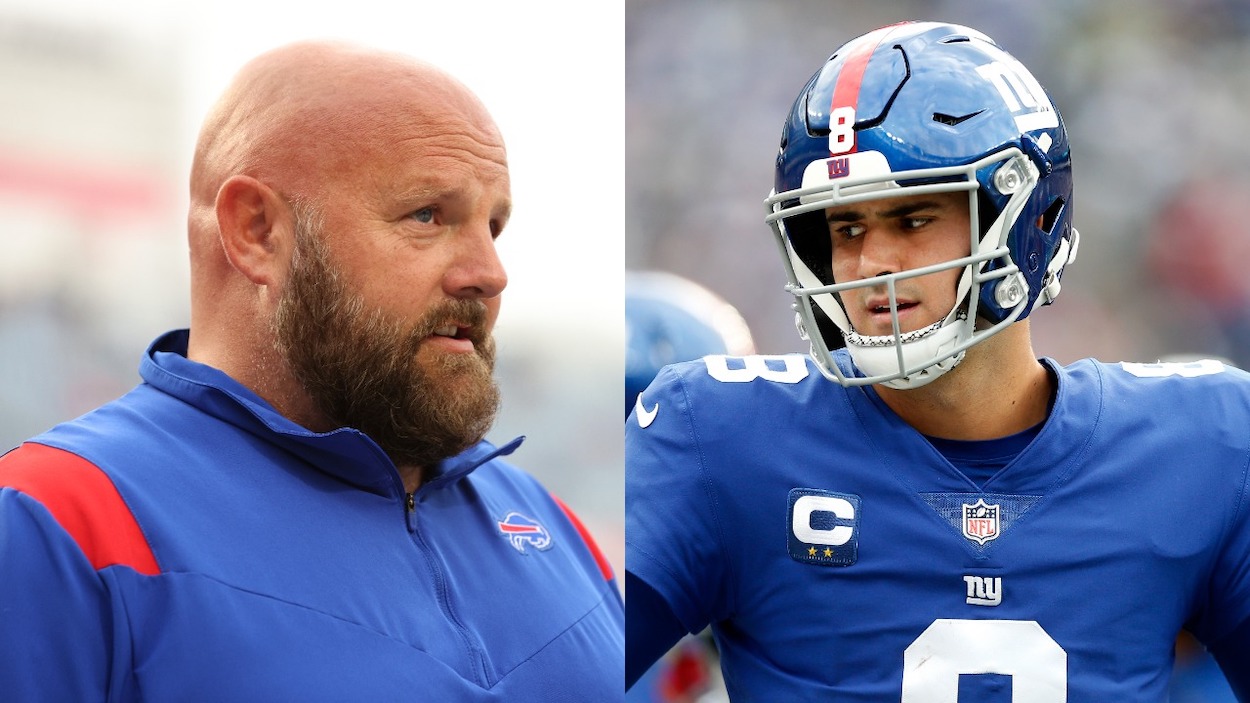 Daniel Jones Impressed His New Head Coach Brian Daboll by Showing up at the New York Giants Facility in a Snowstorm
When New York Giants head coach Brian Daboll showed up at the facility during a snowstorm, he was surprised to find his new QB, Daniel Jones.
New York Giants head coach Brian Daboll's biggest decision heading into his first season is what to do with quarterback Daniel Jones. The young QB got off on the right foot with his new head man by showing his commitment during a snowstorm. However, it's a long way until the new season, and a lot could change in New Jersey.
Brian Daboll is the 20th head coach in New York Giants history
Brian Daboll's coaching career is a unique one. Yes, he is, generally speaking, part of the Bill Belichick coaching tree. However, he didn't go right from the Patriot nest to a head coaching job like many of the coaches who've failed in doing so.
The Buffalo native played safety in college for the Division III University of Rochester Yellowjackets. After three seasons as a low-level coach with William & Mary and Michigan State, he took a job as a defensive assistant with Belichick and the Patriots for the 2000 season.
After two years on that side of the ball, he moved across the line to coach the wide receivers before leaving with Eric Mangini in 2007. Daboll coached the Jets QBs for two seasons, then went with Mangini to the Cleveland Browns, becoming the offensive coordinator.
He stayed an OC after leaving Cleveland for several years, working for other Belichick cohorts, Tony Sparano and Romeo Crennel. After a second stint at Foxborough coaching tight ends, Daboll ventured out on his own.
The versatile coach got a job as the OC of Alabama under Nick Saban, then returned home to Buffalo in 2018. There, he worked under Andy Reid disciple Sean McDermott and helped develop QB Josh Allen into a perennial MVP candidate.
In 2022, after firing three coaches in the last six years, the New York Giants turned to Buffalo assistant general manager Joe Schoen to take over their GM role. Schoen, in turn, brought Daboll in to help stabilize the once-great franchise.
Daboll was impressed QB Daniel Jones was at the Giants facility when he got there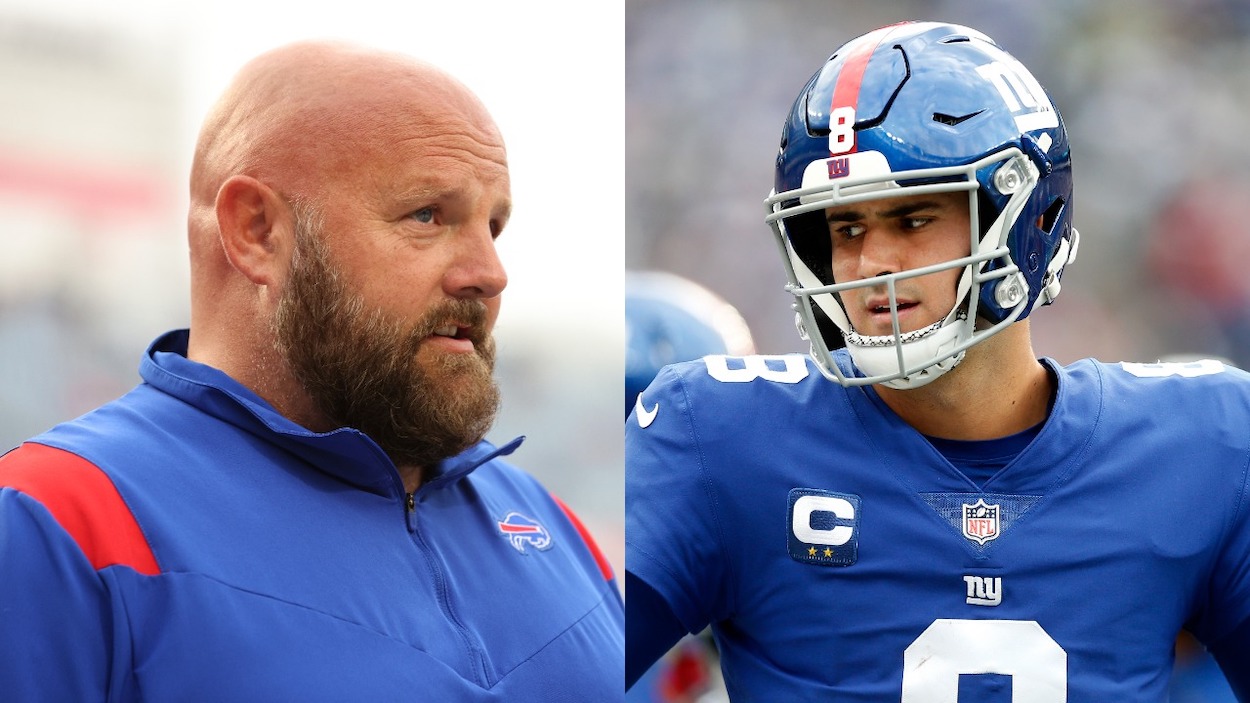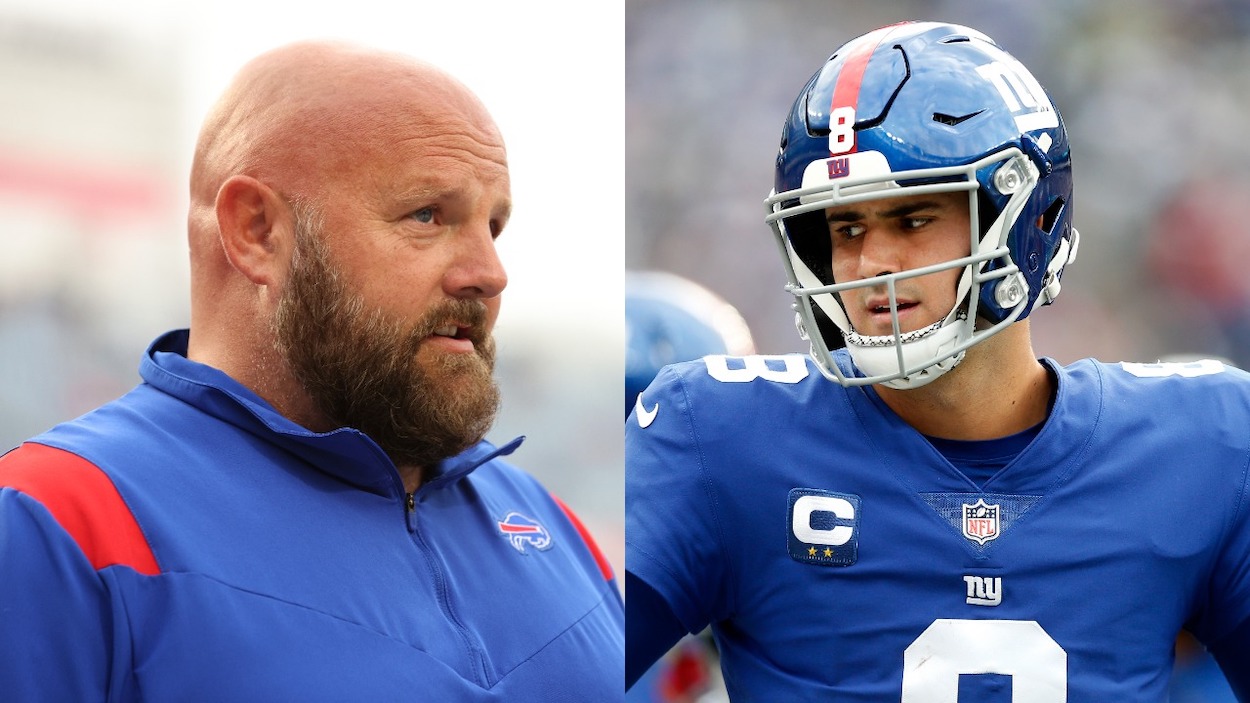 The main reason Joe Schoen and the New York Giants owners — the Mara and Tisch families — hired Brian Daboll is because of his work with Josh Allen.
When Allen came into the league in 2018, he was a wildly athletic but incredibly raw QB prospect. Daboll turned him into an excellent NFL signal-caller and, in turn, helped make the Buffalo Bills Super Bowl contenders.
The Giants drafted QB Daniel Jones out of Duke No. 6 overall in the 2019 NFL Draft. The idea was for Jones to replace Eli Manning and keep the G Men among the NFL's elite franchises.
What actually happened is that Jones has struggled under two different head coaches (Pat Shurmur and Joe Judge). He's produced a 12-25 record as a starter and has 45 touchdowns to 29 interceptions.
Jones is now heading into the final guaranteed year of his rookie deal. So, the Giants need to figure out what to do with him. That's why they brought in Daboll.
Despite Jones' previous struggles, he's already started off on a good foot with Daboll, as the coach shouted out the young passer in his introductory presser:
Came here up on Saturday after I was offered the job. Drove through a snowstorm. Wasn't many people in the building. One of them was Daniel Jones. So, that's a good thing for a young player. I know he's excited.

Brian Daboll on Daniel Jones
Showing up to work out during a blizzard is a good way to ingratiate yourself with your new boss. But is it enough for Jones to keep his job in 2022?
Will Daniel Jones be the starting QB in 2022? 
Daniel Jones made an excellent first impression on Brian Daboll during the snowstorm over the weekend, but Week 1 of the 2022 season is still a ways off.
In order to be the starter for the New York Giants next year, Jones will have to do what he can to continue to impress Daboll and the new offensive coaching staff. He'll also have to have a few things break his way that are out of his control.
The 2022 NFL Draft is not a strong quarterback class. Although, there are a few QBs who should go in the early rounds if they have a good pre-draft run-up. Suppose Joe Schoen and Daboll fall in love with Pitt's Kenny Pickett, Cincinnati's Desmond Ridder, Ole Miss' Matt Corral, North Carolina's Sam Howell, or Liberty's Malik Willis. In that case, Jones' time as the New York Giants signal-caller of the future could be over.
Likewise, if the Giants' new power structure decides to bring in a proven veteran, and that could be bad for Jones too. This offseason could see an unusually high number of vet QBs on the move with players like Aaron Rodgers, Russell Wilson, Deshaun Watson, Jimmy Garoppolo, and Derek Carr possibly changing teams.
Jones will have to impress Daboll right away for these other options to stay off the table in New Jersey. Let's see if he can build on his positive, snowy start.
All stats courtesy of Pro Football Reference