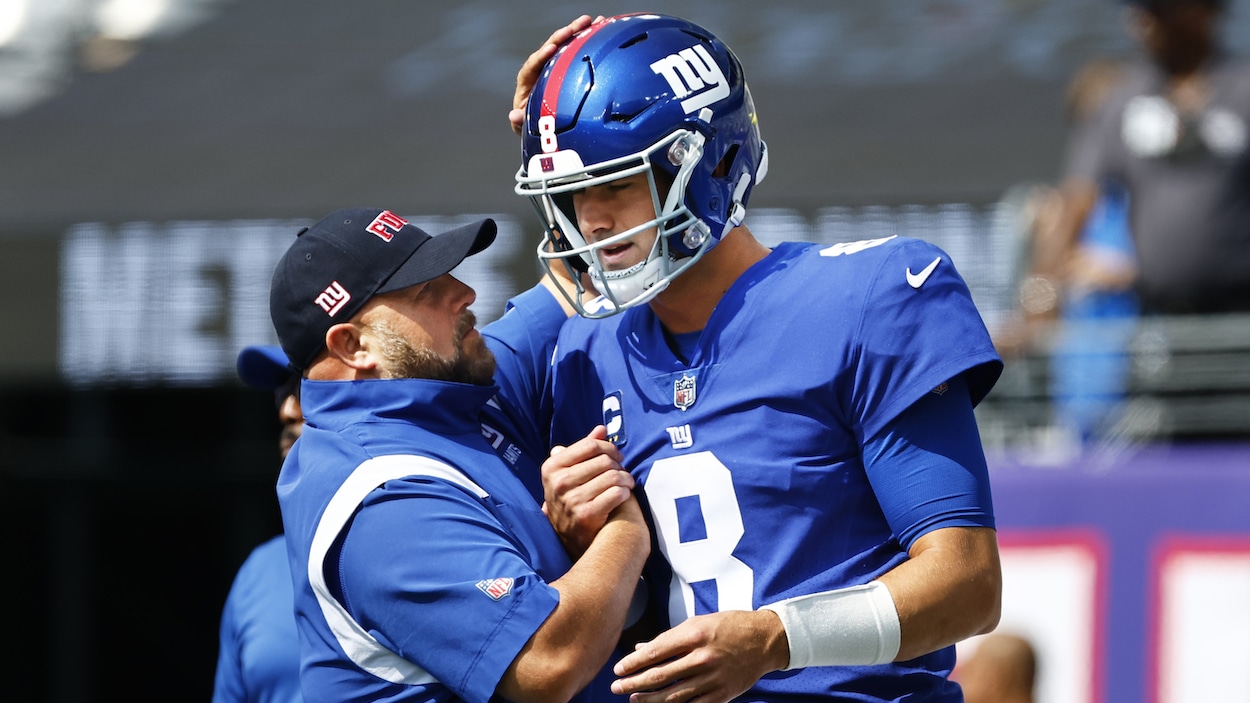 Giants Daniel Jones Is No Longer 'Panicking With the Football' Under Brian Daboll, According to Former NFL QB Dan Orlovsky
Giants QB Daniel Jones is finally playing up to his potential under Brian Daboll but is that enough to keep the starting job next season?
New York Giants quarterback Daniel Jones entered the 2022 season with his third head coach in four years. Neither Pat Shurmur nor Joe Judge was able to get the best out of the 2019 No. 6 overall pick. In those three years, Jones posted a 12-25 record as a starter, only threw for 3,000 yards once, and had 45 touchdowns to 29 interceptions. Now, under Brian Daboll, Jones is 4-1 this season, and, as former NFL quarterback Dan Orlovsky recently explained, it's because Daboll has found a way to stop the former Duke signal-caller from "panicking with the football."
How Brian Daboll has gotten the best out of Daniel Jones
Heading into the 2022 NFL season, the New York Giants declined Daniel Jones' fifth-year option that would have guaranteed him $22.3 million in 2023. With new head coach Brian Daboll at the helm, 2022 would likely be Jones' final season in New York.
Through five games, though, Jones is now 4-1. And while his future with the G-Men is still very much up in the air, Daboll — the offensive coordinator who developed Josh Allen in Buffalo — is getting the best out of the fourth-year QB.
What's changed with Jones' new coach? ESPN analyst Dan Orlovsky explained that Daboll's big success with Jones is that the coach has minimized the QB's biggest weakness.
"One of the most incredible things that has gone on this season is the Giants and Brian Daboll and [Giants offensive coordinator] Mike Kafka taking Daniel Jones' greatest flaw of panicking with the football," Orlovsky explained in a tweet. "And doing everything they can to never put him in position where he potentially would panic with the football.
The seven-year NFL vet then showed two examples of Giants plays from the Week 5 London game against the Green Bay Packers. On both occasions, New York kept seven players in for protection, executed a hard play-action fake, and gave Jones one or two simple choices as to where to go with the football.  
"They have completely committed to saying, 'Daniel Jones, we don't necessarily know what you can be, but we know that if we out you in a position where you have to think super quickly under duress, things are not going to go well for us,'" Orlovsky explained.
The analyst then shared some incredible statistics about the Giants passing game this season. The team has 302 pass attempts in the 2022 season, with 100 being "drop back" from under center, and more than 200 are either play-action passes, screens, bootlegs, or roll passes.
All these types of plays are designed to get easy yards and take the pressure off Jones having to make his own decisions.
Orlovsky summed up by saying, "They've totally taken his greatest flaw out of his game."
Will Jones be the New York Giants QB in 2023?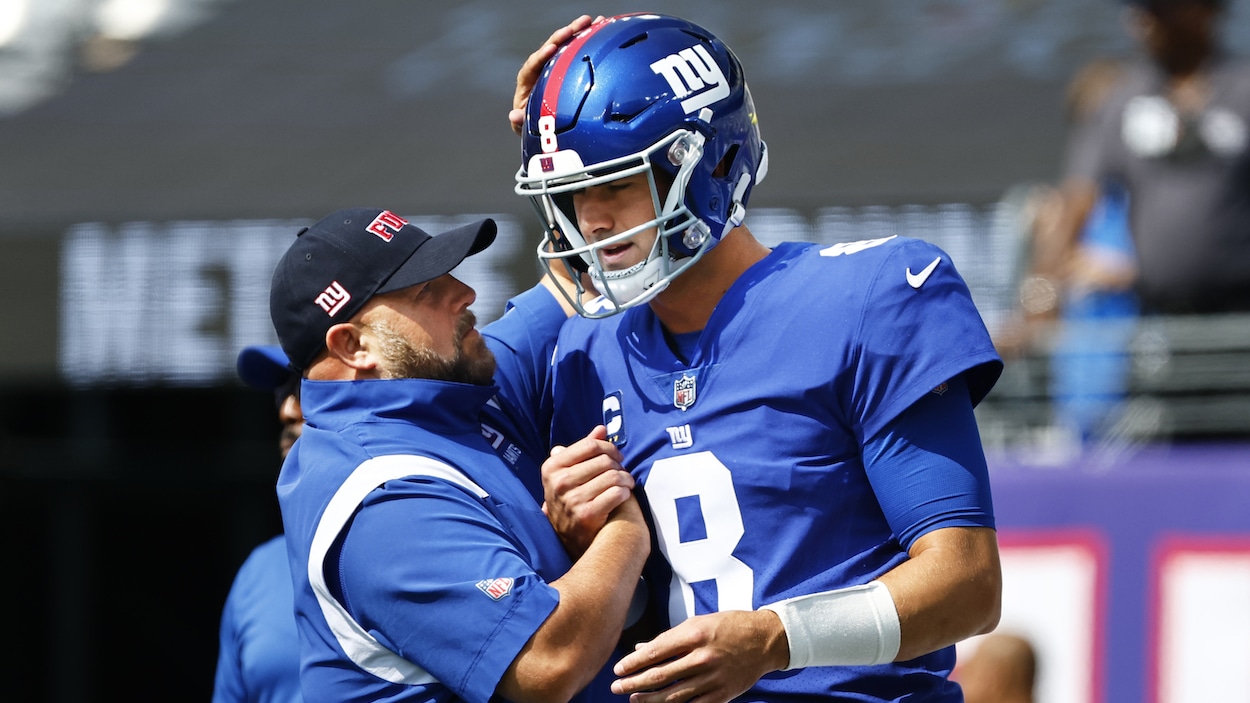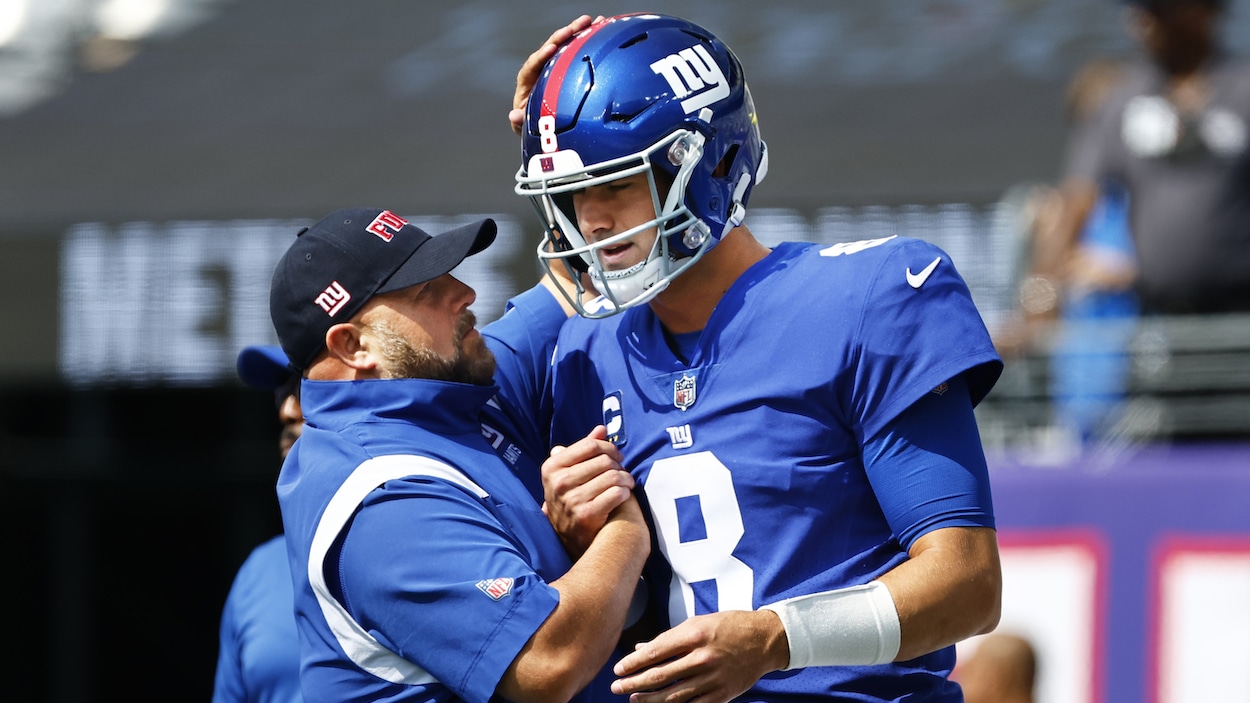 There is no question that through five weeks, Brian Daboll has gotten the best out of Daniel Jones. The question is now, did the coach turn the quarterback into a legitimate NFL signal-caller? Or has he just made the best out of a bad situation?
The fact is, there are still 12 more regular season games and maybe playoffs for the Giants to figure out the answer to these questions.
However, the early returns are that if Daboll can get this out of Jones, imagine what he can do with another Josh Allen-type prospect next season.
Because of Daboll's success with Jones already, the Giants have played themselves out of the race for top QB prospects like Ohio State's C.J. Stroud, Alabama's Bryce Young, and probably even Kentucky's Will Levis. However, the 2023 NFL Draft will be one of the deepest quarterback drafts in recent memory.
In addition to those three prospects, there are between two and six other college QBs who will be among the top 100 prospects in next offseason's draft. BYU's Jaren Hall, Tennessee's Hendon Hooker, Florida's Anthony Richardson, Stanford's Tanner McKee, Clemson's D.J. Uiagalelei, and Miami's Tyler Van Dyke could all be top-three-round quarterbacks.
If the Giants can get a deal on keeping Jones to stay the starter next season and draft one of these college QBs to be the future, that would be ideal.
The only issue is that by the end of the season, Daboll might turn Jones into a QB that some other franchises see as a long-term solution at QB. If that happens, the Giants will have a real dilemma on their hands and may wish they picked up Jones' option at $22 million when they had the chance.
Like Sportscasting on Facebook. Follow us on Twitter @sportscasting19 and subscribe to our YouTube channel.