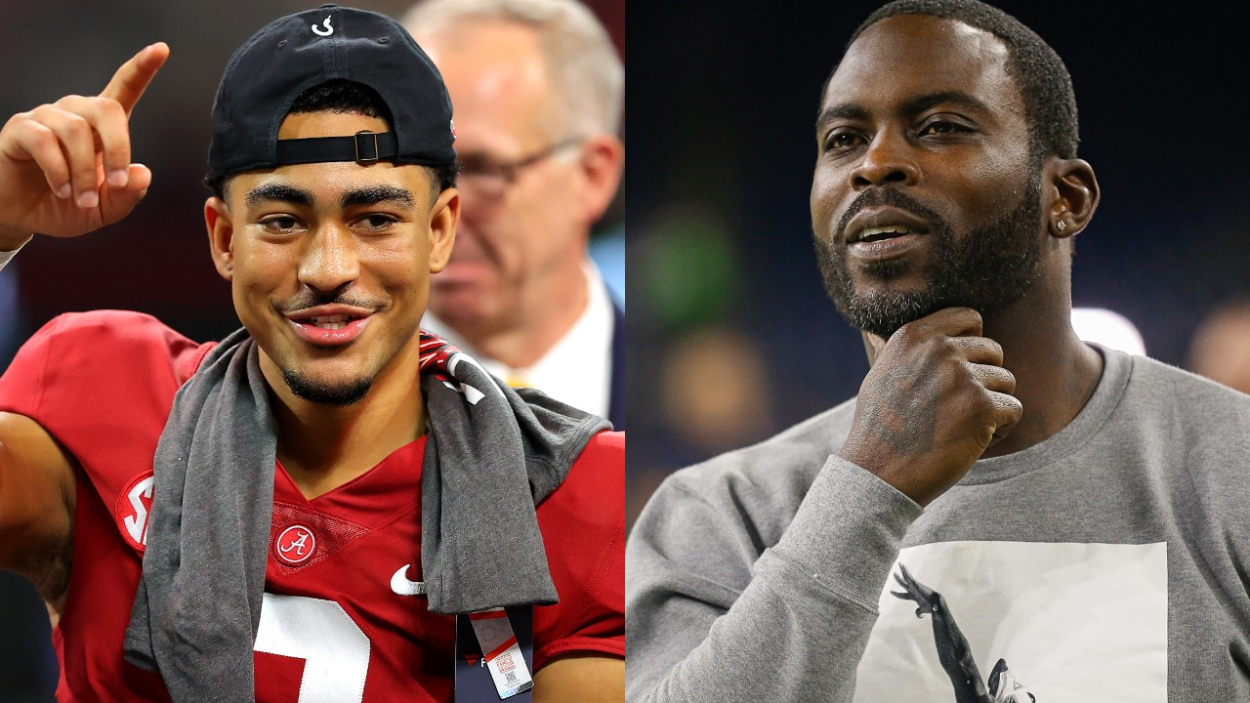 Bryce Young Can Cement His Status as the Greatest College Quarterback Ever By Listening to Michael Vick's Advice
Michael Vick recently shared what advice he would give to Alabama star Bryce Young, and Young would become the greatest college quarterback ever by following it.
Bryce Young is currently attempting to cap off a tremendous first season as the Alabama Crimson Tide starting quarterback by winning a national championship. But this won't be the end of the road if he fails to accomplish the feat.
Young is only a sophomore, so he still has one more year left until he can declare for the NFL Draft. And following his Heisman-winning 2021 regular season, former Pro Bowl quarterback Michael Vick revealed the advice he would give to Young as the Bama star looks to build off his historic campaign.
If Young can, in fact, follow Vick's challenge, he can become the greatest quarterback in college football history.
Michael Vick shared the advice he would give to Alabama QB Bryce Young
Michael Vick recently appeared on the No Chill With Gilbert Arenas podcast, and the former Atlanta Falcons star shared what he would tell Bryce Young as the Alabama quarterback gets ready for a critical offseason between his sophomore and junior seasons.
"He gotta set new goals because he already amassed and superseded anything that he probably envisioned in his collegiate career," Vick said on an episode that will premiere in full on Jan. 4. " … He's really gotta take his mind to the next level: 'If I'm gonna be a quarterback in the NFL, even though I'm playing in college, this is how I gotta be as we go through it.' You already proved that you can play. Now it's just about staying consistent. But unfortunately, when you're at the top, the only place you can go is down from there. You either stay at the top, or you go down from there, so that's probably what he's dealing with. But I think he can handle it."
Vick then challenged Young to "train hard this offseason."
"Train harder than you've ever trained before," he said. "Just take it next level. Just start watching a lot more film, and don't get complacent."
Vick's next piece of advice would make Young the greatest college quarterback ever if he were to follow it.
"Act as if you've never even won the Heisman," he said. "It's just another trophy you can put on the shelf. Go get another one. That would be my advice. Go get another one."
The Alabama star would become the greatest college quarterback ever by following Michael Vick's advice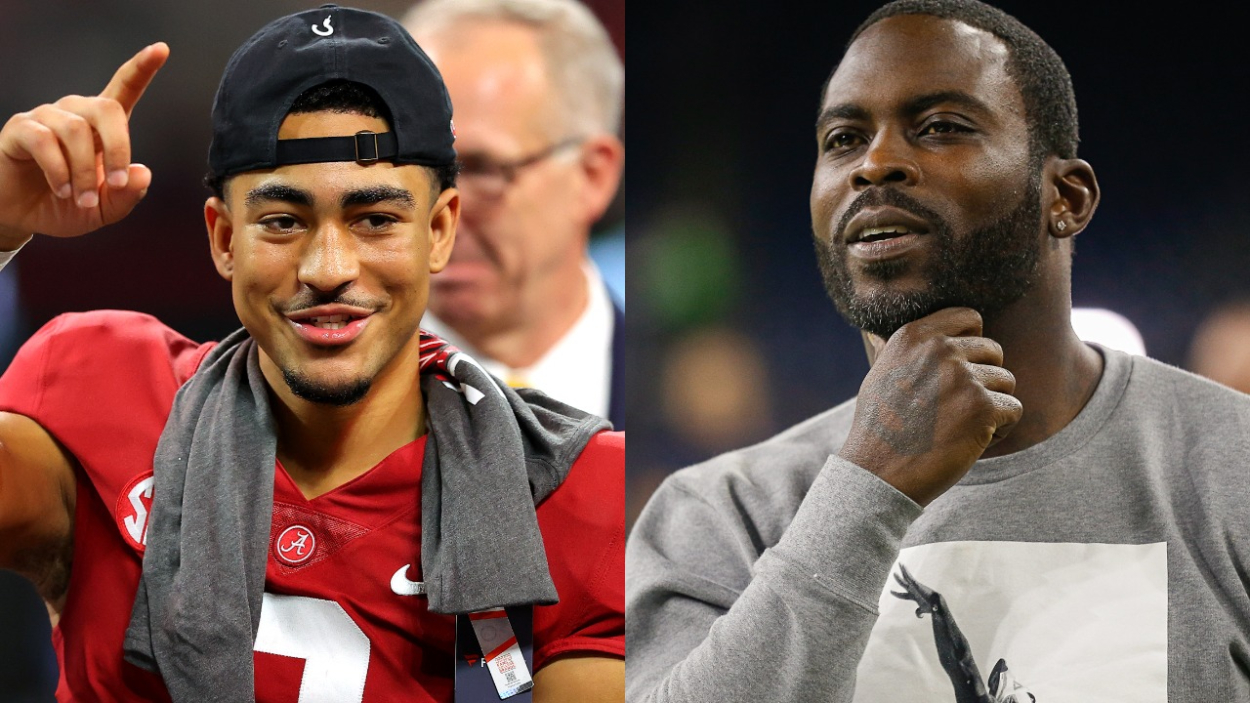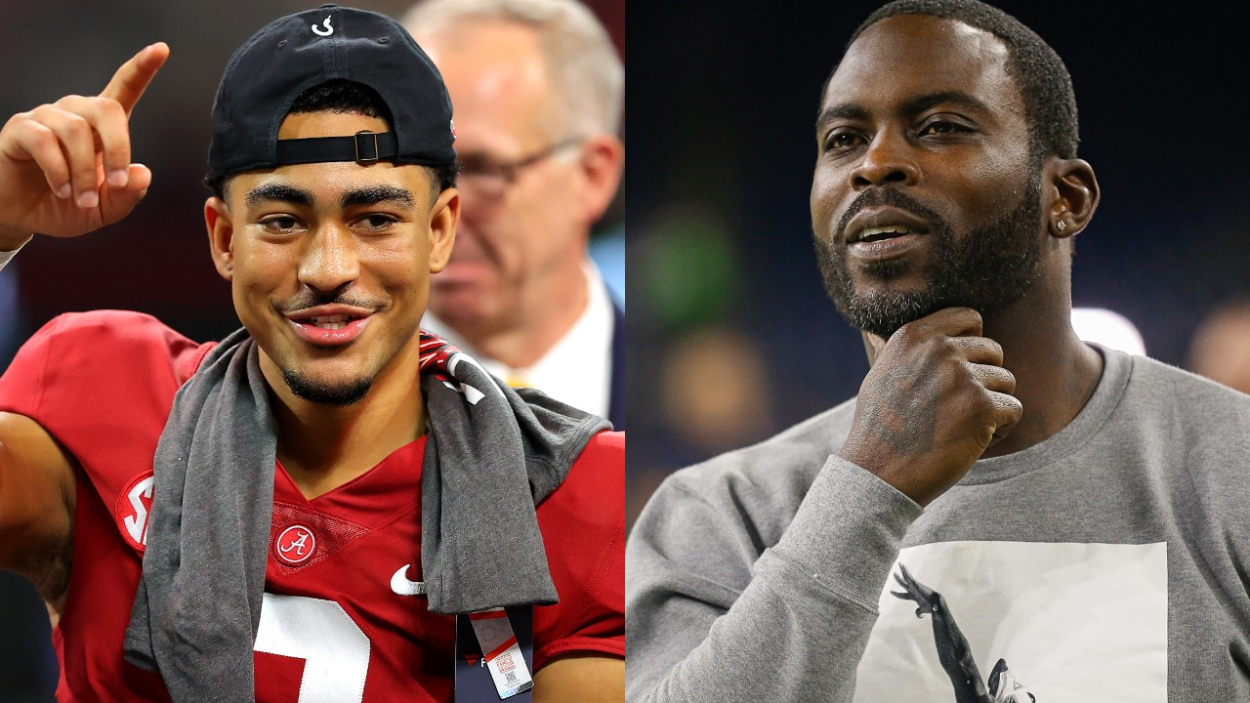 Bryce Young would make history by winning another Heisman Trophy next season. He already had one of the greatest individual seasons by a college QB ever, throwing for 4,322 yards, 43 touchdowns, and only four interceptions. But he would become the only gunslinger to ever win the award twice if he did so in 2022. 
Only one player has ever won two Heismans: former Ohio State running back Archie Griffin. No quarterback has ever accomplished the feat.
Plenty have come close, though. Angelo Bertelli finished second in 1941 and then won the award in 1943, while Ty Detmer was the Heisman winner in 1990 and finished third in 1991. Danny Wuerffel also finished third in 1995 and first in 1996. Tim Tebow, on the other hand, won the trophy in 2007 before coming in third in 2008 and fifth in 2009.
Plenty of QBs have had great seasons. Joe Burrow had arguably the best one in 2019 with 5,671 yards, 60 touchdowns, and six interceptions to go with a national championship. But if Young wants to become more than just a one-season wonder, he can do so by winning the Heisman in 2022. He would not only solidify his stock as a top-five NFL Draft pick, but he would leave Alabama as the greatest college quarterback to ever play.
Before he can even think about that, though, he has a lot of work to do.
Bryce Young has a tough road ahead of him in the College Football Playoff
Before Bryce Young can put himself in the conversation for the greatest college QB ever, he and Alabama have to get past a tough test in the College Football Playoff semifinal.
The Crimson Tide play the Cincinnati Bearcats in the game, and while some may think that a Group of Five school in Cincy won't be able to compete, UC actually has a team that can force Young into a lot of trouble.
While Young's No. 2 wide receiver in terms of yards, John Metchie, will miss the game due to injury, the QB will also have to face the best two cornerbacks in the country. Ahmad "Sauce" Gardner is expected to be a consensus first-team All-American after only allowing 117 yards this year. He also hasn't given up a single touchdown across his college career. His teammate Coby Bryant, though, won the Jim Thorpe Award for the country's best defensive back.
If Bryce Young wants to continue his historic season and begin solidifying his legacy as one of the greatest college QBs ever, he will have to start against Cincinnati. The Bearcats could be his toughest test yet.
Stats courtesy of Sports Reference