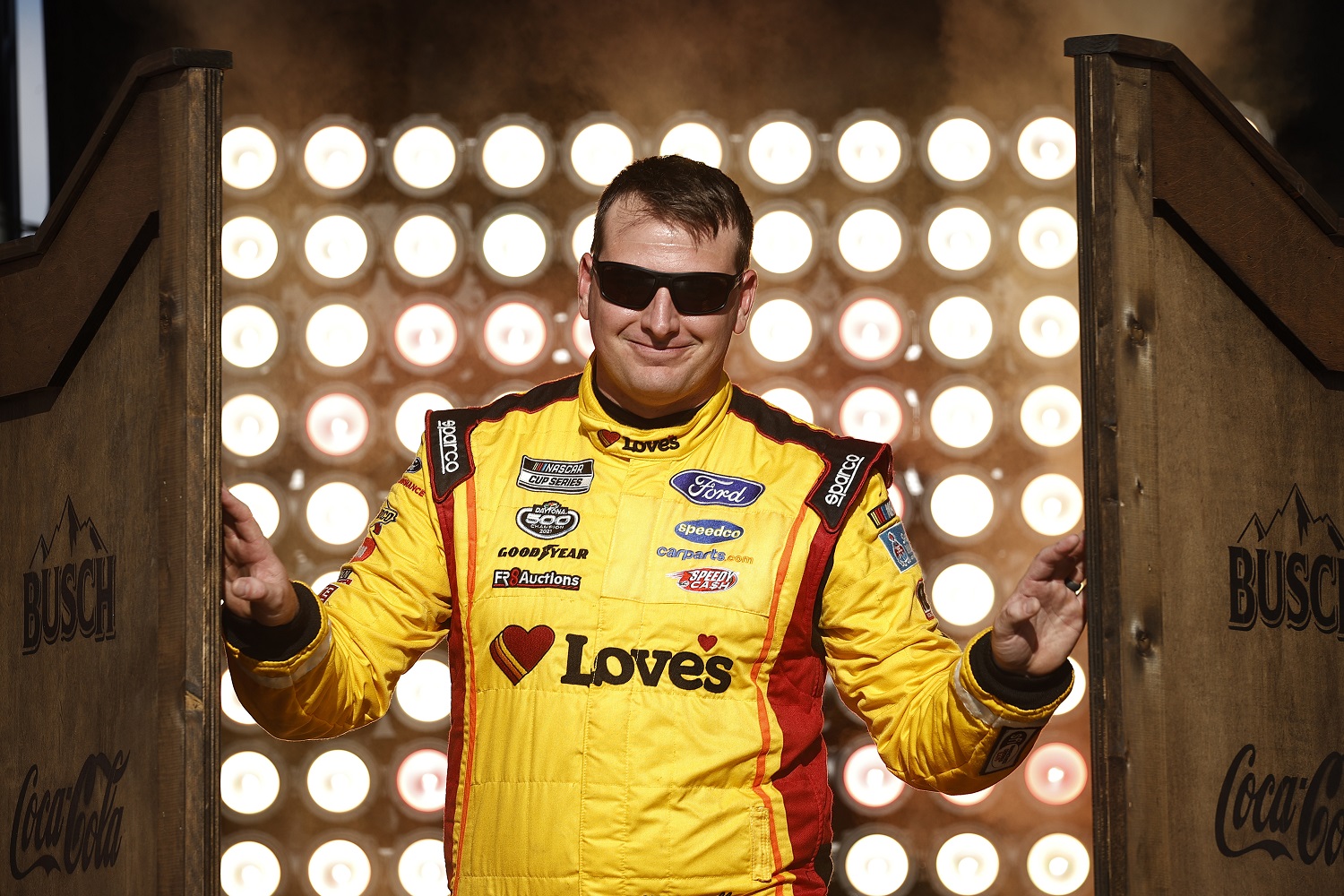 Daytona 500 Champion Michael McDowell Is Producing His Best NASCAR Season but Doesn't Know Where He'll Be In 2022
Michael McDowell is the defending champion of NASCAR's biggest race but still doesn't have a contract for 2022.
Imagine throwing a two-hit shutout to win Game 7 of the World Series or scoring 30 points to clinch the deciding game of the NBA Finals only to find out you have no job security for next season. Welcome to the world of Michael McDowell, who won the Super Bowl of NASCAR Cup Series racing in February but doesn't know where he'll be working in 2022.
Michael McDowell won the 2021 Daytona 500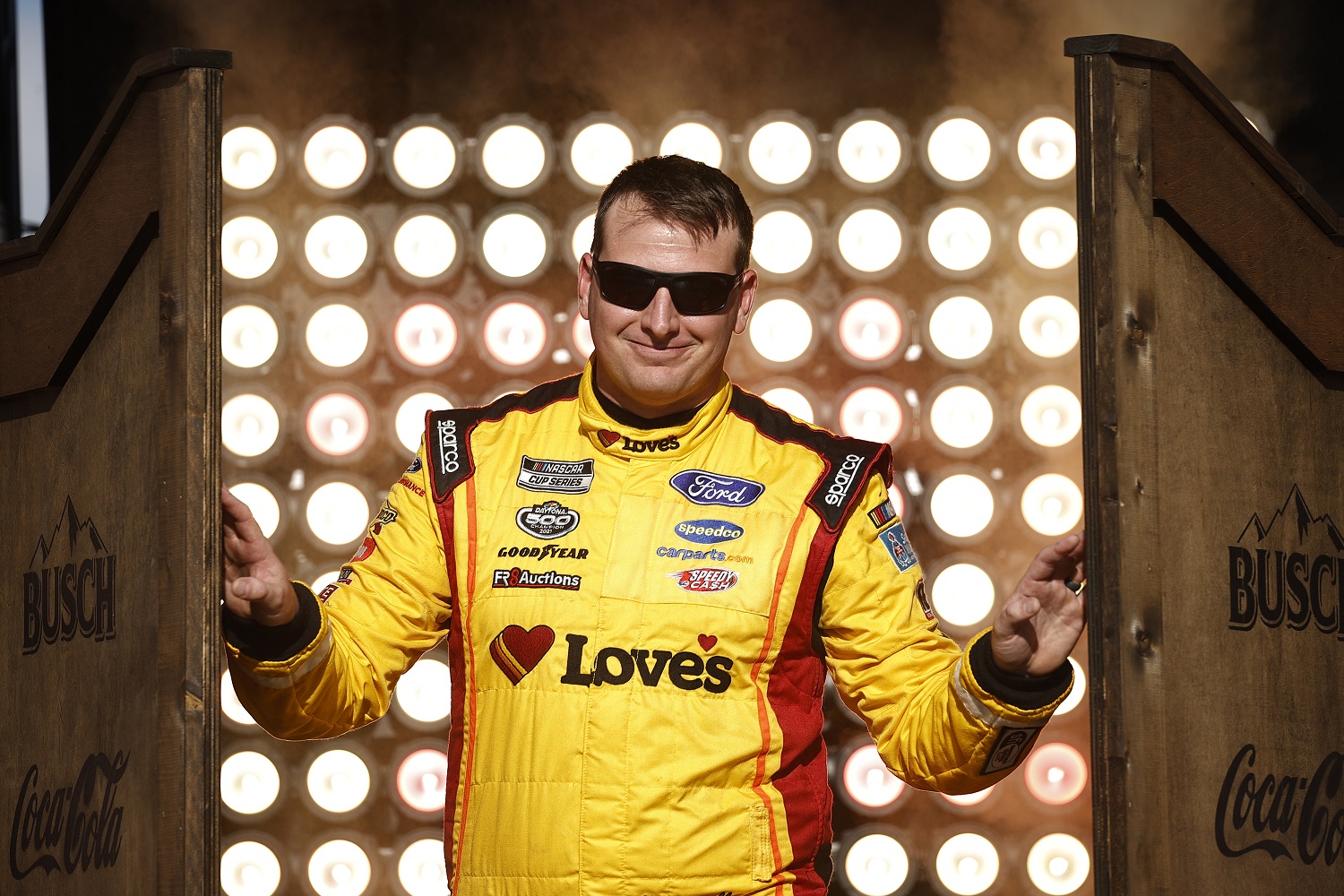 McDowell is having the best season of his 14-year career driving in the NASCAR Cup Series. The mere fact that he kicked off the 2021 season by capturing the prestigious Daytona 500 after coming up winless in his first 357 starts all but guaranteed as much.
But there is more to it than that. For only the second time in his career, McDowell has posted two top-five finishes. And he has already recorded a career-high five top-10 showings, beginning with three afternoons in the top eight to kick off the season.
None of that is earth-shattering, but McDowell is having a better season than the likes of Chase Briscoe, Bubba Wallace, and Ryan Newman. Topping it off, he's one of the 16 drivers with a spot in the playoffs beginning Sept. 5 at Darlington.
And despite all that, McDowell faces uncertainty for 2022.
"I'm still here, heading into September, wondering if I have a job after winning the biggest race in our sport," McDowell said before the Indianapolis road-course race, according to Frontstretch.com.
Michael McDowell faces an uncertain future
The good news for McDowell is that there is almost no scenario in which he does not drive in the NASCAR Cup Series in 2022. Even as options in other organizations evaporate while he finishes up his usual one-year contract, Front Row Motorsports will undoubtedly want McDowell to return next season.
The hang-up is that only those deep on the inside know what FRM, which also fields rookie Anthony Alfredo's car, might look like next season. And even they possibly aren't sure yet.
Like all the existing Cup Series teams, FRM will need to retool this offseason as NASCAR moves to the Next Gen car. The new car is supposed to be cheaper to build and repair down the road. However, the initial buy-in for primary and backup cars will be steep.
Speculation has Front Row Motorsports possibly giving up one of its teams and either leasing or outright selling one of its two charters. If that's the case, Alfredo likely becomes the odd man out, and McDowell remains in the No. 34 Ford.
However, another scenario has FRM closing up shop and selling its two charters, possible to Michael Jordan and his 23XI Racing team, which is just completing its first season. At the least, 23XI needs one more charter to complete a plan to bring Kurt Busch in as a second driver.
This is nothing new for the Daytona 500 winner
Whether it's an outright sale or a merger, McDowell would almost certainly be part of the package in a Front Row Motorsports deal. There's always a market for the defending Daytona 500 champion, even if it's a one-year contract.
"I'm used to (being year-to-year. That doesn't mean that you're not nervous," McDowell told Frontstretch. "Obviously, I'm having the best season I've ever had with winning and running up front and consistently running as good as we ever had, if not better. I do feel like I want to be in the (Cup) Series."
If worse comes to worst, Kaulig Racing still hasn't announced a complete plan for its second car next season as the team makes its debut. Recent Indy winner AJ Allmendinger will take the wheel on road courses. The team has not announced a plan for the ovals yet, and Matt DiBenedetto might be the only other guy warming up in the NASCAR bullpen even if he's never won the equivalent of a Game 7.
Like Sportscasting on Facebook. Follow us on Twitter @sportscasting19.
RELATED: Michael McDowell Beat 100-1 Odds and a 357-Race Losing Streak to Score Historic Daytona 500 Upset