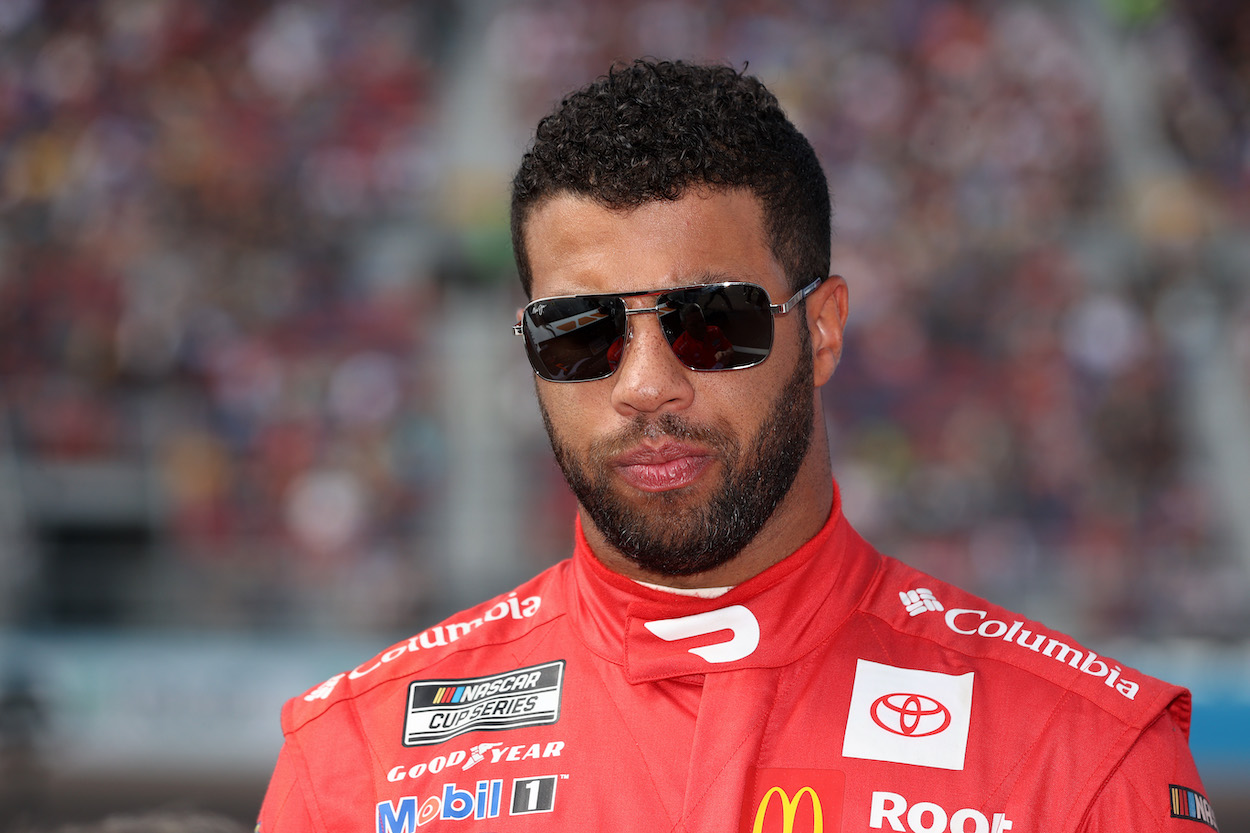 Upset Bubba Wallace Doesn't Hold Back Feelings After Kyle Rittenhouse Verdict, Calling It a 'Bulls*** Trial'
Bubba Wallace was vocal after the Jacob Blake shooting. Not surprisingly, after a jury acquitted Kyle Rittenhouse of intentional homicide and four other charges, the 23XI Racing driver was not happy and didn't hold back his thoughts.
Bubba Wallace became the unofficial spokesman for NASCAR in 2020, speaking out on racial injustice and police brutality following the death of George Floyd. When a police officer shot Jacob Blake seven times in the back several months later, Wallace was vocal on social media about the incident. 
Fast-forward to yesterday's verdict in the trial of Kyle Rittenhouse, the 18-year-old who fatally shot two men and wounded another amid protests and rioting over police conduct following the Blake shooting. The 23XI Racing driver had a strong opinion on the matter and shared it on Twitter.  
Bubba Wallace speaks out on Jacob Blake shooting
As the lone Black driver in the NASCAR Cup Series, Bubba Wallace became a household name and the default face and voice of the racing organization last year in the national conversation on racial issues in America. During one of his numerous media appearances, he challenged NASCAR to remove the confederate flag. It did. 
He didn't limit his activism to media. Wallace wore "I Can't Breathe" shirts and had the scheme of his car changed to a Black Lives Matter theme, that prominently featured the phrase "Compassion, Love, Understanding" on the hood and rear bumper.
In August, several days after the Blake shooting in Wisconsin, numerous teams across multiple sports boycotted games. Athletes spoke out about the shooting. Wallace expressed his feelings on Twitter about the incident. 
"We will continue to stand for the countless victims of police brutality," he wrote. "Nothing can justify #JacobBlake being shot 7 times in the back. I proudly support my brothers and sisters from all sports backgrounds and the stance they are taking to fight for equality." 
Bubba Wallace doesn't hold back thoughts on Kyle Rittenhouse verdict
Bubba Wallace has received multiple awards for his role as an activist, including the Comcast Community Champion of the Year in 2020, a prestigious industry award that honors NASCAR members for philanthropic efforts. 
While appreciative of the recognition, the first-time Cup Series winner at Talladega in 2021 knows there is more work to be done and intends on using his platform to call out social injustice. And that's what he did soon after a jury rendered its decision and found Kyle Rittenhouse not guilty of intentional homicide and four other charges.  
"Ha, let the boy be black and it would've been life…hell he would've had his life taken before the bulls*** trial.. sad," Wallace tweeted. 
Wallace's cousin killed by police
When Bubba Wallace tweets or comments about anything related to police brutality, it's personal. Tragically, his family has firsthand experience. Back in 2003, when Wallace was just nine years old, his 19-year-old cousin, Sean, was hanging out with a group of friends at a gas station. The white clerk inside the store felt threatened by the congregating group of young African-Americans playing loud music and called police. When police arrived, they ordered Sean to put his hands up, which, according to Wallace, he did. 
"And then that officer walked away, and [my cousin] went to grab his phone to call his mom because he was scared and was shot and killed from the other police officer," Wallace told Dale Earnhardt Jr. during an episode of the Dale Jr. Download.
"I was running around the gym with all the other brothers and sisters there, and all of a sudden, I hear a scream, like the worst scream that you'd want to hear. Like something bad had just happened. And I look over and I see my mom running out the door, and we had just found out my cousin had been shot and killed by a police officer. Unarmed. And so I was young. I didn't understand it. We lost a family member. But now seeing everything come full circle, I totally get it now." 
He gets it now. And that's why he doesn't hesitate to use his platform to call out injustice. And he has no intent of stopping.
Like Sportscasting on Facebook. Follow us on Twitter @sportscasting19.