Bubba Wallace Surprisingly Reveals Before Historic Win at Talladega He Was Concerned About His Future at 23XI, Counting Races Until End of Contract, and Happy Denny Hamlin Hadn't Won a Race
Before Bubba Wallace made history at Talladega, the 2021 NASCAR Cup Series season had unquestionably been a struggle for the first-year 23XI Racing driver. He had managed just a pair of top-10 finishes in 30 races compared to five last season in that same time frame. 
His win on that rainy day in Alabama changed everything. In a recent interview on the I Am Athlete-NASCAR podcast, the 28-year-old driver talked about the victory, what it meant to him, and also surprisingly revealed that before making his first trip to Victory Lane he was seriously concerned about his future with 23XI Racing. So much so that he had started counting races until the end of his contract and was selfishly happy Denny Hamlin hadn't won a race. 
Bubba Wallace struggles in first season with big expectations
Bubba Wallace knew expectations would be high when he signed to race for 23XI Racing co-owners Michael Jordan and Denny Hamlin. Still, he could never have imagined the pressure His Airness would put on him the first time they met during a national television interview on Fox before the Daytona 500.
"I feel like he's going to learn how to win," Jordan said. "He's got the talent. We would have not invested in him and picked him if he didn't have the talent to win. By the end of the year, I think he's going to have an opportunity and probably will win at least a couple of races. If it's more, I'll be elated."
Two wins for a brand new team is beyond ambitious. Hamlin was much more reserved and realistic in his expectations for the driver and the team. 
Bubba Wallace candidly admits he was concerned about his future at 23XI Racing
Through the first 30 races of the season, Wallace had managed two top-10 finishes, which also happened to be a pair of top-5s, at Pocono and Daytona. Conversely, he had 13 finishes of 21st or worse. 
During an interview with Brandon Marshall on the I Am Athlete-NASCAR podcast, Wallace candidly admitted about halfway through the season his struggles on the track turned to negative thoughts and he seriously questioned his future with 23XI Racing.
"Man, we're going to run 15th to 20th. We're going to end up here," Wallace said. "And then that quickly switched over to counting how many races I had left on my contract. Simple as that. I said I don't know what MJ's and Denny's vision is, but I know they're winners."
Wallace then admitted the only reason he remained hopeful about the future was the lack of wins from his boss and fellow driver Hamlin.
"My only saving grace was Denny didn't win until the playoffs started," he said. "So I was like, 'Hey, the boss ain't winning. We ain't winning. We're good.' Well, then he went and won, and I was, like 'Oh no.' I was like, I got one more year left and that might be it. I could be totally wrong. I don't know. You never know. When your contract is stated to an X amount of date, that's all you know."
Mindset totally changed after historic win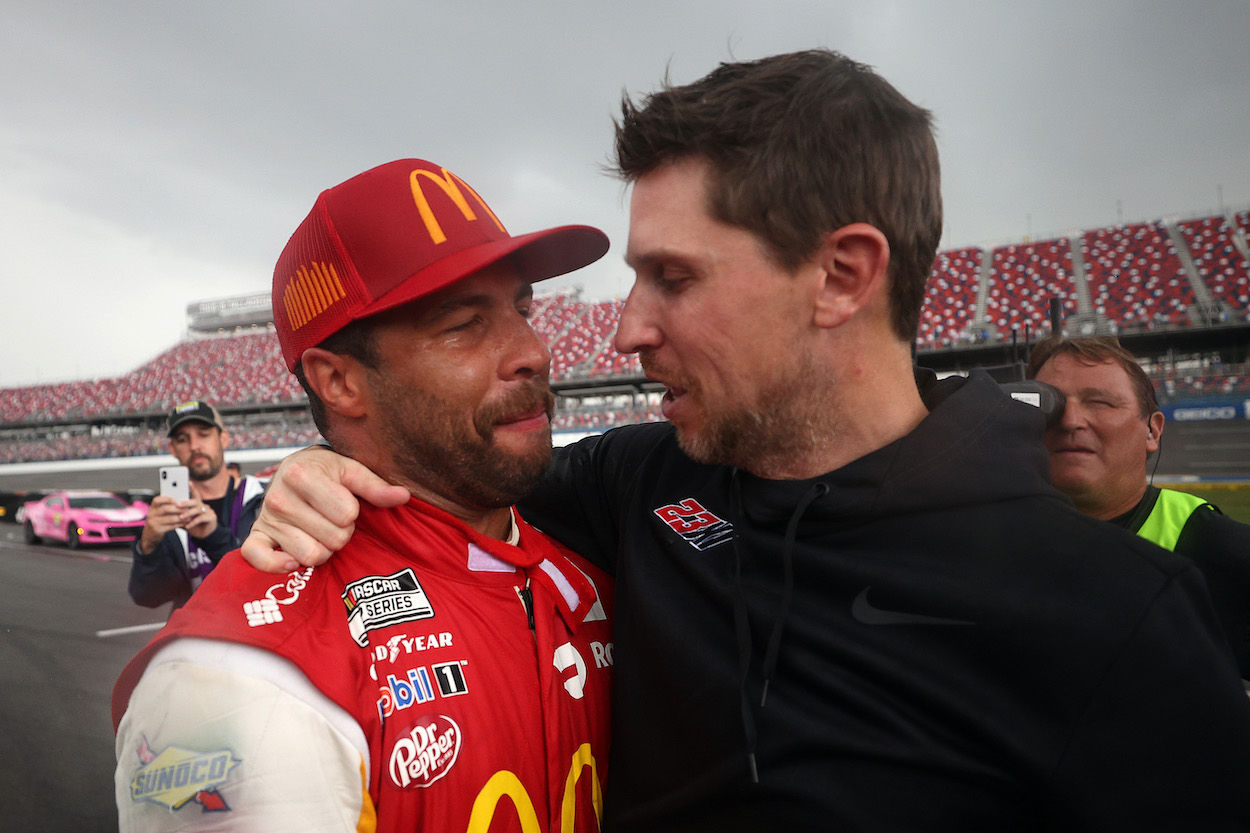 Bubba Wallace's historic win at Talladega elevated his status in the Cup Series. Most experts believe getting the first one is always the hardest, and with his talent, there are more to come. Wallace isn't concerned about future wins or his future in the sport anymore.
"Does this win feel like that gave me another year? No, not necessarily," he said. "But for my mental state, they could cut me tomorrow and I'd be the happiest man. I'd be fine because I checked off that box that I've been wanting to do for at least four years now."
With the huge amount of pressure now gone, Wallace can now solely focus on improving his craft. And if the experts are right, he'll likely find himself in Victory Lane again in the near future.
Like Sportscasting on Facebook. Follow us on Twitter @sportscasting19.