Denny Hamlin Delivers Direct Message to All the Haters After Bubba Wallace Earns First Cup Series Win at Talladega
Bubba Wallace has always had his haters, and not for his ability. That's what happens when you're the lone Black driver in a predominantly white Southern-based sport. Denny Hamlin knew that when he hired Wallace as the first driver of the No. 23 car at 23XI Racing for the 2021 season. 
Hamlin witnessed the ugly behavior last year. That's why he joined with the rest of the Cup Series drivers and stood in unity with Wallace last year at Talladega. Today, the 27-year-old driver earned his first Cup win at that same track. After the race was over, Hamlin delivered a clear message to the haters.  
Denny Hamlin joined other NASCAR drivers in support of Bubba Wallace last year at Talladega
Last year Bubba Wallace became the unofficial spokesman for NASCAR in the national conversation on racial injustice and police brutality. During one interview on CNN, Wallace suggested NASCAR should ban confederate flags. A couple of days later, NASCAR made it a reality. 
In June at Talladega, following an incident in the garage where someone mistakingly identified a garage-pull as a noose that resulted in an FBI hate crime investigation, Denny Hamlin and the rest of the Cup Series drivers showed their support as they pushed an emotional Wallace in his car down the grid. 
One of Wallace's biggest critics at the time was President Trump, who just a couple of weeks after Talladega called on Wallace to apologize for the hoax.  
"Has @BubbaWallace apologized to all of those great NASCAR drivers & officials who came to his aid, stood by his side, & were willing to sacrifice everything for him, only to find out that the whole thing was just another HOAX?" Trump tweeted. "That & Flag decision has caused lowest ratings EVER!"
Wallace earns first Cup Series win at Talladega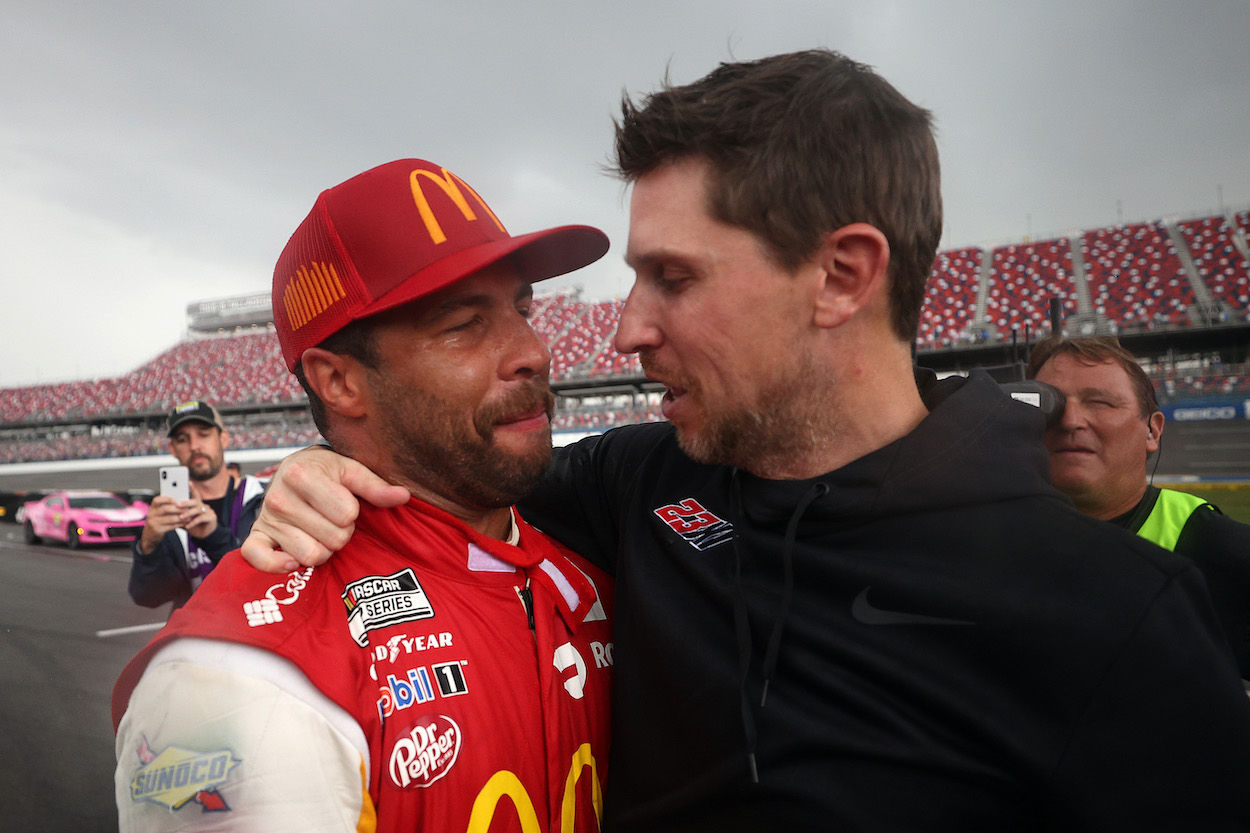 On Monday, Denny Hamlin and Bubba Wallace embraced on that same grid where they stood 15 months earlier after Wallace captured his first Cup Series win on his home track in a rain-shortened race. After the race, Hamlin admitted as a team owner that the emotion of the moment caught him by surprise.
"Emotions are obviously super high," Hamlin said. "I didn't realize it would be this high at this moment. I understand the process in which it takes to get to this point and winning at NASCAR's highest level. I'm in every meeting. I'm hands on with the team. I know how hard they work. I certainly am more emotional, more happy with someone else's victory than mine on this day." 
Hamlin said Wallace winning at Talladega was special for multiple reasons, including what happened last season. 
"There's something about, it's Talladega," the three-time Daytona 500 winner said. "It's his home state. Everything that happened at Talladega last year. Things that Bubba didn't ask to happen but he had to go through it, and a lot of the pushback and the things that happened afterward in the aftermath."
Hamlin sends clear message to haters
Following the victory, Wallace's critics were vocal on social media, some even baselessly suggesting that the rain-shortened race was fixed. Hamlin, who acknowledged he's had his share of hate tweets because he hired Wallace at 23XI Racing, offered a specific message to all the haters. 
"Those people just need to grow up honestly and appreciate the accomplishment that the kid just had. He drove it to the front and the caution came out. There's not much else you can do," Hamlin said matter-of-factly. "I think people just have a microscope on him because they want to be critical and they just are a hater."
Wallace will always have his haters. But as he learned on a rainy Monday afternoon in Alabama, winning may not silence their voices but it certainly amplifies his own message in a most gratifying way.
Like Sportscasting on Facebook. Follow us on Twitter @sportscasting19.