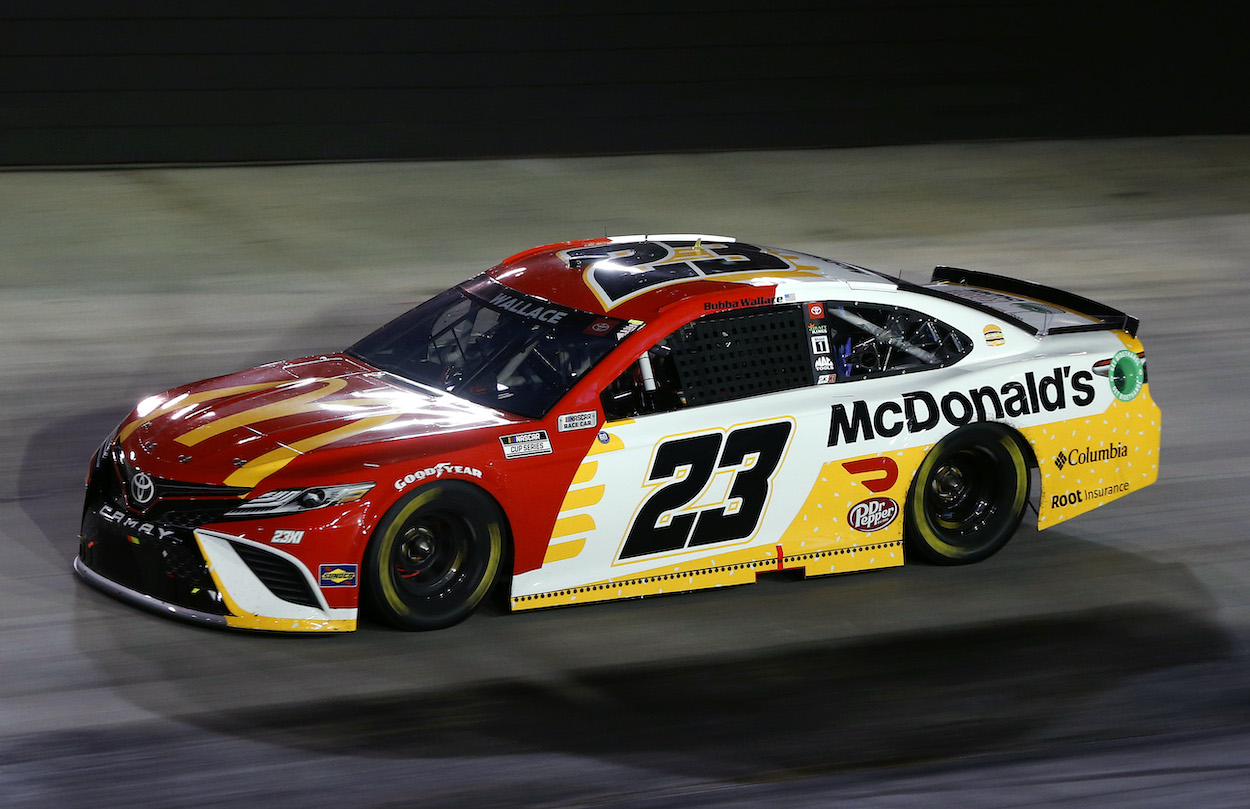 Denny Hamlin Candidly Answers Why Bubba Wallace Suddenly Received a New Crew Chief Last Week and What He Expects the Move Will Accomplish
Denny Hamlin candidly answered why Bubba Wallace suddenly received a new crew chief before the race at Bristol and what he expects the move to yield for the rest of the season.
Denny Hamlin has worn numerous hats in the 2021 NASCAR Cup Series season. In addition to driving the No. 11 car and battling Kyle Larson for the regular-season championship, the three-time Daytona 500 winner and co-owner of 23XI Racing has watched Bubba Wallace struggle in his first year with the team.
Last week, the organization made a surprising announcement that Wallace's crew chief Mike Wheeler had been replaced. This weekend, Hamlin addressed the move, why it took place when it did, and what he hopes it will accomplish for the remainder of the season.
Bubba Wallace's crew chief Mike Wheeler suddenly replaced
Bubba Wallace has unquestionably struggled in his first season with 23XI Racing. Through 29 races, he's managed just a pair of top-10 finishes.
Last week, the organization made a surprising announcement about a major shakeup on the No. 23 team with the replacement of Wallace's crew chief Mike Wheeler. Wheeler, who has served as crew chief and director of competition since the inception of 23XI, would be relieved of his crew chief responsibilities and serve as the full-time competition director effective immediately. His replacement is Bootie Barker, who has worked as a crew chief sporadically with the different series, including his last stint with the Cup Series and Ty Dillon in 2017. 
"Being a part of 23XI Racing from when it was just an idea, to seeing the plans come to life, securing our temporary shop and working to build the team has been an amazing opportunity and one I'm excited to continue as the team grows and expands," Wheeler said in a statement. "I've enjoyed the opportunity to be back on the box this season with the No. 23 team and Bubba, but to be able to solely focus on the next steps it takes to expand to a multi-car team, build a new shop, and get this team to where it's in contention to win each and every week is exciting for me and I'm ready to give it my full attention as we finish the season and move into 2022. Bootie has been a great asset to 23XI Racing all season and with his experience, he was the right choice to step in and finish the 2021 season with Bubba and the No. 23 Toyota Camry team." 
Denny Hamlin explains the crew chief replacement
As co-owner of 23XI Racing, Denny Hamlin has been the front man for the organization throughout the 2021 season, regularly answering questions about the team, including Bubba Wallace's performance, among other things. This weekend, just a couple of days after the the announcement, Hamlin addressed the sudden change.
"With him in the very beginning was always him to have a managerial role within the team. We needed him to step in and get this team up and running very very quickly last year," Hamlin admitted. "And so for us, we're looking for any spark we can with that car and team. And also with everything going on with the team, with expansion, there's a lot of stuff that has to be done that normal teams have a lot of infrastructure to assign people to doing certain things. Really we're pretty lean in that sense. So we have to have Wheels working on those future projects. Not only that, it will relieve him of having to worry about the 23 necessarily, it's week to week performance, and focus on expansion." 
When asked whether or not Barker is a permanent replacement, Hamlin was non-committal. 
"We'll just kind of see how these races go and kind of pivot from there. Honestly, I'm just happy that Bootie, after being off the road a long time, his first question was — let me ask my wife. Fortunately, these last eight, most of them are show up and race so the work is kind of done before you get here. I was just happy that he was willing to help us out in these last eight. As far as Bootie, we're looking for some short-term bump in performance, and we'll just see how it goes after that. I don't have any promises one way or another. Again this was a favor from us to ask Bootie to step in and help us while we work on two different avenues at one time."
Bubba Wallace receives encouragement from Barker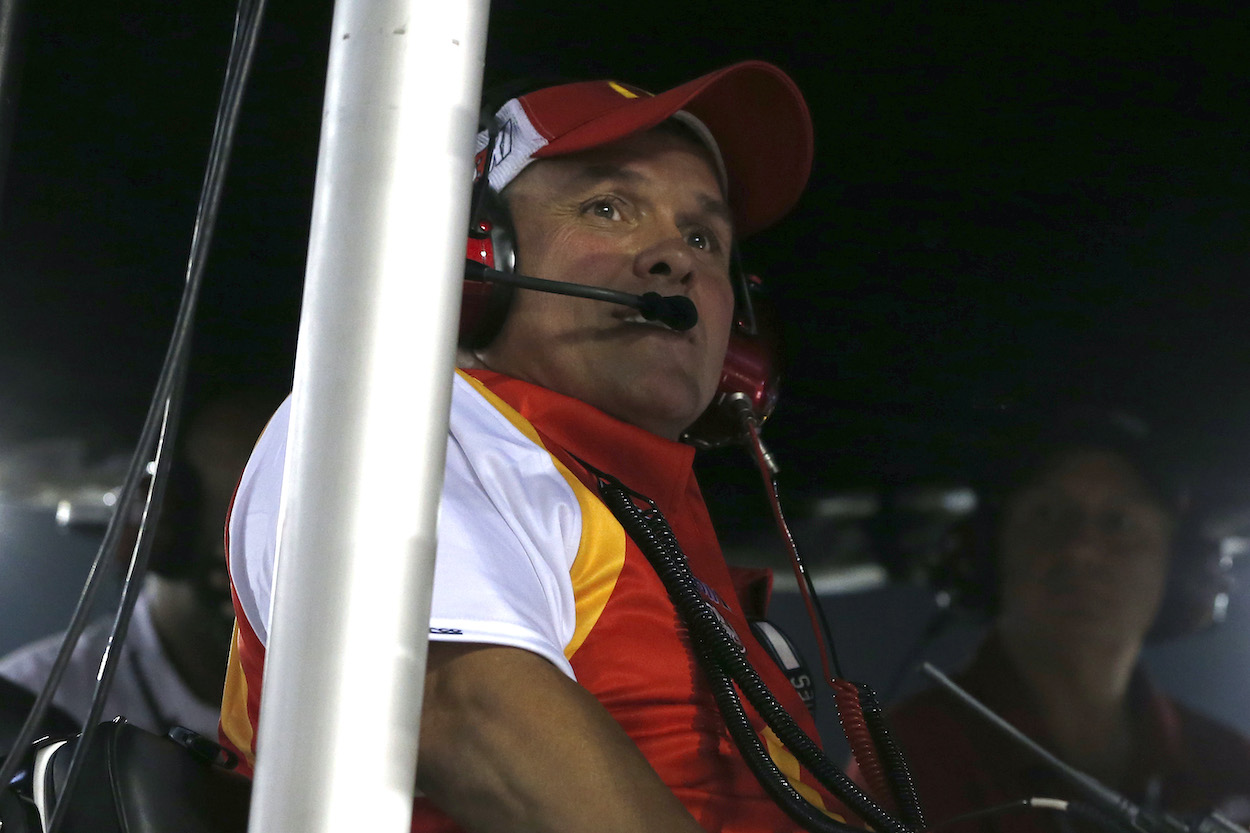 Denny Hamlin mentioned a "spark" and "bump in performance" when discussing his hopes with the new crew chief for the rest of the season. Saturday's race at Bristol didn't necessarily yield an improved result as Wallace finished 16th. 
However, there was a discernible change in communication style on the team radio. Wheeler was always technical and direct with Wallace. Barker takes a more positive, uplifting approach, offering direction and encouragement throughout the race. On multiple occasions, Barker told Wallace what a "great job" he was doing. 
At one point, Barker revealed his "glass half-full" approach when the car needed a change of tires. "We're gonna put on the less than ideal set. They aren't bad. They are less than ideal," he told the team.
Whether or not that enthusiastic communication style translates to improved performance on the track is yet to be seen. One thing is certain — taking a positive approach never hurt anything. And at this point, it's worth a try.
Like Sportscasting on Facebook. Follow us on Twitter @sportscasting19.