Denny Hamlin Blasted on Twitter by Longtime Girlfriend and Mother of His Children in Disturbing Message: 'I Hope Everyone Will Finally See You for the Person You Truly Are'
Denny Hamlin has had a strange 2021 NASCAR Cup Series season. For just the third time in his 16-year career, he hasn't won a race this deep into the season. He's come close. However, despite no trips to victory lane, the three-time Daytona 500 winner's performance this year was still good enough to get into the playoffs on points. 
On the eve of those playoffs, Hamlin, who has yet to win a championship in his career that includes 44 wins, received some shocking news via Twitter on Wednesday night when his longtime girlfriend and mother of his two daughters posted several scathing tweets, blasting him for his behavior.
Denny Hamlin has had a successful season with no wins
Denny Hamlin entered the 2021 season with high expectations and understandably so. Last season he won seven times, including his third Daytona 500 to start the season. 
This season Hamlin's streak of consecutive Daytona 500 wins came to an end when he finished a respectable fifth. The following week on the road course, he ran another quality race and earned third. It would become a common theme early in the season for the No. 11 Joe Gibbs Racing team. 
Hamlin was clearly the top driver to start the year, earning eight top-5 finishes in the season's first nine races. However, victory eluded him then, and it has through the first 26 races.  
Last month, he appeared destined for victory late on the Indianapolis road course before Chase Briscoe spun him out in overtime. Despite no wins, Hamlin finished second behind Kyle Larson in the regular season and made it into the playoffs on points. 
Denny Hamlin's longtime girlfriend blasts him on Twitter
This week, Denny Hamlin and the rest of the Cup Series playoff field visited with the media. Hamlin was in good spirits, talking about the upcoming postseason and his calmness in the car at Daytona, as revealed by his heart rate, which was recorded in real-time by a device worn on his wrist and broadcast throughout the race. On Wednesday, Hamlin's calmness was tested when he saw a couple of tweets from his longtime girlfriend and the mother of his two children Jordan Fish. 
"I have been quiet for far too long.. and I have endured things no one person should EVER have to endure, and today was no exception. @dennyhamlin I hope everyone will finally see you for the person you truly are," Fish's first tweet read. 
"Myself and our children deserve better than what you have given. I cannot believe I ever thought that someone like you could change. Because you cannot. You have a long road ahead of you, and one I graciously no longer will be apart of. Have a great life @dennyhamlin," she concluded.
Both posts and Fish's account have since been deleted. 
Fans react to news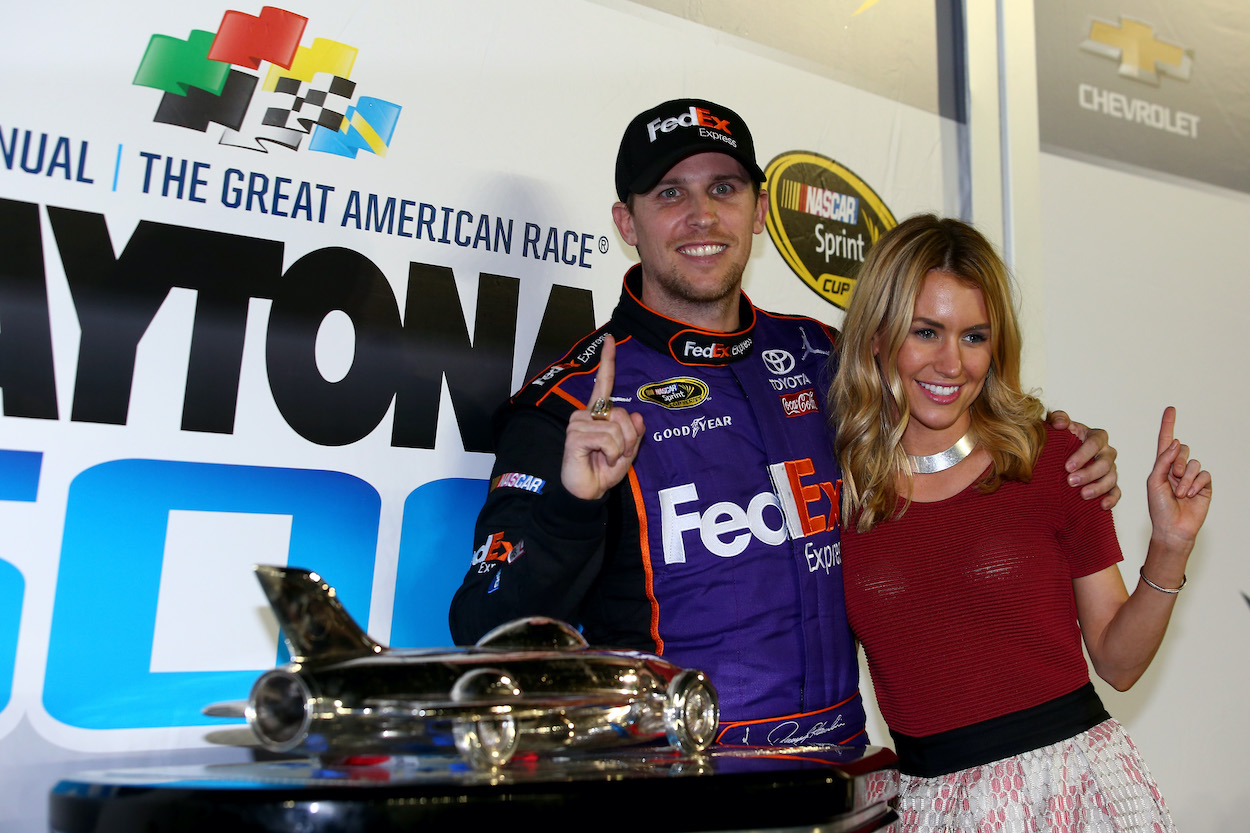 The contents of the tweets were shocking, and many understandably reacted in disbelief. Some even suggested that the account had been hacked. However, most had more definitive reactions. Some questioned why someone would air their dirty laundry on social media, while others defended her for standing up for herself and their daughters.
"Jordan I don't know what he did or didn't do but maybe you shouldn't have up this on Twitter for the world to see, grow up and deal with this in private like really adult do," wrote one person.
"Um, excuse me! She has been dealing with this for years and trying to handle it privately. Kinda hard to keep something private when the entire garage knows. All she did was state facts, not bs. Good for her – warning to all out there to beware. She has my support," another person replied.
Whatever Fish's motivations were, it got the attention of a lot of people. Hamlin has yet to respond and chances are likely won't. Will the turmoil in his personal life affect him in the playoffs? Or, will he remain calm like he does traveling in a car at 200 miles per hour? Time will tell.
Like Sportscasting on Facebook. Follow us on Twitter @sportscasting19.