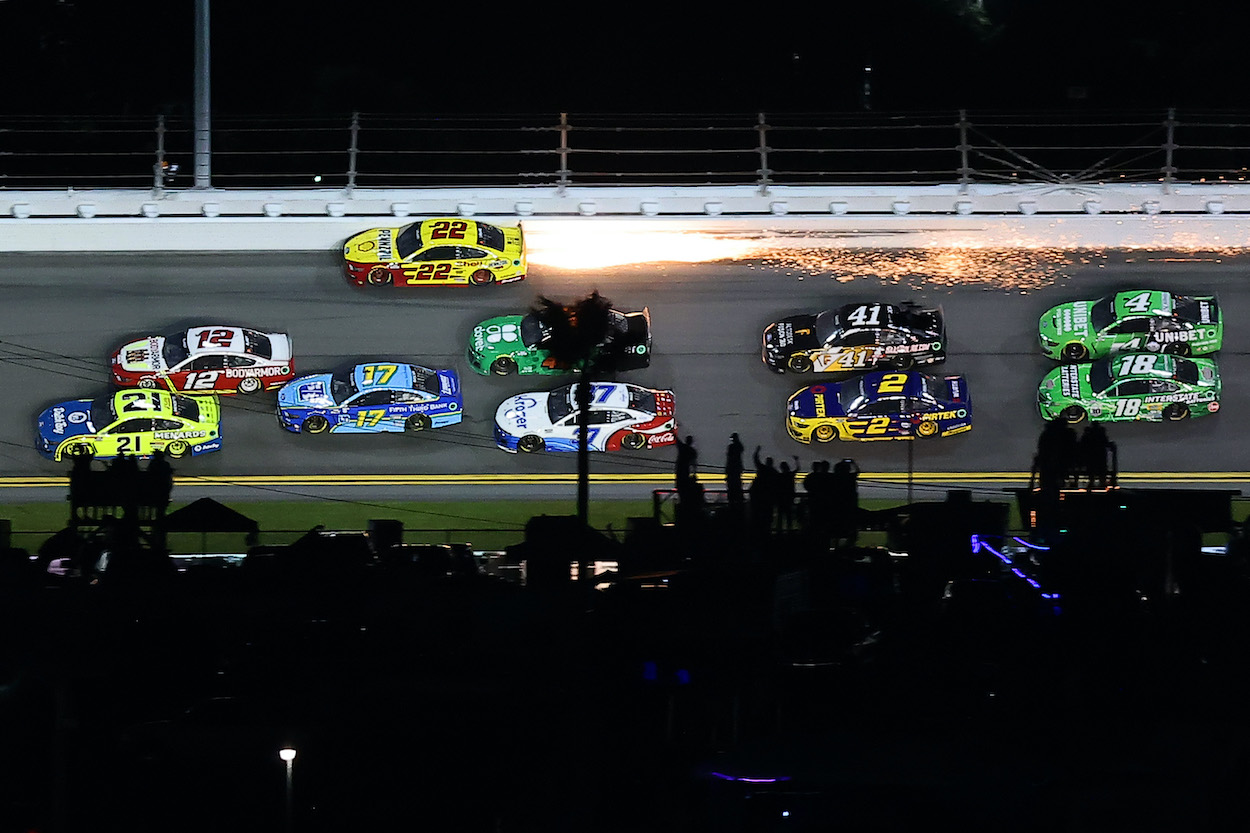 Joey Logano Sends Denny Hamlin a Message About Late-Race Daytona Incident Carrying Over Into the Playoffs
Joey Logano wasn't happy with Denny Hamlin following an incident at Daytona and suggested he won't forget what happened in the playoffs.
Joey Logano and Denny Hamlin are heading into the 2021 NASCAR Cup Series playoffs, starting at Darlington this weekend. The pair have a lengthy history together with multiple racing incidents, including one that ended in a scuffle on pit road in the 2019 playoffs.
During Saturday night's regular-season finale at Daytona, the two cars made contact late in the race and Logano went into the outside wall, the impact cutting his tire and sending him to pit road. After the race, the Team Penske driver wasn't happy about it and hinted that the playoffs could provide fans with another interesting chapter.
Joey Logano sends Denny Hamlin message after late-race incident at Daytona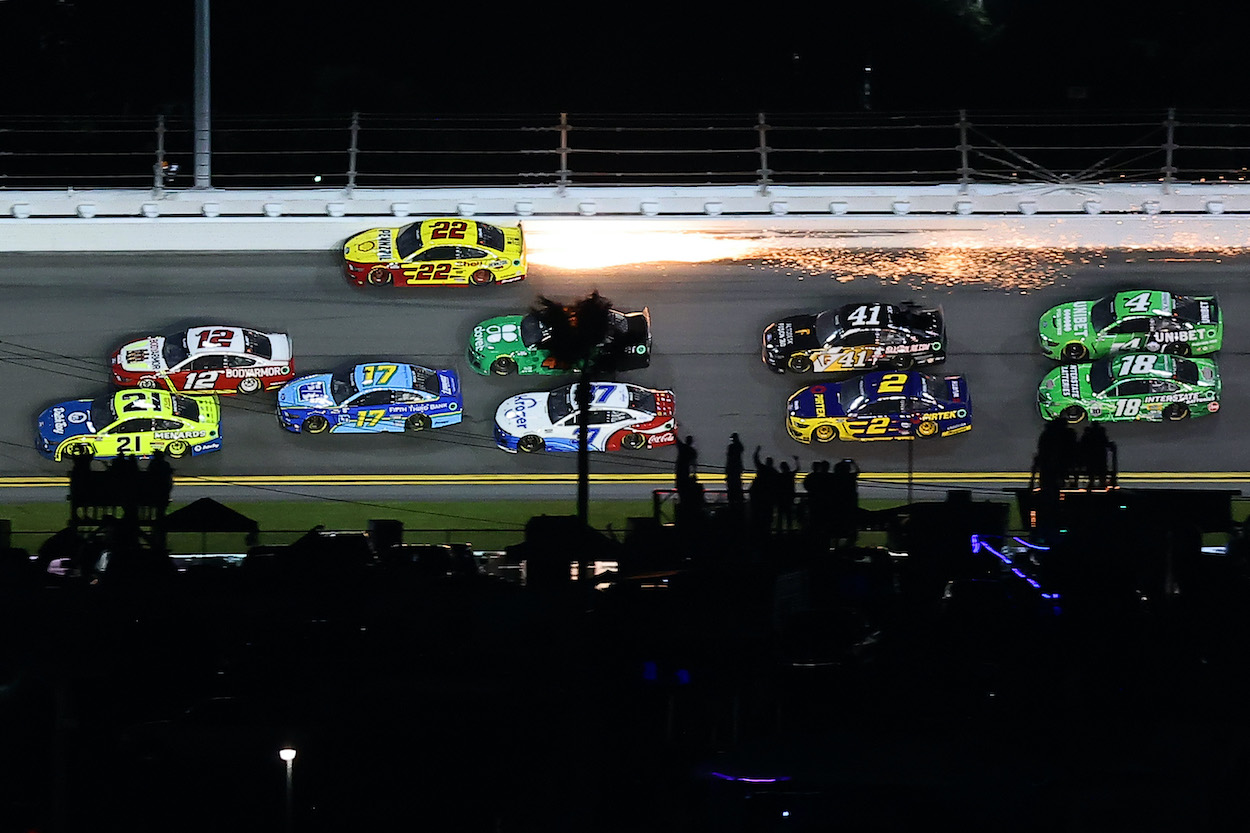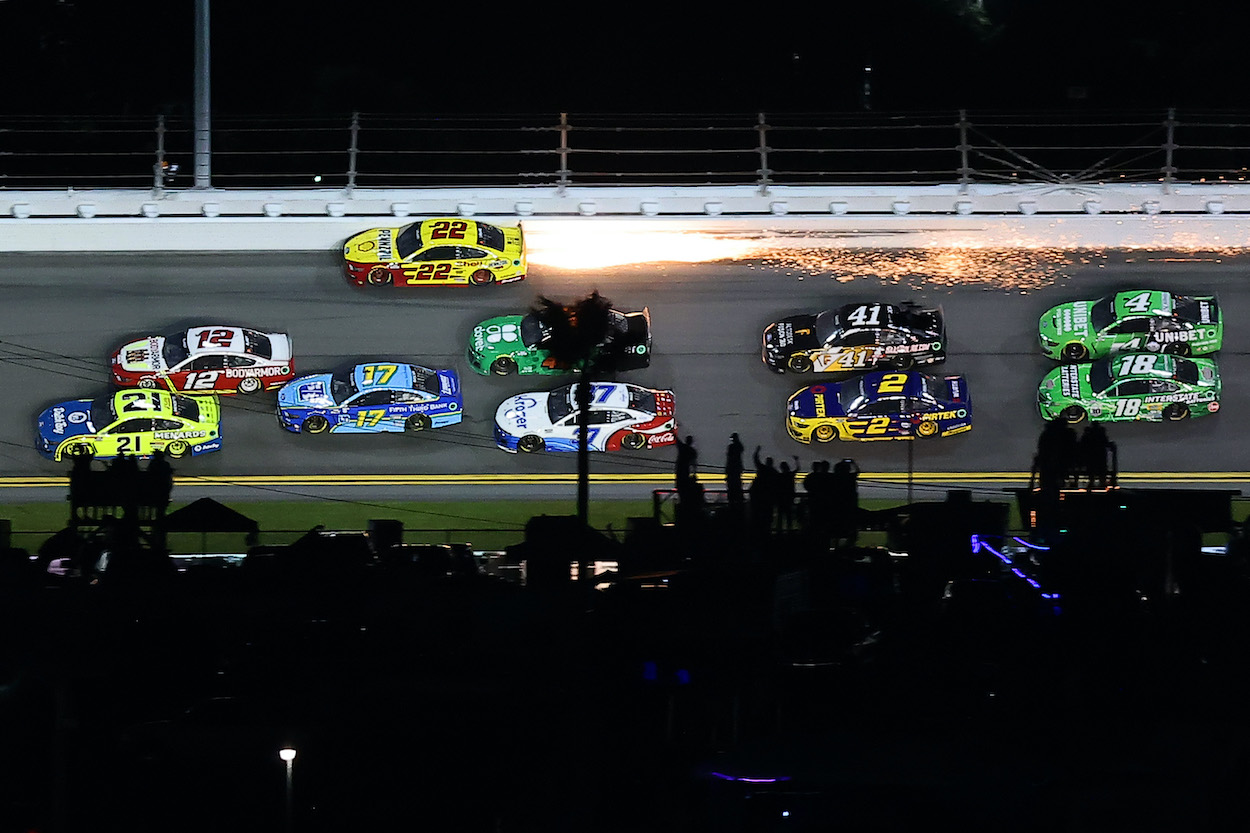 Joey Logano had a solid run going at Daytona on Saturday night during the final race of the regular season. He led a race-high 37 laps and won Stage 2. The 2018 Cup Series champion was in contention late, leading the race with just seven laps remaining. 
However, as is often the case, drivers aggressively jockey for position late in any race at the World Center of Racing. Those moves were magnified Saturday with numerous drivers desperate to make the playoffs. As cars moved up, down, forward, and backward during the waning laps, Logano and Denny Hamlin made contact. Shortly after, the right rear of Logano's car produced a shower of sparks due to a flat tire.
"We had a shot to win there and the 11 just threw a late block and fenced me and then I had a right rear down," Logano said after the race. "Luckily, I didn't take out the whole field that time, but that got taken care of the next lap, so it probably wouldn't have mattered."
Logano finished 23rd. Hamlin finished 13th. 
When a reporter asked Logano if he would remember that incident and whether any hard feelings toward Hamlin would carry over into the playoffs, he didn't hesitate in his response. "Absolutely," he curtly answered. 
Joey Logano squeezed into the fence in 2019 playoffs and a scuffle breaks out on pit road
It should come as no surprise that Joey Logano is a little sensitive to being run into the outside fence by Denny Hamlin. It's deja vu for him because that exact same scenario played out during the 2019 playoffs at Martinsville. 
Coming out of Turn 4, Logano was on Hamlin's outside when the No. 11 car kept sliding up the track, pushing the No. 22 into the fence. The Team Penske car started smoking within seconds as the left rear tire went flat, and sparks flew out from underneath the car. 
After the race, Logano confronted Hamlin about the incident on pit road. Following a 30-second animated discussion between the drivers, Logano started to walk off but, before he did, shoved Hamlin's right shoulder.
Hamlin immediately began pursuing Logano, who had turned around. However, before either driver threw any punches, officials from both NASCAR and the teams intervened and separated the pair. 
Drivers provide different versions of events 
Following the altercation, NBC first caught up with Hamlin to talk about both the on-track incident and post-race scuffle.  
"We were having a discussion, and everything was civil, and then like Joey does, he does a little push and then runs away," Hamlin said. "That's Joey. He said, 'Do you want to go?' I said, 'Yes, I'm here,' but then he runs away." 
When asked what happened on the track to cause it all, Hamlin said he got close to the No. 22 in the turn and it looked like the blown tire was "collateral damage." Then, the Joe Gibbs Racing driver mocked Logano, and all those in the stands and watching on television could see and hear. "He would probably say, 'Ah, short track racing,'" he explained, which drew a big roar from the crowd. 
Joey Logano obviously saw things differently. 
"Pretty frustrated he came off the corner like there wasn't a car on the outside of him," Logano said. "Ruined our day. A shot to win for sure. I don't really know what happened because once he started hitting me, he didn't really lift. He kept finishing me off. We ran each other fine all day so I don't really know what happened." 
Logano later acknowledged he probably shouldn't have shoved Hamlin because that only escalated tensions and suggested it was all a product of the environment and the intensity of the playoffs.
The intensity of the 2021 NASCAR Cup Series playoffs starts this weekend in Darlington. And things between Logano and Hamlin could get interesting.  
Like Sportscasting on Facebook. Follow us on Twitter @sportscasting19.