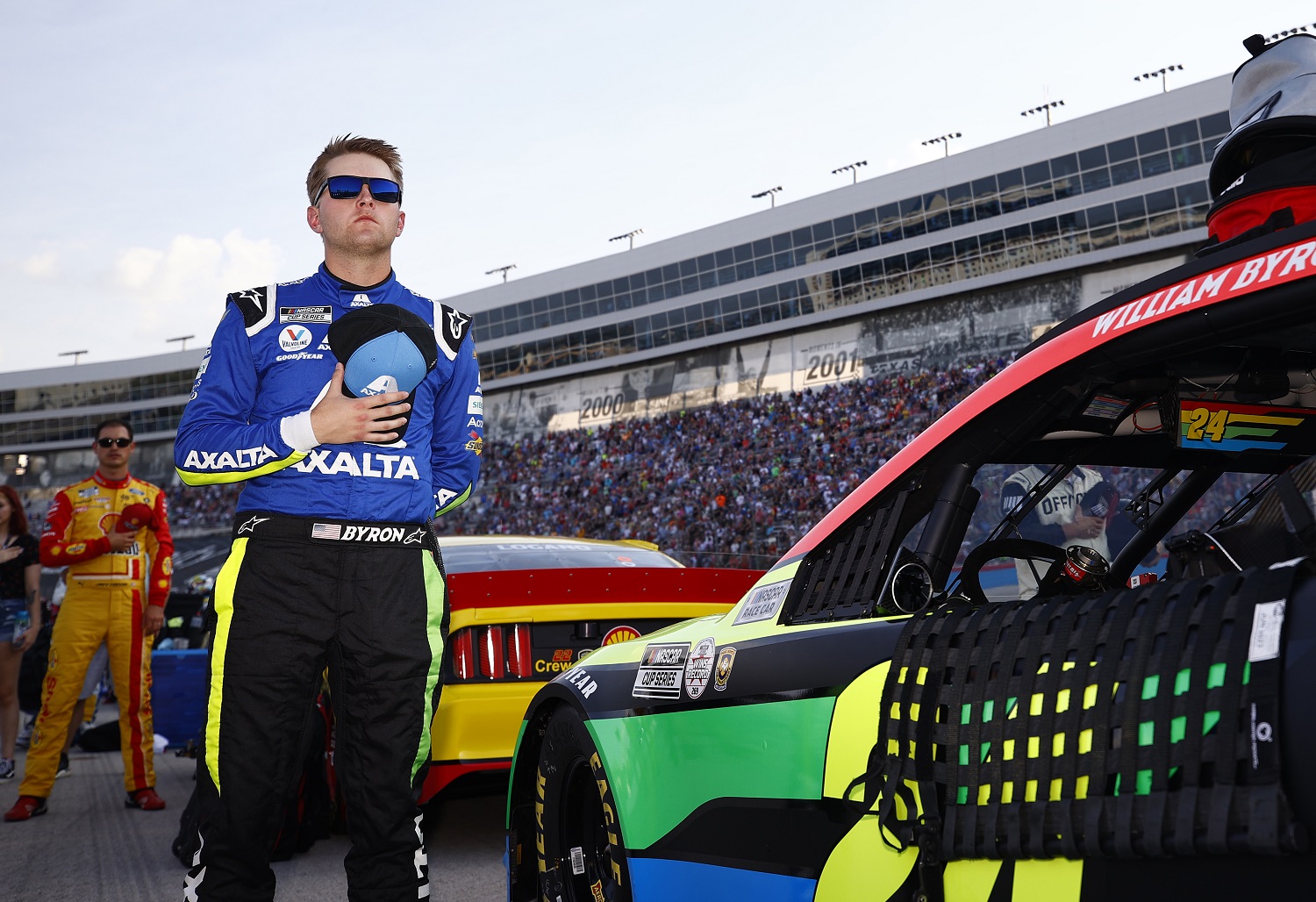 William Byron Isn't Worried Over the NASCAR Cup Series Playoffs: 'If We Just Do Our Jobs, We're Going to Be Plenty Good'
William Byron sounds confident despite a poor start to the NASCAR Cup Series playoffs that severely damaged his championship hopes for the second year in a row
If William Byron is panicking, which would be completely appropriate entering the second week of the NASCAR Cup Series playoffs, he has a funny way of showing it. Taking his turn in front of the camera during NASCAR's media session on Thursday, Byron showed the calm demeanor that teammate Kyle Larson understandably possesses, courtesy of a solid lead in the points standings.
Listening to him, one would scarcely know that Byron has crashed out of three of his last four races and finished 34th last weekend at Darlington. He comes to Richmond Raceway for Saturday's Federated Auto Parts 400 Salute to First Responders nine points below the cut line to reach the next stage of the playoffs.
If Byron doesn't produce this week and next, he'll be one of the first four drivers to exit the battle for the season championship. Rather than panic, Byron looks back to the regular-season Richmond race and his seventh-place finish. It was one of 11 straight top-10 showings for the Hendrick Motorsports No. 24 Chevy.
Of course, it's preferable to think about that race as opposed to the 2020 playoffs. Byron finished a non-competitive 21st at Richmond and then crashed midway through the race at Bristol the following week to end his championship hopes.
"We're only nine points out of the cutline, and I feel like if we just do our jobs, we're going to be plenty good. So, it is a lot different than last year."

William Byron
He added: "We've just got to focus on the next two races."
That's undoubtedly the mantra throughout the Hendrick garages. While Larson is coasting along just fine and riding the cushion of five victories and the regular-season points championship, the other cars struggled at Darlington last weekend. Alex Bowman placed 26th, defending series champion Chase Elliott finished 31st, and Byron took 34th.
Byron experienced an early mishap with Bowman but can take comfort in knowing that his Darlington crash near the end of the second stage was a one-off because of a flat tire.
"It's all about eliminating the big numbers," Byron said. "Unfortunately, we had a big number this past weekend and not really of our making at all. Even the tire issue was just a one-in-a-thousand chance that a lug nut or something hits the inside of the valve stem on the inside of the tire and cuts down the inner liner."
That's not going to happen two weeks in a row. Heck, it's not going to happen twice in a season. In that respect, then, it seems easy to quickly put that bit of bad luck out of mind. Perhaps helping in that department, Byron took part in early-week testing of the Next Gen car at Daytona. Denny Hamlin, Joey Logano, and Ross Chastain were some of the others in the group of eight drivers NASCAR invited to help get a feel for tires and horsepower.
"We did some drafting runs with the pack, which was good, and those went really well. So, for me, it's just all about continuing to learn. But I kind of put that in some box now and focus on this year because that's ultimately what really matters right now.
"So, for me, right now, I'm just focused on the playoffs. After the last two days, I just kind of put that into next year's (box)."
It's that ability to compartmentalize that allows drivers to set aside disappointing race results from one week as they prepare to compete the next. In William Byron's case, he has more than just one recent result that he needs to put into his rearview mirror. Everything he's said since Darlington suggests he's been able to do so.
Now, it's up to him to prove that he's back on track and will stay there for the full 400 laps, at Richmond.
Like Sportscasting on Facebook. Follow us on Twitter @sportscasting19.