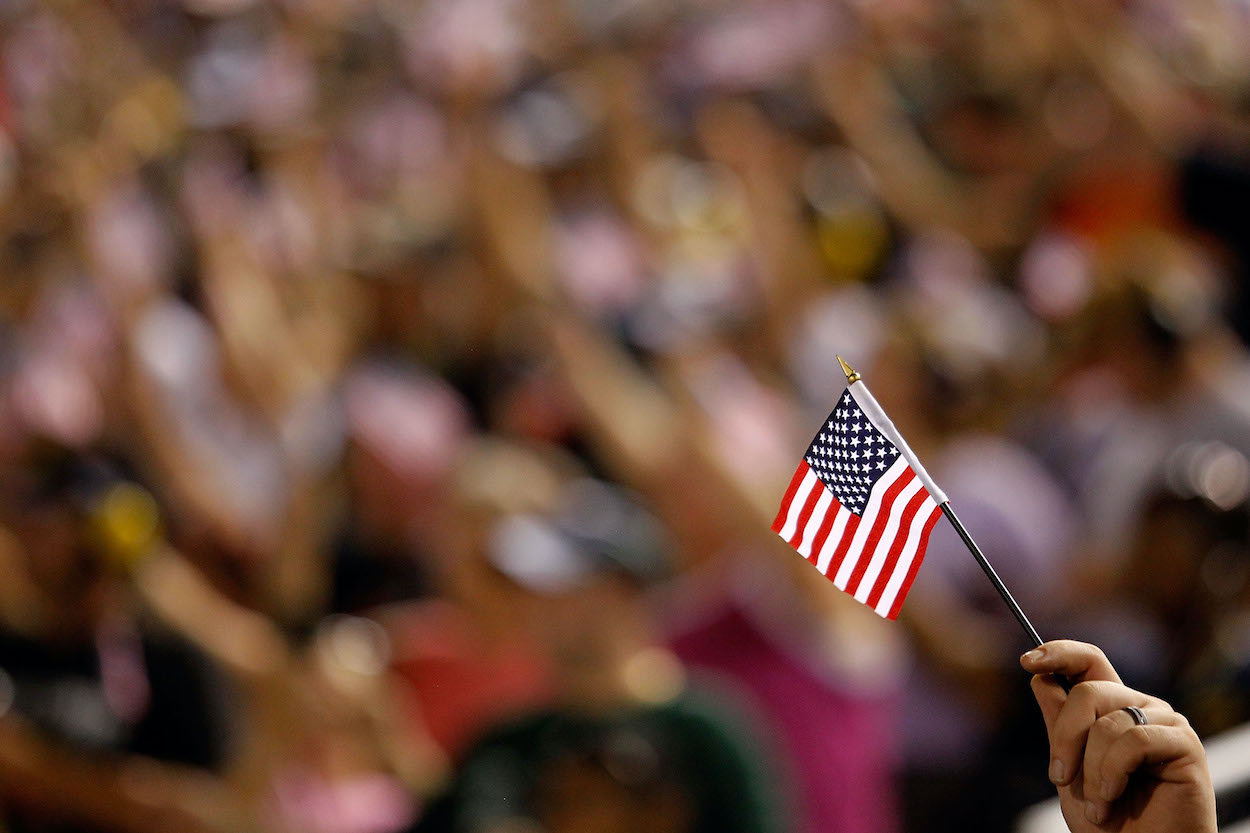 NASCAR Drivers Martin Truex Jr., Brad Keselowski, Kevin Harvick, Denny Hamlin, and Others Remember 9/11 and Where They Were on That Tragic Day in American History 20 Years Ago
Multiple NASCAR drivers, including Martin Truex Jr., Kevin Harvick, Denny Hamlin, Brad Keselowski, and others remember where they were on September 11, 2001.
It was a day anyone old enough to remember will never forget. It was a day that forever changed the United States of America and the world. On the twentieth anniversary, Sportscasting asked numerous NASCAR drivers, including Martin Truex Jr., Brad Keselowski, Denny Hamlin, and others where they were and what they remembered from that tragic day. Following are the drivers, their ages on September 11, 2001, and their accounts from one of the worst days in American history.
Martin Truex Jr. – 21
"Yeah, crazy story. We were actually at Dover at the race track testing. It was like around 11 o'clock in the morning. We got the news, and the ambulance that was there for the test actually had to leave. Like they called it off. We got to go. We're sending you guys to New York City because of this tragedy that just happened. And we're all, 'What the heck is going on?' This was a long time ago. There wasn't social media and all this stuff on your phone and you didn't know. We went and turned on the news and seen what was happening and just couldn't believe. It was like we were in some crazy nightmare. Remember it obviously like it was yesterday. Crazy time for sure. Crazy day. It's hard to believe it was that long ago as well."
Michael McDowell – 16
"I was in Chandler, Arizona, on my way to work at the Bob Bondurant School. That's where I worked at the time. I was 17, 18 years old heading in. When I got to work everybody was kind of just sitting around and you could tell that something was going on. All kind of sitting around a small TV watching what was happening. About the time I got to work the second plane had crashed into the building. It was just one of those moments that you never forget. Just not understanding what was happening. What was going on. You know seeing it, it was just kind of an overwhelming thing. I think everybody was somber and just overwhelmed with what's happening and not knowing what the future would hold. You hear rumblings over other planes and the Pentagon and all of these things happening. You're trying to figure out what's happening. It all seems like it's happening at once. 
"As a young adult-teenager at the time, the thing that stands out to me was the next few days after and watching TV and watching first responders go into the building day after day after day and going through the rubble and pulling people out. There was this sense of unity and bond I feel like across every American. As tragic of an event as it was, it was this really incredible time where you felt like everybody was on the same team. Everybody was focused on the right things. That's something that stands out to me for sure."
Denny Hamlin – 20
"Yeah, I'll never forget. I was at Townsend Racing Products. I was helping build my new race car that my parents had spent every nickel of their savings account buying me. We were putting the exhaust on that day and I'll never forget someone coming in the shop and saying that one of the planes had crashed. We were just glued to the TV for the rest of the day. Work had stopped and it was just one of those days that you'll certainly never forget."
Brad Keselowski – 17
"I was 17. I was a high school senior. It was a very interesting day to say the least. Sad day in a lot of ways. It was one I'll never forget, that's for sure. It's hard to believe that that was 20 years ago. When you first said that, I said, 'No, that's wrong.' But you're right. It was 20 years ago. It's been a whirlwind for sure since then of all the different things that are going on worldwide. It was a tough day for sure."
Kevin Harvick – 25 
"September 11, that day, we were actually flying to Memphis to test the Xfinity car and we were in Mike Skinner's airplane. It was in the middle of the flight when everything happened. We got to the airport, landed, saw everything that happened, and we all got in the van and drove 12 hours home and never ran that test."
Tommy Joe Martins – 14
"In homeroom and we went to our first class and it was pretty obvious that the teachers were acting weird. We had the screen on. The teachers were basically like, 'Look, we need to watch this. Something is going on.' So we were watching live when the second plane hit the tower. We were all watching that. I don't think any of us had context to think about it when you're that young, but it was still shocking. It was like, 'Woah.' Then there were the reports about the planes heading toward the White House and the Pentagon and other stuff, of course, everybody is freaking out.
"In the moment, we went into the auditorium and had a big meeting with the headmaster where he basically was like, 'We're cancelling school for the rest of the day. We've called all the parents.' I went to a small school. We left at lunch and went home. It was a really bizarre day. We had a prayer. We had kind of a meeting on it. It was such a bizarre day for everybody. I just remember the image of the second plane. That's something that I'm never going to forget is watching the TV when the second plane hit the tower, which I'm sure so many other people were watching at the same moment I was. But that is just seared into my brain. That vision of that."
Aric Almirola – 17
"I remember exactly where I was that day. I was a senior in high school and I was in drafting class. I was in an architectural engineering class. I was drawing on graph paper, and I remember our teacher got notified. I don't remember exactly how he got notified. He turned on the little tube TV that was mounted up on a wall bracket in the classroom and put the news on. And we all put our pencils down and just sat there in shock. Couldn't believe what we were witnessing. I remember it being very somber in the classroom and just a lot of emotion. Everybody was very quiet just glued to the TV trying to figure out what was going on. 
"Shortly after that, we all got dismissed from school. If you drove to school, you could leave. Otherwise, you had to wait for the busses to come or your parents to come pick you up. But I was a senior in high school. I drove. So I was able to hop in my truck and drive home, and I just remember getting home as fast as I could and turning the news back on, trying to understand and wrap my head around the tragic events that had happened that day."
Like Sportscasting on Facebook. Follow us on Twitter @sportscasting19.