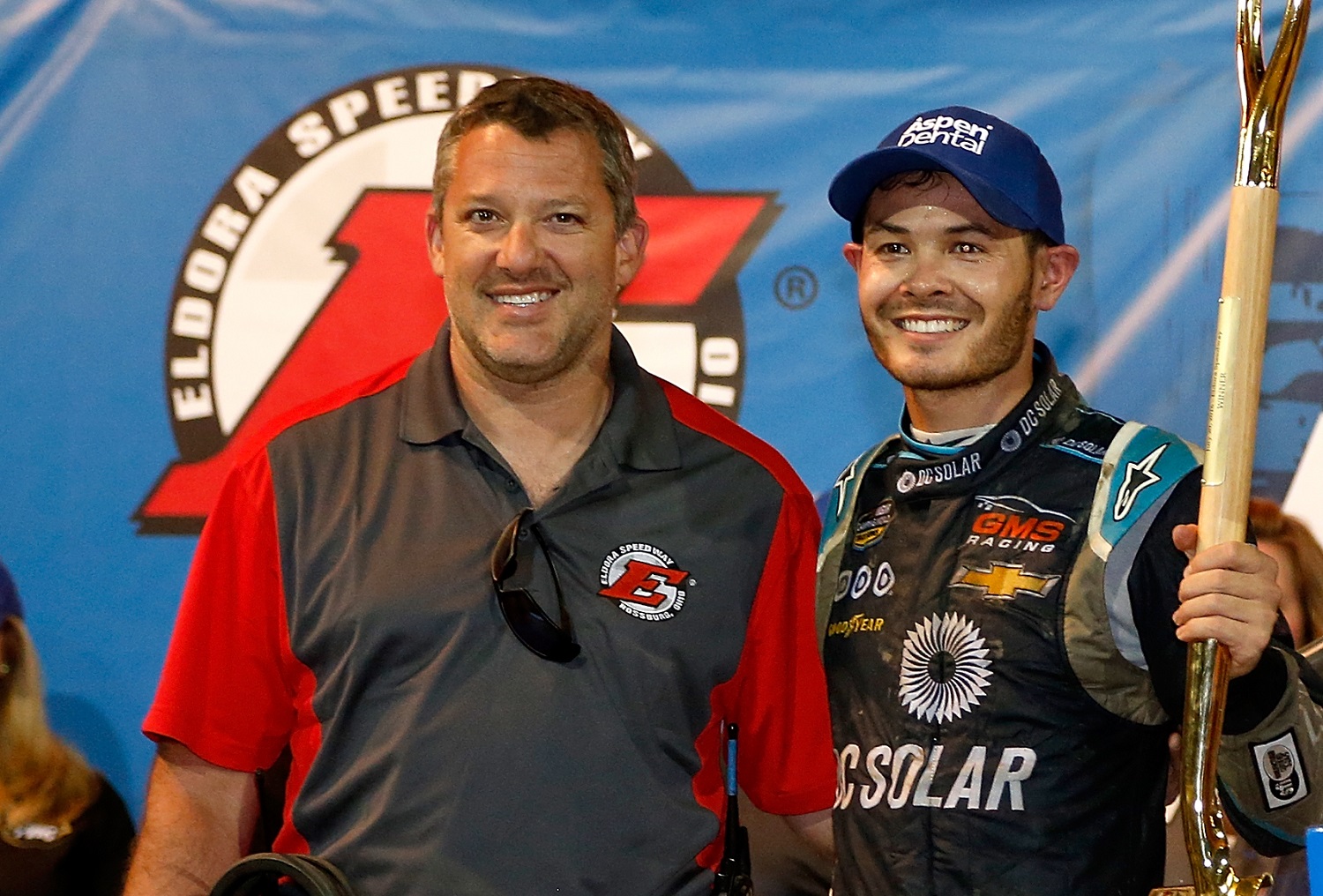 Kyle Larson Is the 'Unicorn' That Will Haunt Tony Stewart for Years: 'That Will Be 1 of the Biggest Regrets of My Professional Career'
Tony Stewart calls Kyle Larson a 'unicorn' and says not being able to hire the NASCAR Cup Series sensation who signed with Hendrick Motorsports will haunt him for years.
The drastic decline in his team's performance rates as the second-biggest disappointment for racing veteran Tony Stewart this season. The biggest disappointment has to be that it didn't need to happen. Stewart-Haas Racing potentially is not far from a resurgence in 2022, when everyone starts fresh with Next Gen racing. But that doesn't mean that regrets over being unable to sign Kyle Larson for the current season won't be lingering for the three-time NASCAR Cup Series champion.
Tony Stewart and winning have gone hand-in-hand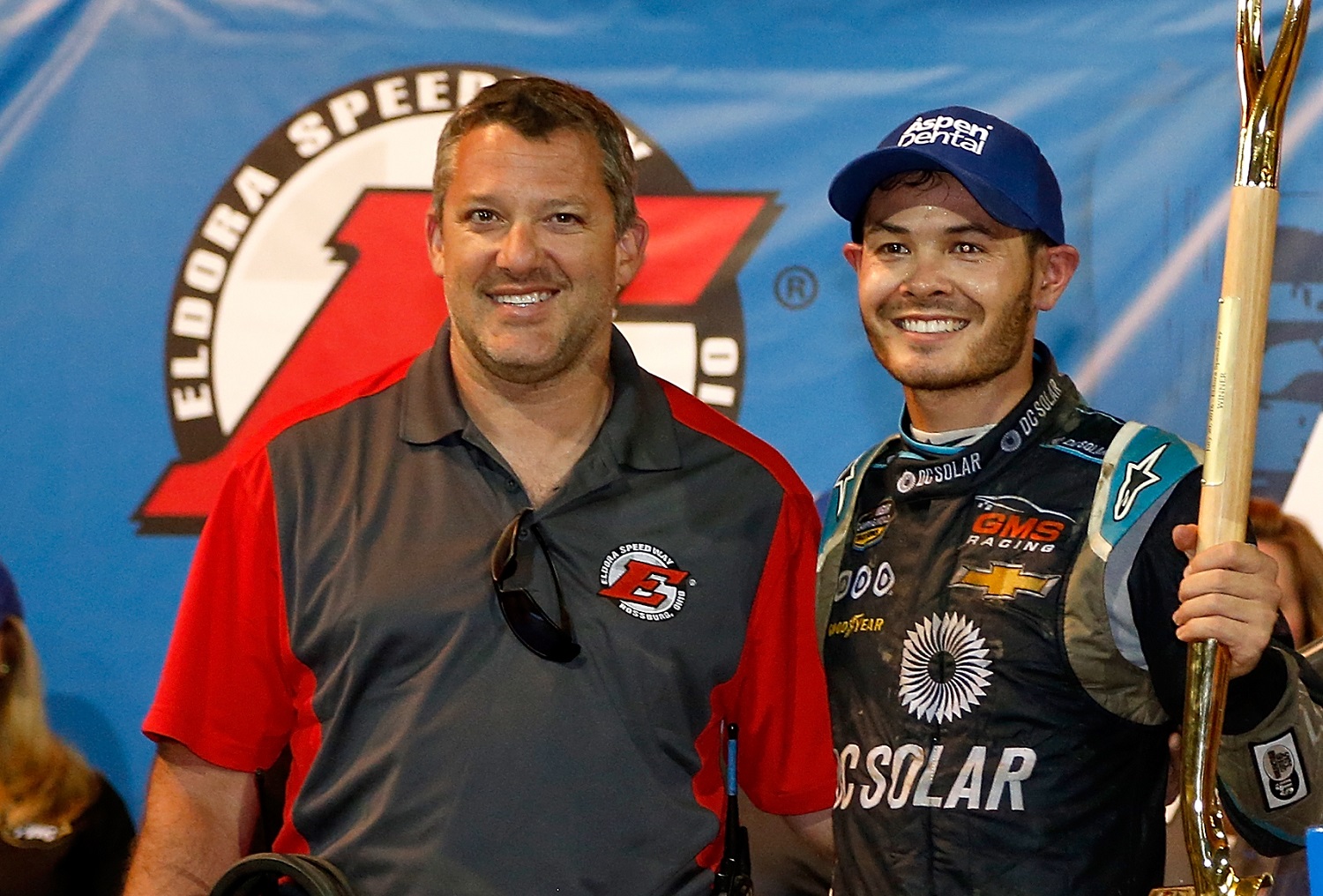 One of the givens when he drove was that you could stick Tony Stewart in a car and know he was going to win, even when the stakes were much higher than racing on his beloved dirt tracks in front of 1,200 fans in the middle of nowhere.
Stewart captured the 1997 NTT IndyCar championship despite making it to the finish line in only five of 10 races. He won an IROC title in 2006 despite a late crash that took him out of the first of the series' four races.
And, of course, there were the three NASCAR Cup Series championships in 2002, '05, and '11 despite his fair share of races in which he didn't even finish on the lead lap.
The success has extended to his role as an owner. Since its formation ahead of the 2001 season, drivers in the Tony Stewart Racing stable have earned 14 USAC-level championships plus a dozen more in the likes of World of Outlaws. And, of course, the last of his three NASCAR crowns came under the Stewart-Haas banner.
That's why the 2021 season has been such a disappointment, especially knowing that Kyle Larson could have made it a whole lot better.
Tony Stewart says Kyle Larson will be 'one of the biggest regrets of my professional career'
Kyle Larson has been the No. 1 story of the NASCAR Cup Series season with five victories in points events and another in the All-Star Race. He has become the centerpiece of the powerful Hendrick Motorsports program in just one season.
By all rights, Larson should have been competing for Stewart-Haas Racing this summer.
Larson used a racial slur during an April 2020 online race, costing him his Chip Ganassi Racing ride and earning a NASCAR suspension at a time when he was clearly a rising star. Larson dominated on dirt tracks while awaiting the approval to return. When NASCAR seemed hesitant to restore Larson, Stewart was the most prominent name in racing to lobby on his behalf.
With Clint Bowyer retiring and Aric Almirola's status unsure, Stewart would have gladly brought Larson onboard. One huge problem emerged: Ford told Stewart the idea was a non-starter. SHR has been a Ford partner since 2017; in retrospect, maybe this was the year to go back to those Chevys that the Hendrick team uses.
"I said (damn it) the day that I found out I couldn't get him," Stewart told CBS Sports. "I said it that day, probably in words that I can't use right now, but I said that a lot that day and have said it every day since then.
"That will be one of the biggest regrets of my professional career is not getting that kid and having an opportunity to race him in our cars. He's a once-in-a-lifetime driver. I say he's a unicorn. … it's probably gonna be a long time before we see another person step up and another driver step up and do what Kyle has been able to do in the last year and a half."
Stewart-Haas could have used Kyle Larson in 2021
The current NASCAR Cup Series has been a major disappointment for Stewart-Haas Racing. After nine race victories a season ago by Kevin Harvick and 10 overall by SHR drivers, Aric Almirola owns the only triumph of 2021. SHR faces its worst year since 2013, when Tony Stewart and Ryan Newman won once apiece.
Harvick made the playoffs based on points, but his teammates finished the regular season between 22nd and 28th. It's not as though anyone suddenly forgot how to drive in the offseason, so observers are mostly pointing at equipment issues rather than Harvick, Almirola, Cole Custer, and Chase Briscoe.
Still, Kyle Larson could have made a difference. The three Hendrick drivers won seven times a year ago, and they're up to 11 this season with 10 races to go. It's certainly been a team effort, but the five victories by Larson loom largest and hint at what he could have meant to SHR.
All stats courtesy of Racing Reference.