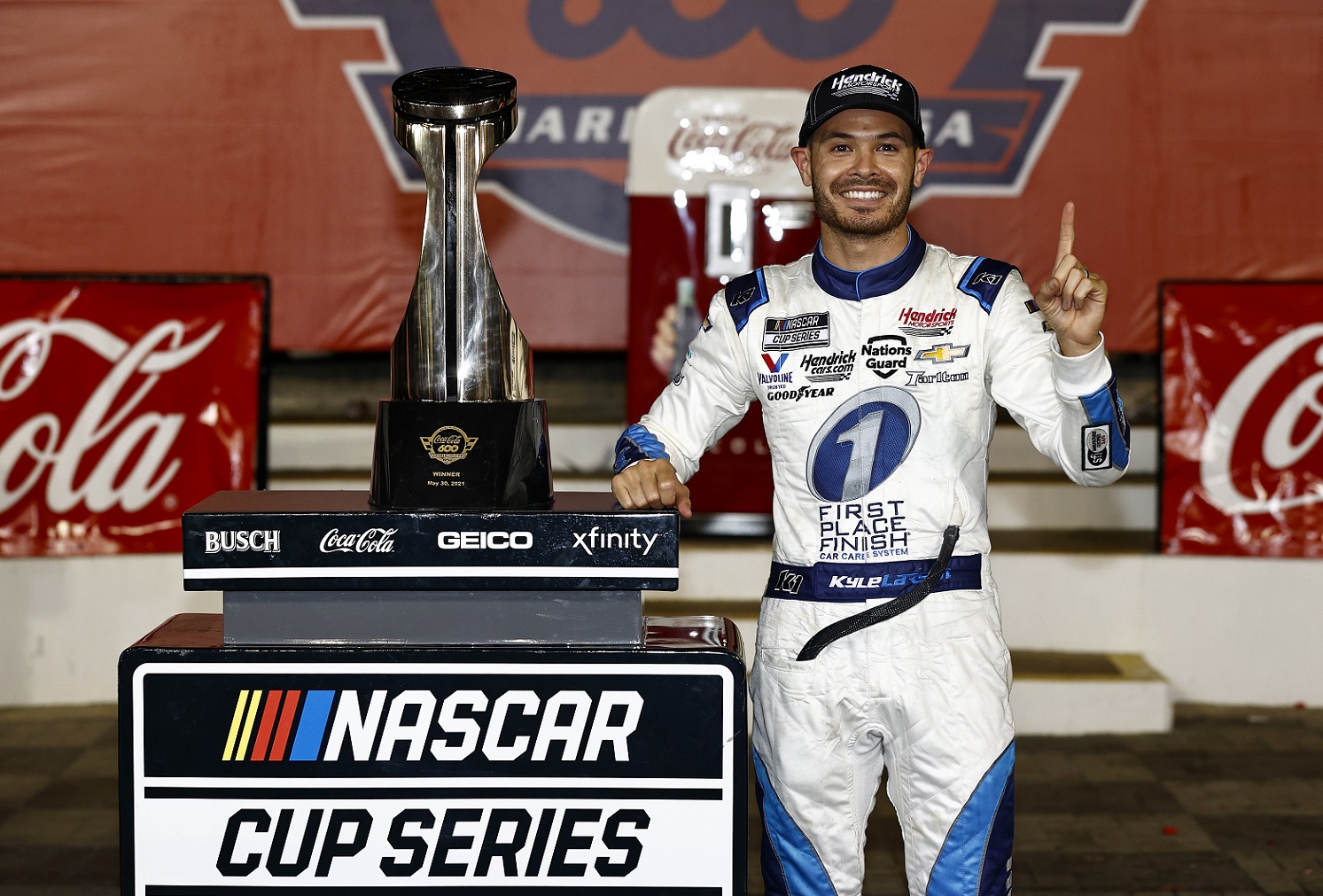 Kyle Larson Was the NASCAR 'Superstar' Hiding From Owners in Plain Sight
Kyle Larson has won twice in the 2021 NASCAR Cup Series after Hendrick Motorsports gave him a second chance following his suspension over the use of a racial slur last year.
Kyle Larson paid the price for a moment of stupidity. Hendrick Motorsports has cashed in by being the team that offered Larson a second chance in the NASCAR Cup Series.
Never mind motorsports, there's a lesson in there for society as a whole — if people just have the courage to embrace it.
A sweet victory for Kyle Larson, Hendrick Motorsports
Michael Vick and Tiger Woods are notable athletes who failed in aspects of life much more important than sports, paid a price, and made something meaningful out of their second chances. Kyle Larson is there now, too, reminding us that permanently canceling someone over a single mistake might not be the way to go.
Larson lost his Cup Series ride on the Chip Ganassi Racing team four races into the 2020 season by uttering a racial slur during the stream of an iRacing event early in the COVID-19 pandemic. He went through a lengthy process to regain his good standing within NASCAR and still had to sweat out an offseason of relatively few job opportunities.
So, there was a sort of poetic justice in Larson winning the Coca-Cola 600 at Charlotte Motor Speedway for the man who gave him his second chance. His performance was the 269th victory for Hendrick Motorsports in NASCAR's marquee series, breaking a first-place tie with Richard Petty Motorsports.
Winning in Charlotte was particularly sweet because it's the home base of the auto sales and service empire that Rick Hendrick built. On weekends when Larson is racing without a primary sponsor, Hendrick sticks his dealership brand on the No. 5 Chevy. Given all the time Larson spends running at the front of the pack, it's a savvy investment.
Other teams missed their chance
Bringing Larson back would have been understandably difficult for Chip Ganassi Racing, which got little out of Matt Kenseth as Larson's fill-in and moved on to Ross Chastain during the offseason. Joe Gibbs Racing also had a seat to fill after not renewing Erik Jones, but Christopher Bell was already the organization's driver-in-waiting and is off to a solid start in 2021.
On the other hand, a team like Stewart-Haas racing has to be lamenting the move that it couldn't pull off. With Clint Bowyer retiring from the No. 14 Ford, SHR needed a fourth driver. Co-owner Tony Stewart shares Larson's love of driving in a variety of series and championed his reinstatement.
Stewart almost certainly would have signed Larson, but he faced a hurdle that never worried Hendrick: money. Even after going through all the steps with NASCAR and handling a series of interviews in which he sounded sincere in apologizing, Larson remained poison in the eyes of sponsors.
On a four-car team like SHR, it might take less than $25 million to run a full season. However, sponsors with an image at stake weren't going to risk associating with Larson.
Even now, with two victories and three second-place showings under his belt, Larson lacks full sponsorship. MetroTech Automotive, a supplies source for car dealerships, sponsored his winning performance in Charlotte in the sort of one-off arrangement that pays some of the bills for Larson. Hendrick dips into his own pocket to cover whatever shortfall remains.
Kyle Busch recognizes Larson as a superstar
The Hendrick Motorsports team has been the story of the 2021 NASCAR Cup Series season. William Byron and defending series champion Chase Elliott have a victory apiece, and Larson has now joined Alex Bowman as a two-time winner.
If not for Kyle Busch's third-place finish in the Coca-Cola 600, Hendrick Motorsports would have swept the first four places in a race for the second time this month.
Busch waited for Larson to roll into victory lane to give his fellow competitor a thumbs-up. He marvels at the offseason work that the Hendrick team obviously put into its engine program, but Busch recognizes there's more to it than that.
"They've also plugged in a superstar driver (Larson) into one of their cars," he said, according to the Associated Press. "Chase is no slouch and the others are really good. But Kyle's arguably one of the best."
Like Sportscasting on Facebook. Follow us on Twitter @sportscasting19.