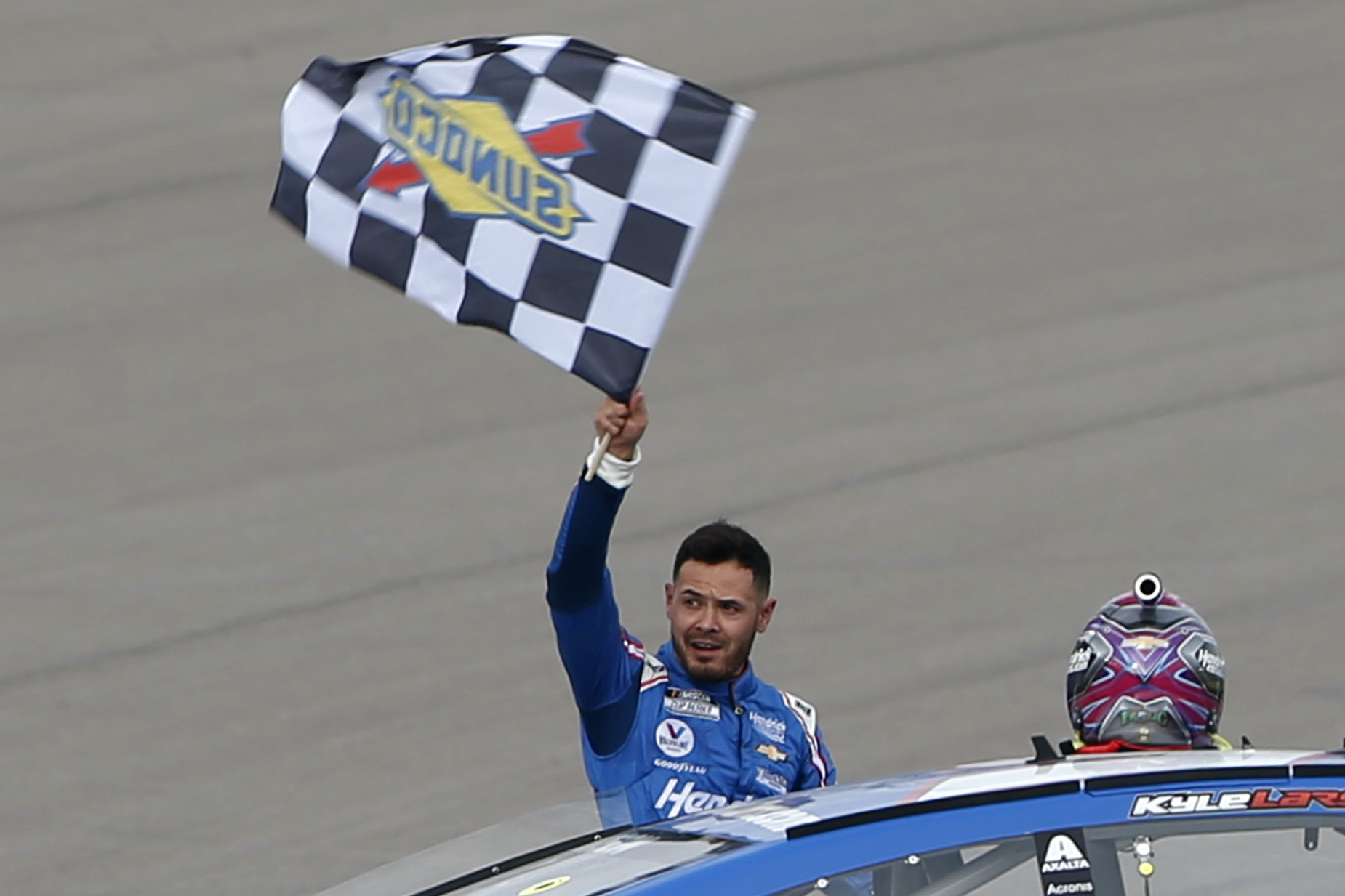 Kyle Larson Is Worth $12 Million, but He Preferred Commercial Flights to Private Jets: 'Yeah, I'm Cheap'
While it might not have the mass appeal of something like professional football, motorsports is still a big-money business. As one look at a NASCAR car can confirm, plenty of brands and businesses are willing to sign on the dotted line for sponsorship deals, which, in turn, helps everyone's bottom line. Take, for example, Kyle …
While it might not have the mass appeal of something like professional football, motorsports is still a big-money business. As one look at a NASCAR car can confirm, plenty of brands and businesses are willing to sign on the dotted line for sponsorship deals, which, in turn, helps everyone's bottom line. Take, for example, Kyle Larson.
During his time on the NASCAR circuit, Larson has built up an estimated $12 million net worth. Despite that financial reality, he's gone on the record saying he'd rather fly commercial than hop aboard a private jet.
Kyle Larson has had a solid racing career, albeit with a major misstep
With Jeff Gordon, Dale Earnhardt Jr., and Jimmie Johnson no longer dominating the race car scene, there's room for the next generation of stars to seize the metaphorical pole position. Until 2020, it looked like Larson had as good of a shot as anyone to pull it off.
Larson cut his teeth on the dirt track circuit and eventually moved to the stock car scene. After a season in the NASCAR Truck Series, he moved to the Nationwide Series in 2013. The driver promptly claimed the Rookie of the Year crown, and, the next campaign, he stepped up to the Cup Series. Once again, he raced his way to Rookie of the Year honors.
While he experienced some barren stretches along the way, Larson continued to show promise on NASCAR's biggest stage. But in 2020, he hit a major bump in the road. During an iRacing event, the driver used a racial slur and, understandably, received both massive backlash and a suspension.
As of 2021, though, Larson has returned to the track with Hendrick Motorsports.
Kyle Larson has a $12 million net worth, but you won't catch him flying in a private jet
Even with that suspension and the loss of some sponsors, Larson still has plenty of money in the bank; Celebrity Net Worth estimates his fortune at roughly $12 million. That hasn't stopped him from flying commercial, though.
"I'll fly commercial as much as I can, especially the West Coast stuff," Larson said in 2017, according to USA Today. "I think commercial is better. The team plane — you have to stop for fuel. No Wi-Fi. Commercial's not bad."
Beyond the convenience, Larson also cited a commercial motivation for flying like the average traveler: money.
"That's a lot of money to be private flying, especially to the West Coast," he continued. "Yeah, I'm cheap with my money when it comes to flying. And I like to rack up the miles so I can maybe get some free trips."
The NASCAR driver did make one concession in the name of luxury, though. At least as of 2017, he was willing to pay a bit extra to move up to first class.
Dale Earnhardt Jr. also has some unusual ways to save money
While things may have changed since 2017, Larson was apparently willing to alter his travel plans to save money. Elsewhere in the NASCAR world, Dale Earnhardt Jr. was also willing to go to extreme lengths to save a few bucks.
Despite being worth more than $300 million, Junior installed a gas tank at his house, allowing him to refuel at a lower rate. "I have a gas tank at the house, so I don't buy gas from the store," Junior explained in a 2017 NASCAR press conference. "We buy gas in bulk, it's a little cheaper. It's something Kenny Wallace told me a long time ago when I was fixing up my property, about 2002, 2003. He's like, 'Get a gas tank, buy in bulk. It's cheaper.'"
During the same press conference, Earnhardt also admitted that he doesn't always carry his wallet; when it came time for lunch, one of his colleagues would usually cover him. However, he did make sure to note that he was always able to pay his debts.
That's not to say Earnhardt Jr. doesn't spend money, though. The wild west town on his property proves otherwise.