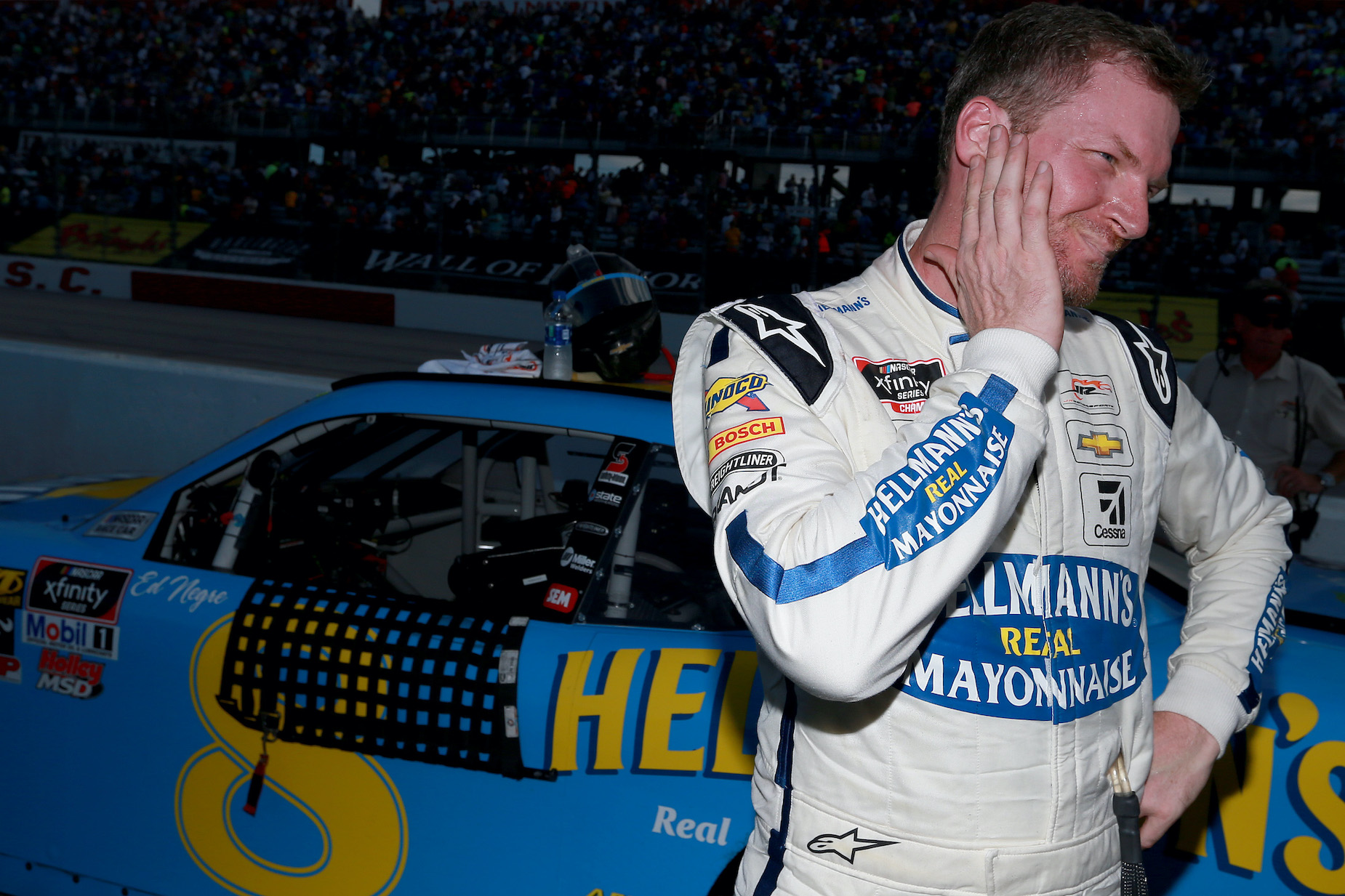 Dale Earnhardt Jr. 'Totally Missed Out' on the Opportunity to Party With Some Former NFL Athletes After Appearing on a Recent Podcast
As veteran motorsports fans can tell you, Dale Earnhardt Jr. comes across as a pretty fun guy. During his time on the NASCAR circuit, the driver was no stranger to partying; in retirement, he's moved into the media space and gets to shoot the breeze with a variety of guests each week. After a recent …
As veteran motorsports fans can tell you, Dale Earnhardt Jr. comes across as a pretty fun guy. During his time on the NASCAR circuit, the driver was no stranger to partying; in retirement, he's moved into the media space and gets to shoot the breeze with a variety of guests each week. After a recent podcast appearance, though, Junior missed a chance to combine both of those pursuits into one day.
On May 10, an episode of the I Am Athlete podcast featuring Earnhardt Jr. hit the internet. After it aired, though, the NASCAR star made a candid admission on his own Youtube channel. Dale Jr., it seems, "totally missed out" on the chance to go out and party with the former NFL players.
Dale Earnhardt Jr. appeared on 'I Am Athlete' to talk NASCAR
Under normal circumstances, Earnhardt Jr. is the one asking the questions as the host of his own podcast. Earlier in 2021, however, he flipped the script and appeared as the guest on someone else's show.
That show was, of course, the I Am Athlete podcast, hosted by Brandon Marshall, Chad Johnson, Fred Taylor, and Channing Crowder. As you'd assume, there were plenty of interesting discussions and quotable moments. Junior is a pretty open book these days and had no problems discussing topics like living up to his father's legacy and memories of the day the Intimidator died.
Earnhardt also took the four former football players for a ride around the track. While each of the men had their own responses to their stock car experience, Junior later noted that Johnson's time in the car was "kind of weird," presumably due to his nerves.
Missing the chance to party with the 'I Am Athlete' crew
Toward the end of the I Am Athlete episode, the conversation turned to having some fun. "We're in Charlotte," Chad Johnson said. "This is where you [Earnhardt] like to party. I've never partied. But we're in Charlotte, so we can take it off our bucket list. Tonight, we f*cking party with Dale."
While that conversation continued, with the other guys weighing in, it turns out that Junior never took part. After the fact, though, he seemed to regret that decision.
"I wish we could have," Earnhardt explained on the May 11 edition of Ask Dale Jr. "I couldn't tell what they wanted me to do when they were like, 'We're going partying tonight.' I'm like, 'Are they serious? Do they really want to party?' So I was wondering if they really wanted to go party or if that was part of the show."
The consensus among the Dale Jr. Download crew, however, was that the NFL players were serious, prompting Earnhardt to admit that he had missed his chance.
"I totally missed out on an opportunity to party with those guys," he continued. "And we should have. … We missed an opportunity for sure because I think they did end up going out and hanging out in Charlotte."
Even though he passed up on the invitation, Dale Earnhardt Jr. knows a thing or two about partying
Even if some miscommunication kept him from hitting the town with the I Am Athlete guys, you shouldn't question Earnhardt Jr.'s partying credentials. As long-time NASCAR fans will know, Junior can certainly have a good time.
During an old conversation with Graham Bensinger, Earnhardt provided a glimpse into his social habits from the early days of his racing career.
"It's documented, and I'll admit, in the Bud years, we had a lot of fun," Earnhardt Jr. explained. "I mean, we raised hell. We'd go and party and, when we did Bud appearances, we were in bars, you know, signing autographs for fans at a bar. And if there wasn't no racing the next day, we would have beers and hang out. And when I'd come home, we had a ritual that we'd go to the bar every Tuesday. We'd go every Wednesday. We'd do back-to-back nights every week. … And when [the bar] closed, we'd come home and party."
While he eventually buckled down and learned to place more of a focus on his work, plenty of Earnhardt-adjacent stories have trickled out. On one occasion, for example, he needed a lift to the hospital after hitting his head on the bottom of a soapy swimming pool; on another, Clint Bowyer got trapped in Junior's basement and couldn't escape until the next morning.
On the Dale Jr. Download, Earnhardt sounded disappointed that he didn't get the chance to enjoy a night on the town with some former NFL players. Based on Junior's past exploits, though, the I Am Athlete crew was the one who really missed out.