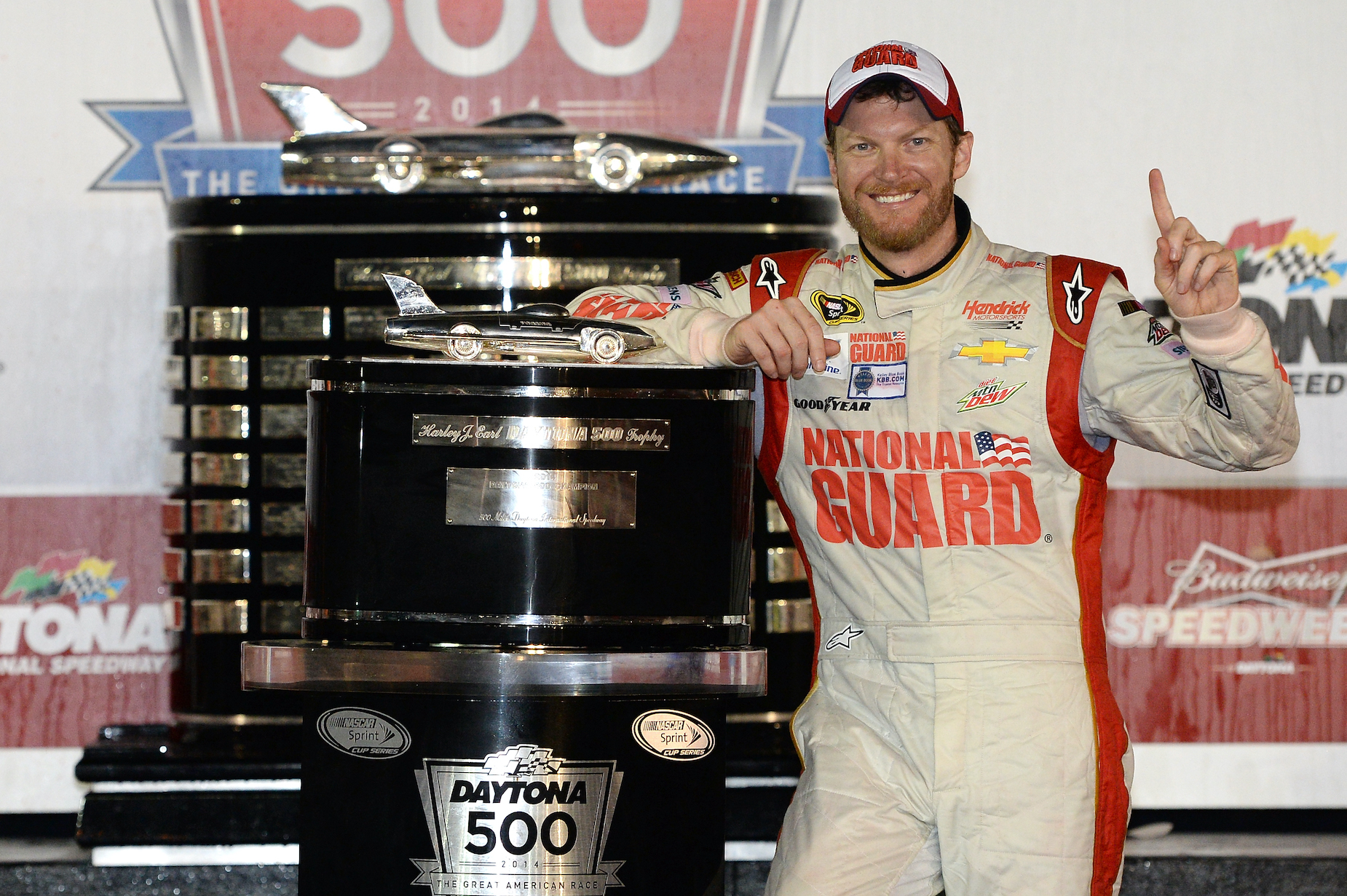 Dale Earnhardt Jr. Is Worth $300 Million, But He Only Carries His Wallet 'Probably 50% of the Time': 'I Don't Really Spend Money'
While Dale Earnhardt Jr. built up a massive net worth during his time on the NASCAR circuit, he doesn't always carry his own wallet.
Whether you like it or not, modern professional sports are a big business, with the top stars earning massive amounts of money. Dale Earnhardt Jr. has experienced that reality firsthand, building up a $300 million net worth during his time on the NASCAR circuit. Don't expect the motorsports legend to pick up the tab, though.
Although Dale Earnhardt Jr. has plenty of money in the bank, you're unlikely to see him breaking out his wallet and going on a shopping spree. In fact, he once admitted that he doesn't even carry his wallet half of the time.
Dale Earnhardt Jr. followed in his father's footsteps to become a NASCAR star
Over the years, sports fans have seen plenty of successful father-son duos. In the world of NASCAR, however, few were bigger than Dale Earnhardt and Dale Earnhardt Jr.
Despite his dad's stardom, though, Junior didn't initially plan on climbing behind the wheel of a stock car; instead, he earned an automotive degree and took a mechanic job at the family dealership. A new service manager ended that gig, however, and Earnhardt Jr. eventually started driving more and more.
Before too long, Dale Jr. realized that racing allowed him to form a relationship with his dad. While that gave him the motivation to keep driving, he also proved to be pretty talented behind the wheel. He joined the Busch Series in 1996 and, two years later, was ready for the Cup Series.
From there, the rest is racing history.
Dale Earnhardt Jr.'s net worth towers over the competition
While he didn't achieve the same success as his famous father, Dale Earnhardt Jr. still won 50 races during his time on the NASCAR scene. He also claimed 15 Most Popular Driver titles, which helped him build up quite a fortune.
While athletes from all the major sports land endorsement deals, those branded relationships are a fundamental part of NASCAR; just look at the cars and the drivers' wardrobe, and the business realities of stock car racing become clear. As both Dale Earhardt's son and the most popular driver around, Junior had no problem landing deals with some big-time partners.
Even though he's retired from full-time racing, Earnhardt Jr. is still a pretty busy man. In addition to co-owning JR Motorsports, the driver is also pretty comfortable behind a microphone.
In total, Dale Earnhardt Jr.'s net worth reportedly clocks in at roughly $300 million. Even if he never won a Cup Series crown, that's still pretty impressive.
Junior doesn't always carry his wallet or spend that money, though
Based on that net worth, Dale Earnhardt Jr. could afford to buy virtually anything he wants. In reality, though, he's unlikely to swing by a local store splash some cash; most of the time, he doesn't even have his wallet.
"Probably 50% of the time, I leave the house unintentionally without my wallet," Dale Jr. explained in a 2017 NASCAR press conference. "And it's a pain in the butt because I go over JR Motorsports, and I don't have my key to get in the door, and I have to get someone to come down there and get me in, which is a little embarrassing for the boss and the guy who owns the building. But I really don't spend money. I don't really go buy stuff."
But what happens when Junior wants to grab a bite to eat or have a beer with some of the guys? Luckily, being a NASCAR legend with a $300 million fortune has its perks.
"Usually, if I ain't got my wallet, and it's time to eat, whoever's with me is going to buy the food," Dale Earnhardt Jr. said. "And, I'm good for it, though, so it's usually no big discussion."