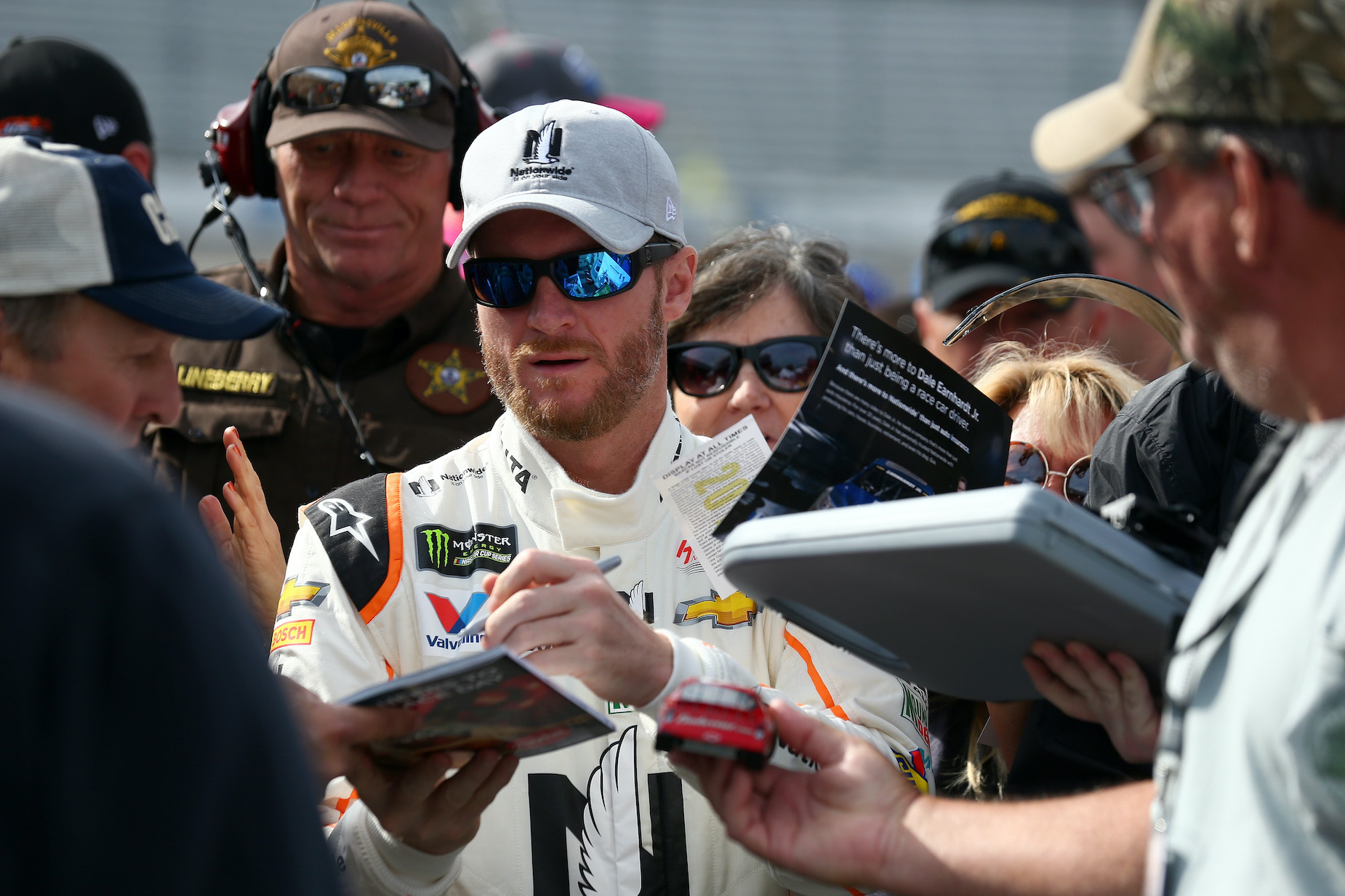 Dale Earnhardt Jr. Is Worth $300 Million but Goes to Extreme Lengths to Save Money on Gas
NASCAR legend Dale Earnhardt Jr. has a massive, $300 million net worth, but he still does what he can to save money on gas.
When you devote your life to a certain job, you're naturally going to become an expert in the field. For Dale Earnhardt Jr., that means knowing virtually everything about cars. It doesn't take a genius, however, to know that cars need gas and, if you're driving a great deal, that fuel can become pretty pricy.
Although Dale Earnhardt Jr. made millions of dollars on the NASCAR circuit, he's still not prepared to pay full price for gas. In fact, the motorsports legend went to some pretty extreme lengths to save a few bucks.
Dale Earnhardt Jr. is a living NASCAR legend
If you know anything about auto racing, you're probably well acquainted with Dale Earnhardt Jr. The motorsports star, however, never planned on climbing behind the wheel of a race car.
Despite his father's NASCAR success, Earnhardt Jr. earned an automotive degree; he then took a job at his dad's car dealership in the hopes of being a mechanic. After a new service manager took over, though, Junior found himself without a job.
Earnhardt Jr. then started working on his sister's late model and, before long, began racing himself. He quickly realized that racing was more than a hobby: it was a way to connect with his father.
Thankfully for Dale Jr., he proved to be a natural behind the wheel.  He joined the Busch Series in 1996 and, two years later, was made the leap to the Cup Series. From there, the rest is NASCAR history.
Having a successful and profitable career
In the grand scheme of things, Dale Earnhardt Jr. didn't achieve quite the same level of success as his famous father. With that being said, though, he still put together quite the career and earned a massive amount of money along the way.
While he's still been known to climb behind the wheel on occasion, Junior's full-time driving career came to an end after the 2017 campaign. Although there were some scary concussion issues along the way, he still won 50 races across the Cup Series and what's currently called the Xfinity Series and earned an incredible 15 NASCAR Most Popular Driver titles.
That popularity helped Earnhardt Jr. do more than just win awards, though; it also made him a powerhouse when it came to branding and licensing. Between his on-track success, his big-name endorsements, and his off-track endeavors—Junior co-owns JR Motorsports and has stepped seamlessly into the media—the living NASCAR legend has built up a net worth that's estimated at roughly $300 million.
Dale Earnhardt Jr. has his own gas tank to save money
As a NASCAR veteran, Dale Earnhardt Jr. knows a thing or two about gas, including how much it can cost. That reality apparently motivated him to get his own tank installed on his property in an effort to save a few bucks.
"I have a gas tank at the house, so I don't buy gas from the store," Junior explained in a 2017 NASCAR press conference. "We buy gas in bulk, it's a little cheaper. It's something Kenny Wallace told me a long time ago when I was fixing up my property, about 2002, 2003. He's like, 'Get a gas tank, buy in bulk. It's cheaper."
It goes without saying that Dale Earnhardt Jr. could afford to pay whatever his local service station was charging for gasoline. If you've got millions of dollars in the bank and literally drive for a living, though, there's no reason not to have your own pump at home. If nothing else, Junior will never have to wait in line to fill up his tank.