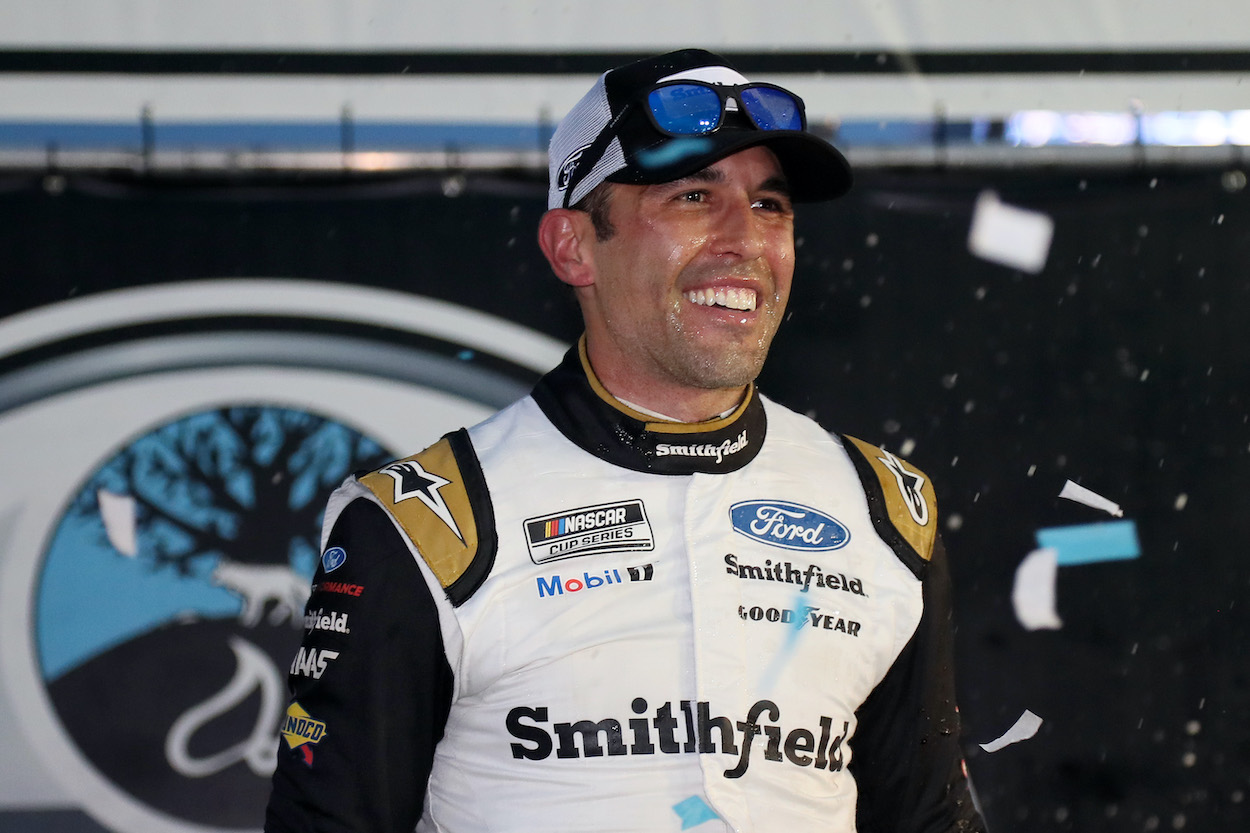 Aric Almirola Shuts Down Haters Who Question Whether NASCAR Drivers Are Athletes
Aric Almirola answered the age-old question on whether or not NASCAR drivers are athletes by providing a list of facts.
Are NASCAR drivers athletes? It's a debate that's gone on for years. And typically, it's someone from outside of racing who's asking the question. Cup Series veteran Aric Almirola took the time on a recent episode of his podcast to definitively answer the question with facts and shut down all the haters in the process.  
Channing Crowder tells Bubba Wallace he doesn't think NASCAR drivers are athletes 
Bubba Wallace appeared on the I Am Athlete podcast in March and discussed his career with the show's four co-hosts, including former NFL linebacker Channing Crowder. During the interview, Crowder challenged Wallace on why he didn't believe NASCAR drivers should be considered athletes.
"I got to be honest, Bubba, golfers, race car drivers, like athletes," Crowder questioned. "This is something that I can't say that you're an athlete of sports."
"You think you can go 190 mph with 42 other cars?" fellow co-host and former All-Pro receiver Chad Johnson, a notable NASCAR fan, retorted. 
"I believe I could go out on the skirts and come on around," Crowder responded, defending his position. "I've done went 150 or 160 in a car. Convince me. Change my mind, Bubba."
Aric Almirola details the grind of the schedule, including race day
Like Wallace, Aric Almirola has been asked whether or not NASCAR drivers are athletes. In the latest episode of his podcast Beyond the 10, the 37-year-old three-time Cup Series race winner started answering those questions by providing a detailed look at his weekly schedule, including race day.
He said Sundays are grueling and can be as long as a 20-hour day from leaving at six o'clock in the morning to arriving back home after the race at two or three o'clock the next morning. 
"That's probably one of the most untold stories, the grueling schedule, the long workdays, the physical exertion that it takes throughout the race," Almirola said. "You think about all the stick and ball sports, and they play half their games away and half their games are at home. We spend our whole season traveling. You're racing throughout the weekend. You get six, seven, eight hours of sleep on Sunday night and Monday is such a wash for a day because you're just trying to recover."
Almirola explains the physical nature of the race
Almirola said the overall schedule is challenging enough, but it's what happens inside the race car that definitively proves each Sunday why NASCAR drivers are athletes.
"The sweat loss. The dehydration," Almirola said. "Seven, eight pounds per race that we lose, and then you're trying to get it back on as quickly as you can so you can get your body recovered. It's a grind."
That dramatic amount of weight loss isn't surprising considering what the drivers endure inside the car for three hours. According to the data, drivers' hearts are typically in a Zone 3 heart rate, which is equal to 70 to 80 percent of your maximum heart rate and similar to what marathon runners experience during competition. 
"We don't get to call time out," the winner of this year's race at New Hampshire in July pointed out. "We don't get to take a break. You're in the race car from the time you get ready to start the race, and the green flag drops all the way through the finish." 
In addition, on road courses like the recent race at Road America, drivers shift around 40 times a lap. That number multiplied by 62 laps equals almost 2,500 shifts in a race. It's not uncommon for drivers to get blisters on their hands even though they wear gloves throughout the race.
It's understandable how athletes from other sports and even some fans might think NASCAR drivers aren't athletes and think they're out for the casual weekend drive turning left for three hours. However, Almirola's detailed description of what the drivers endure during a race and the recovery after paints a very different picture.
What he didn't mention is they all do it at speeds nearing 200 miles per hour and risk death every time they strap into the car. So in the end, they're not just athletes. They're athletes who are also daredevils. 
Like Sportscasting on Facebook. Follow us on Twitter @sportscasting19.