Brad Keselowski's Shocking 2012 NASCAR Cup Series Title Was Compared to Buster Douglas Beating Mike Tyson
When James 'Buster' Douglas dropped heavyweight champion Mike Tyson for a knockout victory in 1990, it was widely considered the biggest upset in sports history. Still is. Back in 2012, Brad Keselowski, a baby-faced driver looking to make a name for himself in the NASCAR world, held off the most accomplished driver of his era in Jimmie Johnson to claim his first Cup Series championship.
While Keselowski's title win over Johnson was stunning, Sports Illustrated took it a step further, saying the "2012 Sprint Cup title was the culmination of a season that was the racing equivalent of Buster Douglas sending Mike Tyson sprawling to the canvas."
Brad Keselowski was confident heading into the final race of that 2012 season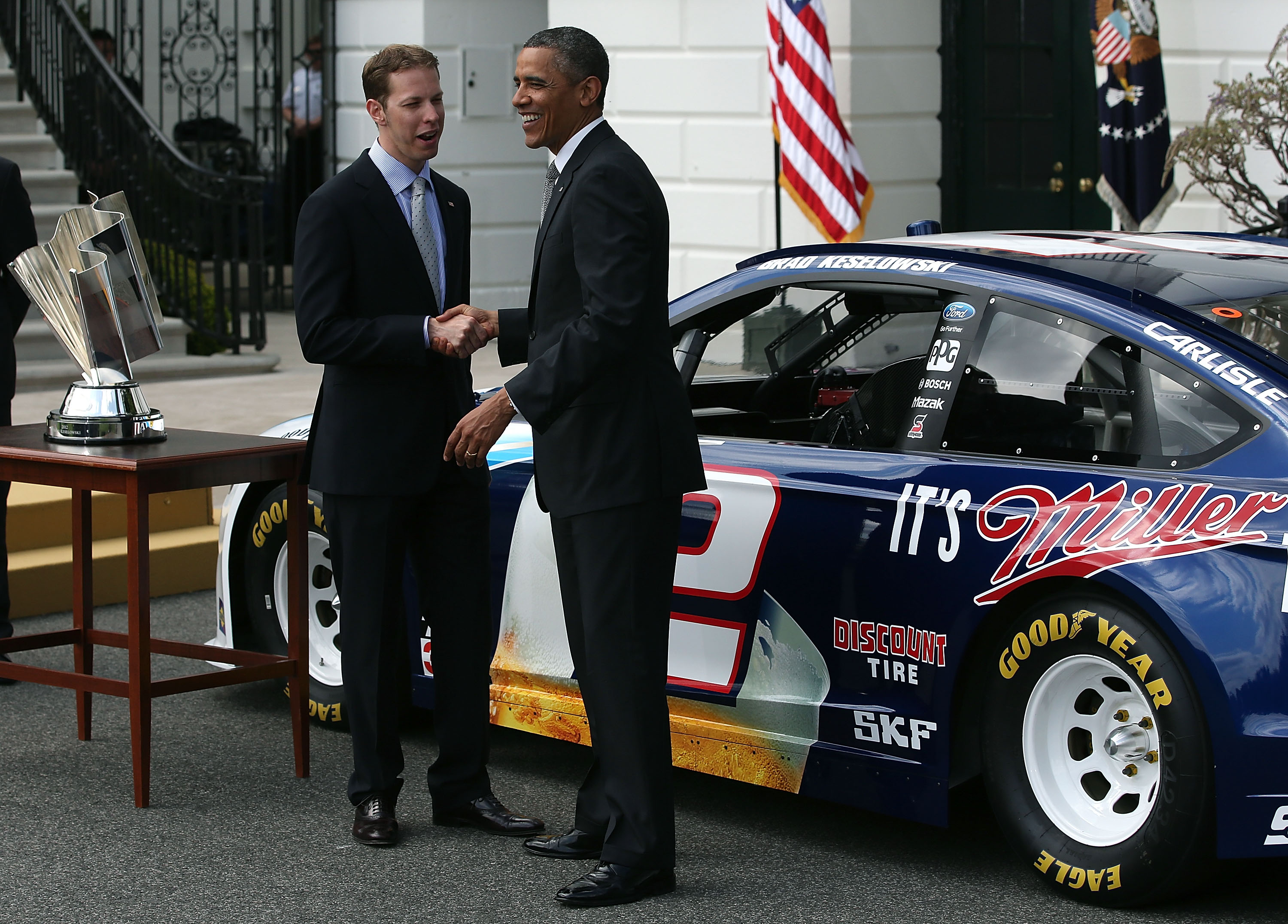 There was a lot on the line at Homestead-Miami Speedway late in 2012. Johnson found himself trailing Keselowski by 20 points in the standings before the final race of the season. Johnson didn't win the championship the year before, but the five seasons before that, the titles were all his. He was dominant, winning the NASCAR Cup Series championship each year from 2006-10. Dale Earnhardt Jr. called Johnson's title streak the greatest achievement in NASCAR history.
Keselowski didn't care. He was young. Maybe he didn't quite grasp the concept of Johnson's greatness at that particular moment. The 28-year-old from Michigan went into that final race with a purpose.
"I've spent my entire life preparing for this moment," Keselowski told Sports Illustrated three days before that final race. "I was close to never making it as a driver. But now that I'm here, I absolutely will not back down to Jimmie."
Brad Keselowski held off Jimmie Johnson for the upset victory
Keselowski was in his third season in the Cup Series. Although he was born into a racing family, he had to beg his way for a team to take a chance on him. That finally happened in 2008 when JR Motorsports brought him in. He finished his first Nationwide Series season with more than $2 million in earnings.
Johnson was the seasoned vet. He had already won five of his seven Cup Series titles. At the time, he was the favorite every year after putting together one of NASCAR's greatest resumes.
None of that mattered to Keselowski. With that 20-point lead heading into the final race, he had to finish in 15th place or better to secure his first title. For the full 400 miles, he was conservative, making sure to stay out of any type of danger.
Johnson had a shot to make a late push, but the rear gear of his Chevy broke, sending him to a 36th-place finish. Keselowski finished 15th, winning his first title and pulling off one of the biggest upsets in history.
Keselowski has come a long way in his racing career
For a guy who used to dive into Dumpsters, Keselowski has come a long way. Since 2010, he's driven full-time for Team Penske in the Cup Series, racking up 34 of his 35 Cup Series wins. Keselowski recently announced he will be joining Roush Fenway Racing in 2022 as a driver with a minority ownership stake in the organization.
"This presents an opportunity to continue my on-track success with a strong team and a long-term commitment, but also dive into my passion of team ownership where I know I can be an asset to the future of the team," Keselowski said in a statement, according to NASCAR. "I am optimistic about what Jack (Roush), John (Henry) and I can accomplish together, especially with a new era for our sport on the horizon (with the Next Gen car). Our goal is to win races and compete for championships at NASCAR's top level, and we plan to do just that."
When he joins his new team, it will have been 10 years since he pulled off the Buster Douglas-like upset. Back in 2012, Keselowski not only shocked the motorsports world but also showed he could predict the future.
"This is just the beginning," Keselowski said back then. "I'm going to be around for a long time."
He wasn't kidding.